Industry experts want new policy to better ease of doing export from India
It is expected to focus on e-commerce, districts as export hubs and dual-use items that are meant both for civilian and military purposes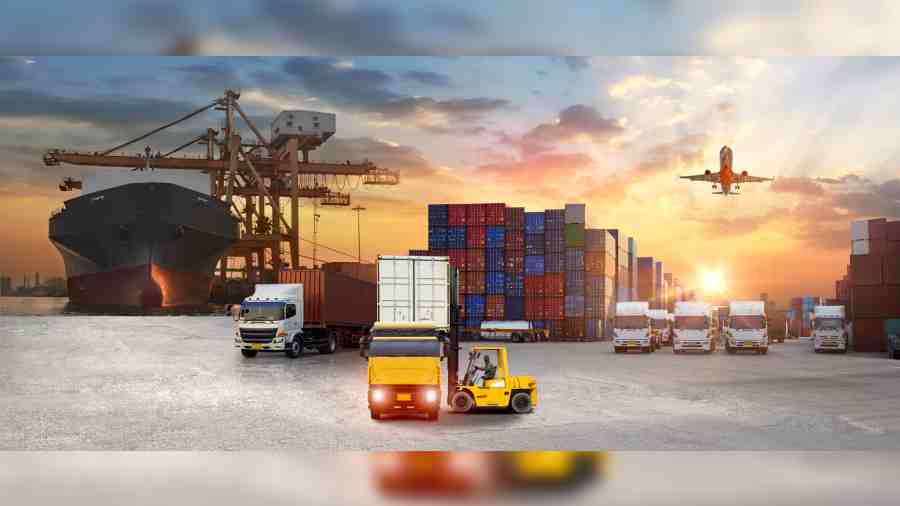 Representational image
Shutterstock
---
New Delhi
|
Published 26.09.22, 01:50 AM
|
---
The five-year foreign trade policy, due on September 29, is likely to remove anomalies in the Remissions of Duties and Taxes on Exported Products (RoDTEP) scheme and encourage settlement in the rupee.
It is expected to focus on e-commerce, districts as export hubs and dual-use items that are meant both for civilian and military purposes.
The present policy was valid till 2020 and extended several times, the last one from April to September. The new policy will start from October and provide a road map for $1 trillion exports by 2030.
The industry is hoping for concrete measures amid slowing export demand, including an overhaul of the duty remission scheme introduced last year and the levy of GST on global trade intermediaries.
The RoDTEP scheme was meant to take care of levies outside the GST.
The scheme has failed to take off because of various anomalies, restrictions and very low rates.
PHD Chamber of Commerce and Industry president Pradeep Multani has urged the government to tweak the scheme so that exporters are specifically reimbursed on the basis of actual taxes and duties paid by them on outbound shipments. RoDTEP rates were announced in August 2021 for 8,555 products, such as marine goods, yarn and dairy items. The budgetary allocation for RoDTEP is around Rs 13,500 crore for this fiscal.
The Federation of Indian Exporters' Organisations (Fieo) has sought a review of the interest equalisation benefits that got pared when interest rates were coming down. The credit for small exporters is now about 10-11 per cent.
"With a complete change in the situation, there is an urgent need to restore the interest equalisation benefit of 5 per cent to manufacturers in the MSME segment and extend the 3-per-cent benefit to all tariff lines instead of 410 as the cost of credit is adversely impacting all exporters," Fieo president A. Sakthivel said.
The chapter on e-commerce in FTP aims to offset some of the transaction costs, while the one on dual-use items — called SCOMET (Special Chemicals, Organisms, Materials, Equipment and Technologies) — will ensure that such items do not get stuck in customs.
The policy will offer a long-term view of rupee settlement. The existing policy has been amended to allow invoicing for payment and settlement in the rupee.
WHAT TO EXPECT FROM TRADE PLAN
■ Foreign trade policy arrives amid falling exports. Will offer road map for $1trillion exports by 2030. Exports last fiscal $422bn
■ Change in duty rebate scheme RoDTEP. Exporters need to be reimbursed on the basis of actual taxes and duties on outbound shipment
■ Restore interest equalisation scheme of 5% to MSMEs and 3% across all tariff lines
■ Steps on e-commerce to cut transaction costs. Centre to ensure dual use items do not get stuck at ports
■ E-commerce measures will encourage MSMEs to focus on GI products along with a thrust on one-district, one-product initiative
■ Policy to provide long-term vision on rupee settlement as well as measures to effectively tap global supply chain