Patanjali to list four firms in next seven years
Turnover of the group has touched Rs 40,000 crore, says Ramdev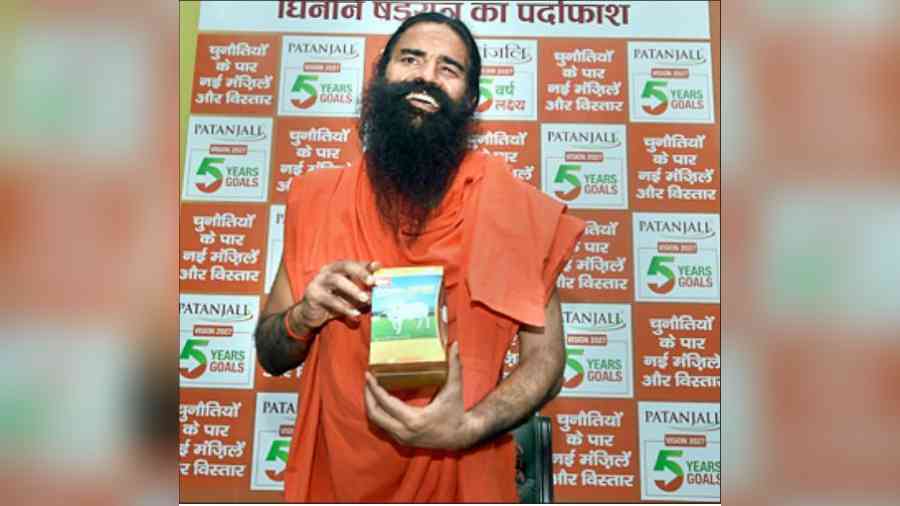 Baba Ramdev in New Delhi on Friday
Telegraph picture
---
New Delhi
|
Published 17.09.22, 01:15 AM
|
---
Yoga guru-turned entrepreneur is looking to tie investors into one of his contortionist knots. The baba — who has played so fast and loose with the Modi government in the past that it isn't easy to lump him with other crony capitalists — plans to list four new Patanjali companies on the stock market over the next five to seven years.
They are : Patanjali Ayurved, Patanjali Medicine, Patanjali Wellness and Patanjali Lifestyle, he said, adding that the IPO of Patanjali Ayurved could be the first.
He did not share any timelines for listing the Patanjali companies on Indian bourses. Patanjali Foods is the only listed group company.
However, the IPO of this company did not come under the leadership of Ramdev. Instead, the company, listed as Ruchi Soya, was bought by Patanjali Ayurved in 2019 for Rs 4,350 crore under a resolution process.
The spiritual guru — who has often winked at tiresome corporate governance rules and regulations in a manner that has nothing to do with his peculiar eyelid affliction — says the turnover of his Patanjali group has touched Rs 40,000 crore.
"The group turnover is expected to reach Rs 1 lakh crore in 5-7 years."  "Patanjali Ayurved is an established company and is ideal from the point of view of IPO... the product line, reach, customer base and profitability and future projection, make it most favourable," Ramdev said.
The second would be Patanjali Medicine, which owns Divya Pharmacy, and then Patanjali Wellness which runs chains of OPD (outpatient department) and hospitals in India.
"We have plans to operate 25,000 beds under Patanjali Wellness. We have around 50 such centres and have plans to take (it to) 100, including IPD (inpatient department) and OPD, and gradually expand on a franchise model," he added.
Patanjali Lifestyle consists of apparel, transport, cattle feed and some other emerging businesses.
On reports of adulteration in Patanjali Ghee by a certified government lab, Uttarakhand, Ramdev asserted that the findings of the lab were not correct and alleged the involvement of some officials in this.