Gardens fail to get early start signal
The Tea Board has put a blanket ban this year to maintain the quality of tea coming to the market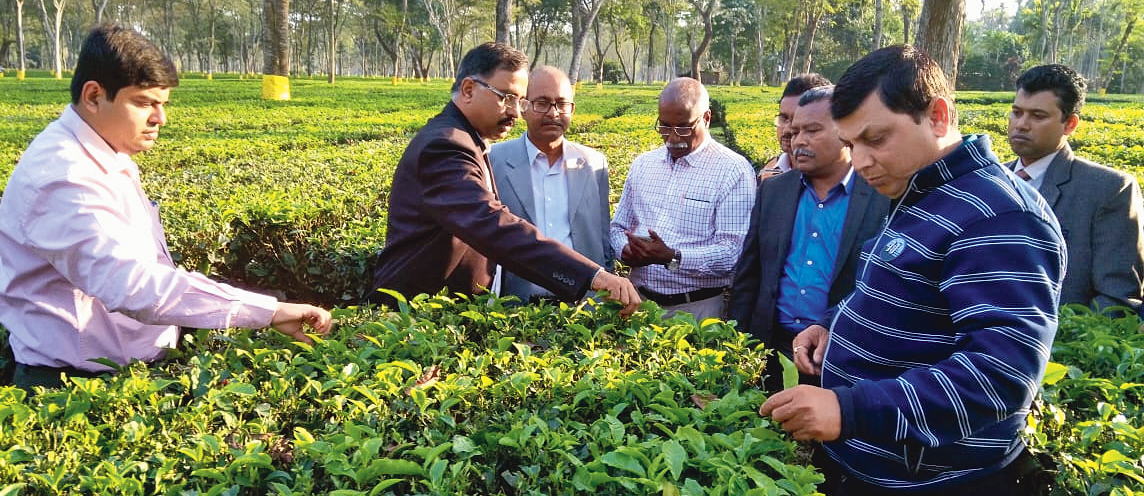 Officials visit tea gardens in north Bengal.
A Telegraph picture
---
Calcutta
|
Published 20.01.19, 06:42 PM
|
---
The Tea Board of India has turned down the request made by a clutch of North Bengal tea gardens to start plucking and manufacturing tea.
A committee, comprising senior officials of the Tea Board and the Tea Research Institute, visited some of the gardens over the weekend to take stock of the situation and decided that the time was still not ripe for consideration.
Six gardens, mainly from Dooars and the Terai region and one from Darjeeling, had made representations before the Tea Board to allow them plucking before February 11, 2019.
The board has imposed mandatory closure of harvesting and manufacturing of tea from December 15, 2018, in the states of Bengal, Bihar, Sikkim, Uttarakhand and Himachal Pradesh.
The closure will be in place till February 11 for Bengal and Bihar and February 28 for other states.
Six of the 446 gardens in Bengal made separate representations for early opening.
They are Namring in Darjeeling, Nuxalbari, Oodlabari, Aryaman, Mainak and Kumarika tea estates.
"We looked at two parameters. The fine leaf count is below 25, which should be over 60. Moreover, leaves are not from flush but left over from December. The committee feels good quality tea cannot be produced now," S. Soundararajan, director of tea development, Tea Board, said on Sunday evening.
Gardens usually use the winter season for pruning and cleaning up the bushes.
The advent of warm weather marks the beginning of the budding of new leaves, which are plucked for production of first flush tea.
The Tea Board has put a blanket ban this year to maintain the quality of tea coming to the market.
However, some gardens still claimed to produce a reasonable quantity of quality tea from the end of January.
These gardens now have to wait till February 11 before starting to pluck the leaves and manufacture the tea as the board is keeping a close watch to ensure the garden owners stick to the diktat.