Sitharaman pairs farm laws with economic reforms of 1991
While crediting the then Congress govt for opening up the economy, she reminded how the balance of payments crisis had necessitated the 'big step forward'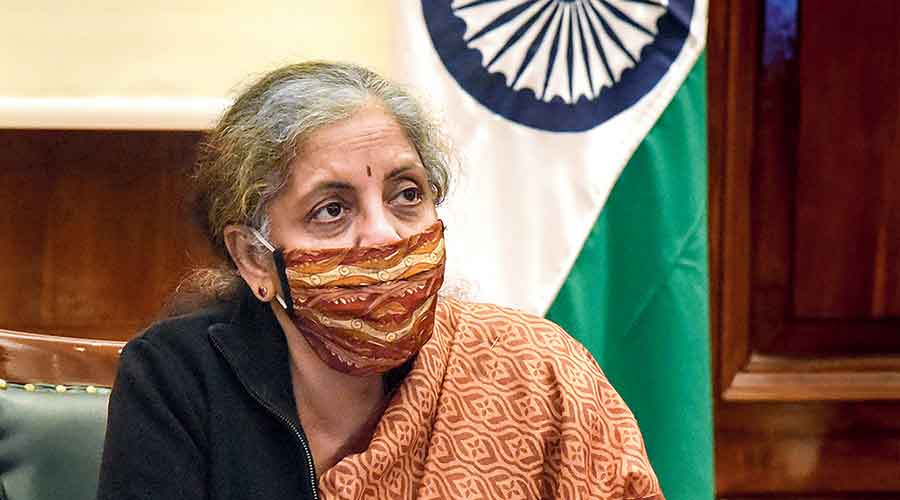 ---
|
Calcutta
|
Published 18.12.20, 12:26 AM
---
Union finance minister Nirmala Sitharaman likened the introduction of farm laws and labour codes with the economic reforms of 1991, alluding to how adversities can bring out new opportunities.
While crediting the then Congress government for opening up the economy, she reminded how the balance of payments crisis had necessitated the "big step forward" in 1991, to underscore how Prime Minister Modi in 2020 is bringing in new reforms when the world is reeling under the pandemic.
"The PM never let go of an opportunity. Even now during the pandemic, when industry is trying what best to do to reset themselves in the changed environment, he didn't miss out the opportunity to do the big reform of the agri sector and introduction of labour code," Sitharaman said while addressing the annual session of the Indian Chamber of Commerce.
Speaking on a web platform from New Delhi, the finance minister admitted that no amount of intervention would be enough to mitigate the hardships faced by the people and the industry during the pandemic even as she outlined the steps taken by her government in providing incentives to industries.
"Capital expenditure from public sector undertakings, especially for infrastructure, will be kept up," she assured the members of the ICC, now headed by Keventer chairman Mayank Jalan.
In his opening remarks, RP-SG chairman Sanjiv Goenka suggested the government should extend the deadline for completing new projects beyond March 2023 by 6-9 months to enable them to avail the tax rate of 15 per cent . He also suggested surplus land with PSUs should be made available for setting up new industries.
She also assured that the Centre will continue with public expenditure with greater pace in the next fiscal.