Jet seeks to protect overseas flight rights
The move comes even as rivals such as SpiceJet line up aggressive plans for overseas expansion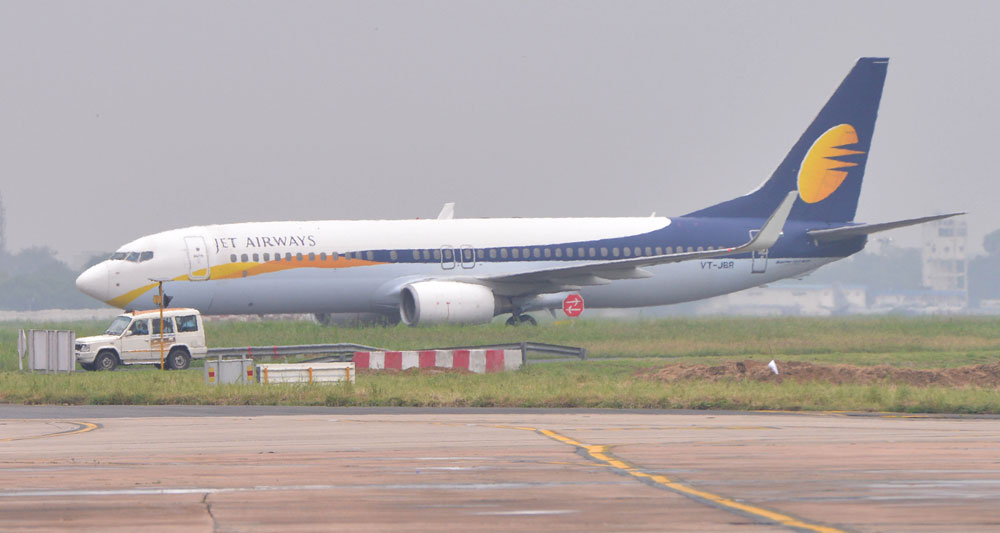 A Jet Airways aircraft
Picture: Prem Singh
---
New Delhi
|
Published 25.04.19, 07:20 PM
|
---
Jet Airways has written to the civil aviation ministry seeking protection of its international flying rights during the bidding process for the troubled carrier even as rivals like SpiceJet devise plans to expand their overseas footprint.
Sources said Jet had urged the ministry not to farm out its international flying rights during the period that bids are being sought for the airline.
"It is just a matter of 10 to 15 days, please don't give Jet's international flying rights till the sale process is decided," the airline said. The letter said the allotment of such rights now would impact the sale process. The bidders for Jet will have to submit their binding offers by May 10.
"We understand that there was a possible informal proposal in the ministry to consider temporary allocation of 9W's traffic rights to other Indian carriers for 2-3 months. We seek support of the ministry and request that Jet Airways rights are not allocated to any airline, whether on permanent or temporary basis," the airline said.
SpiceJet is ready to induct five aircraft from Friday and will add around 40 more in the coming weeks. The additional aircraft will be utilised in areas which are facing shortage of capacity after Jet suspended operations. It had earlier announced it would launch 28 flights connecting Mumbai and Delhi with other cities on its domestic network from April 26.
In addition, SpiceJet has announced a slew of non-stop international flights to Hong Kong, Jeddah, Dubai, Colombo, Dhaka, Riyadh, Bangkok and Kathmandu from Mumbai, effective May-end.
The temporary grounding of Jet has resulted in a rise in fares.
"Capacity crunch coinciding with high demand because of the summer vacation season has led to an escalation in airfares across key routes. Routes like Delhi-Mumbai and Delhi-Bangalore are showing up to a 60 per cent increase in last-minute fares," said Aloke Bajpai, CEO & co-founder, ixigo.
"Fares across other key sectors have also recorded an average year-on-year increase in the range of 20-40 per cent. However we anticipate this is a temporary situation as ease in supply will help rationalise fares in the coming months," he added.
SpiceJet, which had entered into a code sharing agreement with Emirates, is also negotiating with other carriers to connect with other destinations.