Infosys profit jumps 20%
The country's second largest IT services firm posted a net of Rs 4,845 crore against Rs 4,019 crore a year ago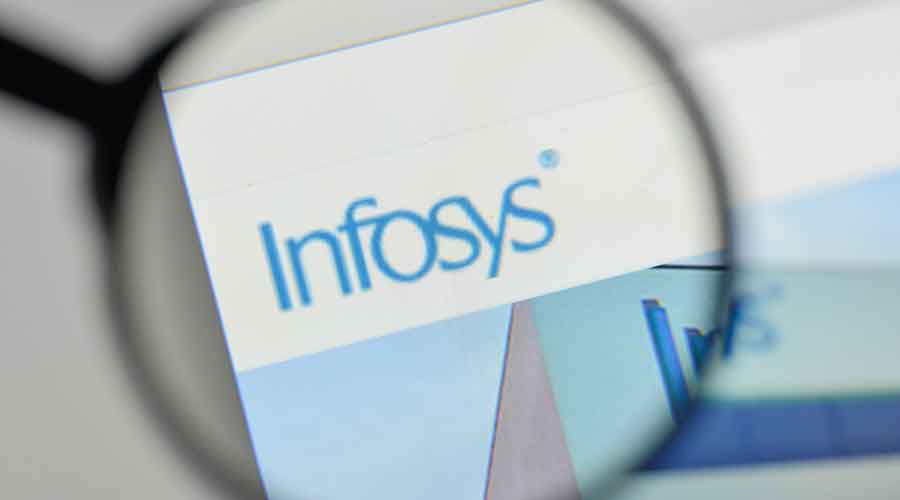 ---
|
Mumbai
|
Published 15.10.20, 12:35 AM
---
Infosys on Wednesday beat the Street with a 20.5 per cent jump in net profits for the September quarter and raised its revenue guidance for the year — demonstrating its optimism on the road ahead as Covid-19 has pushed clients to increase spending on technology solutions.
The country's second largest IT services firm posted a net profit of Rs 4,845 crore against Rs 4,019 crore a year ago. Analysts had expected the company to report a profit of around Rs 4,500 crore.
Like its peers, Infosys is also confident that its strong client connect and the digital transformation seen among enterprises will lead to even better days ahead. Therefore, it raised the revenue and margin guidance.
Revenue guidance up
The Bangalore-based company now expects revenue to grow 2-3 per cent this fiscal compared with its earlier estimate of 0-2 per cent growth. Similarly, operating margin is forecast to be 23-24 per cent against 21-23 per cent projected earlier.
Infosys reported a quarterly operating margin of 25.4 per cent, up from 21.7 per cent last year, following rivals TCS, which posted a 2.2 per cent rise in operating margin to 26.2 per cent, while Wipro saw its margin rise to 19.2 per cent for the period.
During the period, revenue in US dollar terms grew to $3.3 billion — a growth of 3.2 per cent over the same period last year and a sequential rise of 6.1 per cent. In rupee terms the revenues were at Rs 24,570 crore, a rise of 8.6 per cent over the year-ago period and nearly 4 per cent over the preceding three months.
"Our digital and cloud capabilities combined with intense client relevance are helping us achieve differentiated results in the market," said Salil Parekh, CEO and MD.
Hikes, promotions
Infosys, which provides services such as cloud, data and analytics to companies across the world, said it will roll out salary increases and promotions across all levels effective January 1.
Infosys is also giving 100 per cent variable pay, along with a special incentive for the second quarter. The company had 2,40,208 employees at the end of September 2020 quarter. "We will pay a one-time special incentive in the third quarter to our junior employees," Parekh said.
Infosys COO Pravin Rao said the quantum of salary hikes will be identical to those seen in previous years. Last year, Infosys gave an average hike in India of around 6 per cent, while it was 1-1.5 per cent outside the country.
Voluntary attrition for IT services on an annualised basis declined to 7.8 per cent compared with 18.3 per cent in the year-ago period. Rao said attrition has come down significantly than what is typically seen around this time of the year.
"Infosys results today ... signifies how important it has become for enterprises to invest in IT to weather any disruptive situation — be it pandemic or an economic recession," Forrester analyst Ashutosh Sharma said.
Interim dividend
Infosys also declared an interim dividend of Rs 12 per share. Rohan Murthy, who is part of the promoter group, will draw close to Rs 73 crore as payout. Similarly, Sudha Gopalakrishnan, wife of Infosys co-founder S. Gopalakrishnan, will get close to Rs 114 crore from the payout.
While the results came after market hours, the Infosys share fell almost two per cent to settle at Rs 1136.10 on the BSE.