Infosys CEO Salil Parekh pay package rose almost 45 per cent
He earned Rs 34.27 crore in the previous financial year, compared to Rs 49.68 crore in 2020-21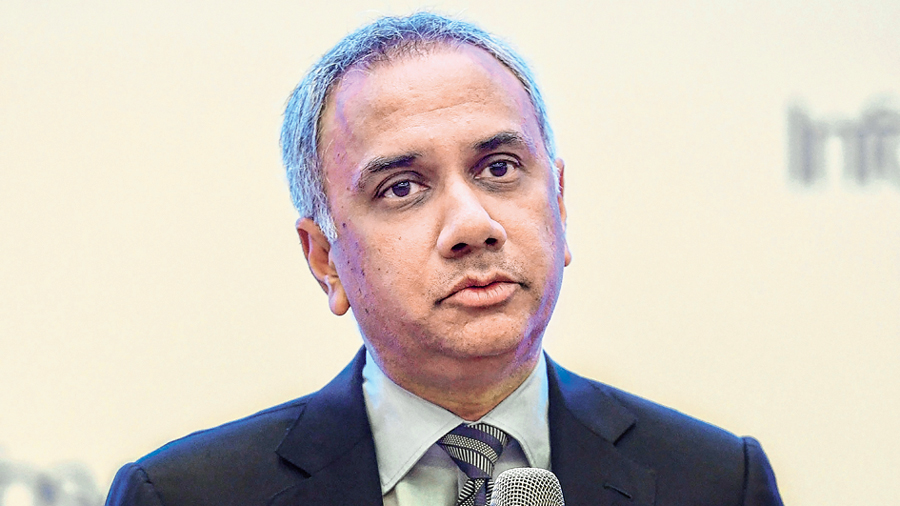 ---
Mumbai
|
Published 27.05.21, 12:50 AM
|
---
Infosys CEO Salil Parekh's pay package rose almost 45 per cent to Rs 49.68 crore in 2020-21 — a year the IT services firm posted an industry-leading growth rate as clients preferred digital and cloud-based services during the pandemic.
Parekh earned Rs 34.27 crore in the previous financial year.
According to the annual report of Infosys for 2020-21, while his base salary was Rs 5.69 crore, the retiral benefits came to Rs 38 lakh, resulting in a total fixed salary of Rs 6.07 crore. His bonus incentives or variable pay came to Rs 12.62 crore and 'perquisites on account of stock options exercised' stood at Rs 30.99 crore.
However, the disparity between the CEO's pay and median remuneration of employees (MRE) widened during the year even as the rate of growth of the median salary dipped.
The MRE at Infosys stood at Rs 7,21,314 crore in 2020-21, an increase of 5.62 per cent over the MRE of Rs 682,906 crore in 2019-20.
However, in 2019-20, the year-on-year increase in MRE was 10 per cent, which indicates that the median salary growth rate fell in 2020-21.
The ratio of Parekh's salary to MRE in 2020-21 stood at 689, up from a ratio of 502 in the previous fiscal.
Like in the previous year, Infosys chairman Nandan M. Nilekani voluntarily chose not to receive any remuneration for his services.
During the year, chief operating officer U.B. Pravin Rao earned Rs 17.33 crore and the percentage increase in his remuneration during the year was 63 per cent.
Infosys will hold its annual general meeting on June 19.
In their note to Infosys shareholders, both Nilekani and Parekh expressed optimism about the growth prospects in the current fiscal.
According to Nilekani while Infosys has delivered industry-leading growth, it is in "pole position for another year" of stellar performance as the company starts looking at the post-pandemic and post-cloud era.
He added that the Bangalore-based firm has done several different things that has enabled it to be a market leader at a time when several "veterans" around them have struggled.
"First and foremost, under our CEO, Salil Parekh, ably supported by the global senior leadership, Infosys has transformed into a very client-focused company.
"Our stable and motivated leadership is working quietly and without fuss to ensure Infosys is the partner of choice for the world's top companies as they navigate in these uncertain and rapidly changing times. This has led to unprecedented transformational large deals,'' he said.
Nilekani added that Infosys is also investing in designing and developing the right solutions required for accelerating digital transformation.
The pro-active steps that the firm has taken over the last three and a half years has enabled it to set the narrative for the global digital services and consulting industry, he said.
Parekh pointed out that clients of Infosys have been expanding their work with the company, particularly in the areas of digital and cloud.