Factory itch in price comfort
Industrial growth remained subdued at 2.4%; retail inflation at 2.05% in January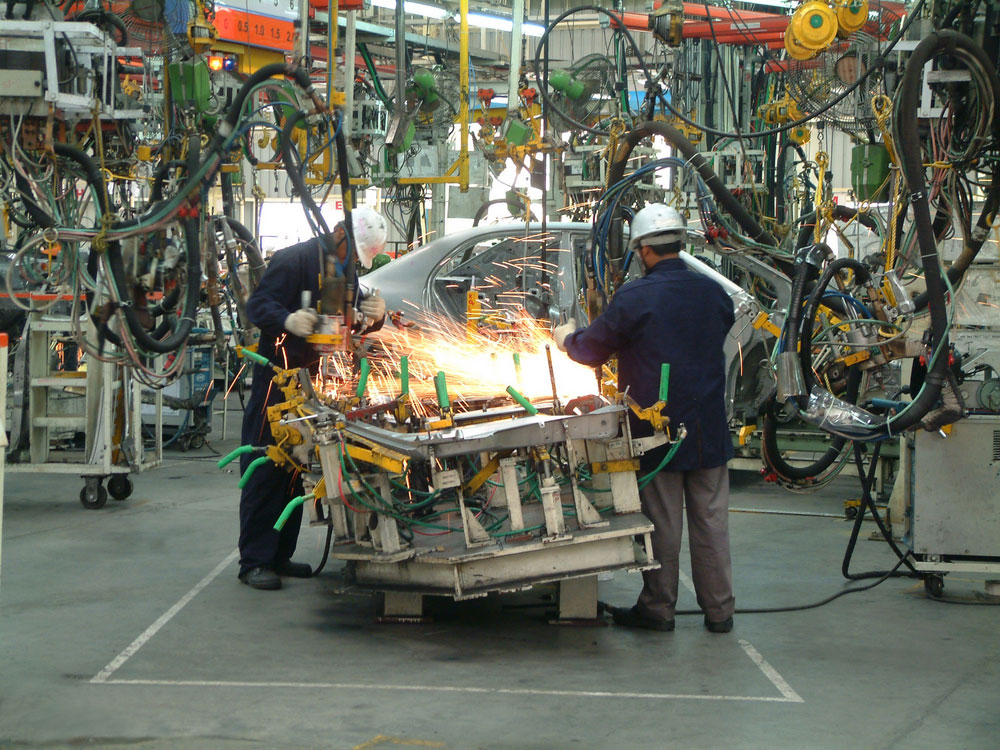 ---
---
India's industrial growth remained subdued in December — bad news for the incumbent government facing polls this year — even as retail inflation offered some comfort at 2.05 per cent for January.
The mild rate of inflation, which surprised analysts who were expecting a 2.5 per cent rise in prices, also raises hopes for another rate cut in the RBI's next bi-monthly review.
Industrial growth, however, remained a laggard at 2.4 per cent in December as mining contracted and manufacturing growth slowed. Factory output had plunged to a 17-month low of 0.5 per cent in November 2018, which was revised downwards to 0.3 per cent by the Central Statistics Office in its data released on Monday.
Factory output numbers for November and December 2017 had stood at 8.5 per cent and 7.3 per cent, respectively.
"The base effect plus subdued manufacturing activity resulted in low IIP figures. The lack of liquidity, lack of resolution to the bad loans crisis, especially in key sectors such as infrastructure, steel and power, as well as global headwinds continue to take their toll," said officials in the department of economic affairs.
However, for the nine months between April and December 2018-19, industrial output grew 4.6 per cent against 3.7 per cent in the same period of the previous fiscal.
The manufacturing sector, which constitutes 77.63 per cent of the index, recorded a low growth of 2.7 per cent in December against 8.7 per cent in the year-ago month.
Mining sector production contracted 1 per cent in December against 1.2 per cent growth in December 2017.
Growth in the power sector, too, remained flat at 4.4 per cent in December 2018. On the brighter side, capital goods grew 5.9 per cent, though that was far lower than the 13.2 per cent growth a year ago.
Consumer durables grew 2.9 per cent against 2.1 per cent in December 2017. Consumer non-durables growth was slightly better at 5.3 per cent in December 2018 but was very low compared with 16.8 per cent in the year-ago month.
In all, 13 out of 23 industry groups in the manufacturing sector showed positive growth during December 2018.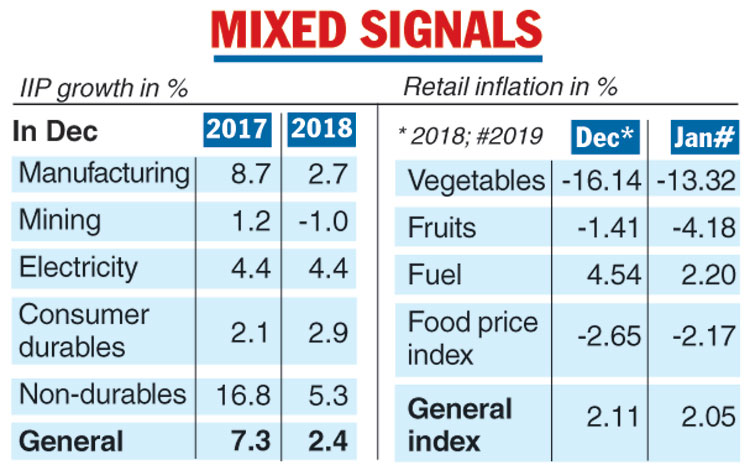 Inflation slows
India's consumer prices rose at its slowest pace since June 2017 in January at 2.05 per cent. However, some economists remain unconvinced. Shilan Shah, senior India economist at Capital Economics said: "Headline consumer price inflation was low and virtually unchanged in January but, more importantly, core inflation remained elevated."
Core inflation eased a tad to 5.4 per cent last month, from 5.6 per cent in December.
However, it continues to hover close to its highest rate in four years.
"Most measures suggest that there is little, if any, spare capacity left in the economy. Given this, the resulting boost in demand from last week's 25bp rate cut, and the further two cuts that we think the RBI will deliver this year, is likely to fuel inflation," said Shah.
Retail inflation based on the Consumer Price Index (CPI) for December 2018 has also been revised downward to 2.11 per cent from the earlier estimate of 2.19 per cent. Inflation was 5.07 per cent in January 2018.
The decline in January 2019 was due to a fall in food prices and smaller increases in fuel costs. Retail food prices fell 2.17 per cent in January from a year earlier compared with a revised fall of 2.65 percent a month earlier.