India's trade deficit widens to $15.7bn
Results comes as imports grow 7.6% to $42.6 billion and exports contract 0.8 % to $26.89 billion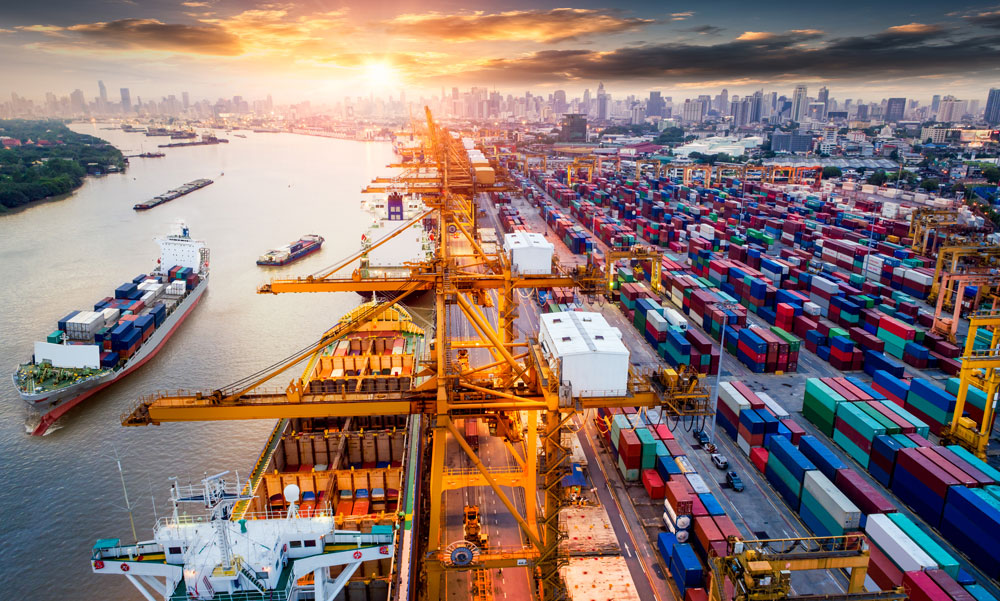 Exports in December 2019 were $27.11 billion, while imports stood at $39.5 billion. In November 2020, the exports were down 8.74 per cent
Shutterstock
---
New Delhi
|
Published 03.01.21, 12:39 AM
|
---
India's trade deficit has widened to $15.71 billion in December as imports grew 7.6 per cent to $42.6 billion and exports contracted 0.8 per cent to $26.89 billion, according to preliminary data released by the commerce ministry on Saturday.
"The sharp step up in the value of merchandise imports to $42.6 billion widened the trade deficit to $15.7 billion, the highest level since November 2018. The recovery in imports reinforces our expectation that the current account surplus will deflate to sub-$5 billion in the second half of FY2021," Aditi Nayar, principal economist with Icra, said.
"A marginal decline of just 0.8 per cent in exports is a sign of revival as the order booking position has continuously improved. Besides, more new orders are in the offing," said FIEO president Sharad Kumar Saraf.
"Going ahead by this trend, we expect our inventories to be liquidated, adding to overall demand," he added.
Exports in December 2019 were $27.11 billion, while imports stood at $39.5 billion. In November 2020, the exports were down 8.74 per cent.
In December 2020, oil imports declined 10.37 per cent to $9.61 billion. During April-December this fiscal, the imports dipped 44.46 per cent to $53.71 billion.
Gold imports surged about $2 billion, an 82 per cent jump from the previous year, while petroleum products saw the biggest decrease for any commodity group in trade into and out of the country, the government said.
Overseas shipment of drugs and pharmaceutical products increased in value the most among India's exports, rising 17 per cent from a year earlier.
Nayar said "the Y-o-Y expansion in non-oil exports is enthusing in the light of the restrictions in various major trading partners related to the resurgence of Covid-19 cases. The re-emergence of a Y-o-Y growth in merchandise imports signals a strengthening of the domestic growth impulses, pent-up demand for imported items as well as a rise in commodity prices".
Saraf urged the government to address some of the key issues, including adequate availability of containers, softening of freight charges, the release of the required MEIS (merchandise export from India scheme) benefits and clarity on SEIS (services exports from India scheme) benefits and resolving risky exporters issues.
In April-December 2020-21, the country's merchandise exports contracted 15.8 per cent to $200.55 billion compared with $238.27 billion in the same period of 2019-20.
Imports during the nine months of the current fiscal declined 29.08 per cent to $258.29 billion against $364.18 billion in April-December 2019-20.
"India is thus a net importer in December 2020, with a trade deficit of $15.71 billion compared with a trade deficit of $12.49 billion, widened by 25.78 per cent," the ministry said in a statement.
Major commodities which have recorded positive growth in exports during the month under review include oil meals (192.60 per cent), iron ore (69.26 per cent), carpet (21.12 per cent), pharmaceuticals (17.44 per cent), spices (17.06 per cent), electronic goods (16.44 per cent), fruits and vegetables (12.82 per cent), and chemicals (10.73 per cent).
Sectors that registered negative growth include petroleum products (-40.47 per cent), oil Seeds (-31.80 per cent), leather and leather manufactures (-17.74 per cent), coffee (-16.39 per cent), ready-made garments of all textiles (-15.07 per cent), man-made yarn/fabrics/made-ups (-14.61 per cent), marine products (-14.27 per cent), cashew (-12.04 per cent), plastic and linoleum (-7.43 per cent), and tobacco (-4.95 per cent).
The major commodities imported with positive growth in December 2020 include pulses (245.15 per cent), gold (81.82 per cent), vegetable oil (43.50 per cent), chemicals (23.30 per cent), electronic goods (20.90 per cent), machine tools (13.46 per cent), pearls, precious and semi-precious stones (7.81 per cent), and fertilisers (1.42 per cent).