U-turn disappointing for Punjab farmers
India wheat export ban reflects government's rising alarm about inflation, output
Export U-turn will disappoint rest of world counting on India to help fill supply gap created by Russia-Ukraine war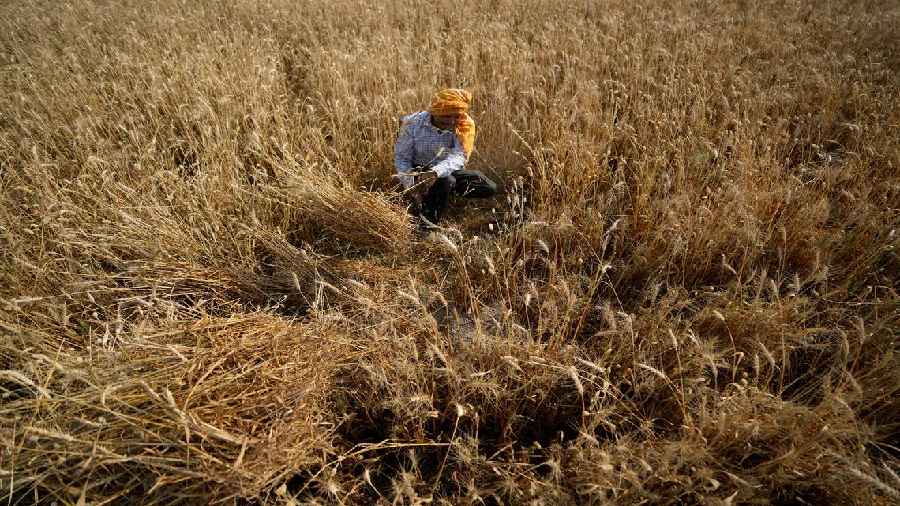 Centre says that India will still allow sales to countries that need wheat for their own food security needs if their governments request help
File Picture
---
New Delhi
|
Published 14.05.22, 07:53 PM
|
---
It was a 360-degree U-turn in barely 24 hours. On Thursday, the government announced it was sending trade delegations to nine countries in a bid to boost wheat exports. India had set a target of exporting 10 million tonnes, up from a record 7 million last year.
The next day, the government issued a statement saying it was downing the shutters on its wheat export plans. Instead, it announced a total ban on all exports except for contracts already signed and Government-to-Government deals to friendly countries.
The reason for the government's sudden about-turn isn't hard to figure out though it's tough to understand what led to it changing its mind between Thursday and Friday. 
On Thursday, it was sounding particularly bullish and said that trade delegations would be travelling to nine countries including Lebanon, Indonesia, Morocco, Tunisia and Indonesia to explore wheat sales. "India has set a target of a record 10 million tonnes of wheat in 2022-23 amid rising global demand for the grain," said the government.
The fast-forward export plans came in the wake of Prime Minister Narendra Modi telling an Indian diaspora gathering in Germany earlier in month that "At a time when the world is facing a shortage of wheat, the farmers of India have stepped forward to feed the world. Whenever humanity is faced with a crisis, India comes up with a solution." 
Domestic headline inflation
The ban on exports comes after domestic headline inflation accelerated to an eight-year record of 7.79 per cent, according to official data released on Thursday. The increase was partly driven by rising prices of cereals – wheat prices have risen 7 per cent year-on-year. India's central bank, meanwhile, has warned about "elevated global price pressures in key food items."  
Indian sellers have struck deals to export 4 million tons of wheat so far in this financial year. Shipments with irrevocable letters of credit will be permitted but no more will be allowed, the government says. Egypt, the world's biggest wheat purchaser, and Turkey had been given approval to import wheat from India, according to the food ministry.
The heatwave factor
Blazing temperatures in India and Pakistan have shrivelled crops and damaged wheat yields. The searing heat has prompted the government to lower estimates for India's wheat output. Yields in some parts of the country are reported to have fallen by up to 50 per cent during March, which was the hottest on record. On the back of the heat wave, India has cut its production forecast to 105 million tons from a record 111.6 tonnes estimated earlier. India consumed around 104.5 million tonnes of wheat last year.
Despite welcome news from the weather office on Friday that the monsoon will arrive early and that the rains will be "normal" for a fourth straight year, which should give a boost to crop yields, the government decided to take no chances in allowing exports. The rains fill reservoirs that irrigate winter crops and water fields, meaning that sowing of rice and soyabeans can go ahead on schedule. 
India, which despite being the world's second-largest wheat grower after China, had always been a bit player in the global wheat export market, accounting for just two per cent of the international trade in the commodity. 
Competitive edge 
But tightening supply and rising global prices has made Indian wheat competitive for the first time in many years and New Delhi had hoped to bump up India's wheat shipments this year to a record 10 million metric tonnes, up from a previous peak of 7 million tonnes last year. Of that total export figure, 50 per cent was sold to Bangladesh.
The government's announcement will come as a disappointment to some farmers such as those in the nation's breadbasket, Punjab, who had been receiving above the minimum support price, or MSP, from multinational food export firms.
Russia and Ukraine, known as the world's granary, account for 30 per cent of the world's global wheat trade but the conflict has curtailed their ability to ship to other countries through the Black Sea region. Ukraine's agriculture ministry says that 30 per cent of the country's land is occupied by the Russians, unsafe or too war-damaged for planting. Until now, many countries in West Asia, Southeast Asia and Africa have relied on grain supplies from Ukraine and Russia.
Exceptions for countries in need
However, the government says that India will still allow sales to countries that need wheat for their own food security needs if their governments request help. 
India's announcement will further stoke concern about a global food shortage, especially as scientists worry that La Nina weather phenomenon, which is already in a prolonged "double dip," will extend into an unusual "triple dip" that could lengthen droughts in Latin America's grain-growing areas as well as hit grain harvests in North America and central Asia.
Taking Russia and Ukraine's food exports out of the equation is likely to have a serious impact on global food security, experts say. The Food and Agricultural Organization's World Food Price index has hit a record high in real terms and up to 11 million people are at risk of starvation in West Africa alone in the coming months, according to the UN. 
Global food protectionism
Aside from reducing the supplies available on world markets, India's export announcement is significant for another reason. It is the latest example of global food protectionism with governments looking to lock in local supplies with agricultural prices soaring. Indonesia, for instance, has halted palm oil exports, sending prices of the product surging in India which is the world's biggest palm oil buyer. Serbia and Kazakhstan have slapped quotas on their export grain sales.
Meanwhile, fertiliser prices have quadrupled from pre-pandemic levels. Russia, has halted export sales of ammonium nitrate and a shortage of fertilisers could hurt the next growing season's output.