India, US look to sort out irritants
US secretary of state Mike Pompeo to hold talks with Indian counterpart S. Jaishankar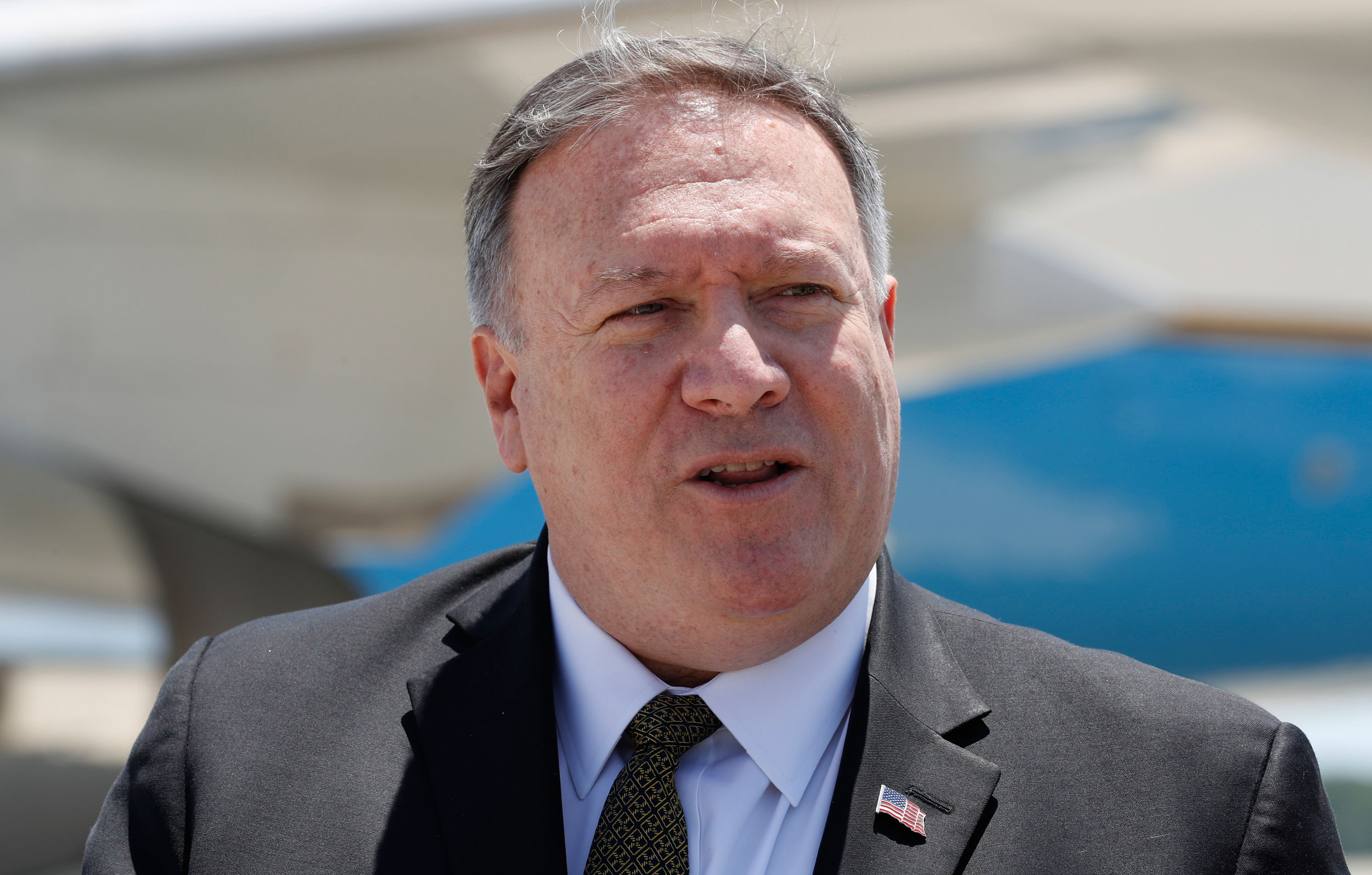 US secretary of state Mike Pompeo speaks to the media at Andrews Air Force Base, on June 23, 2019, before boarding a plane headed to Jeddah, Saudi Arabia.
(AP)
---
New Delhi
|
Published 23.06.19, 06:32 PM
|
---
US secretary of state Mike Pompeo is flying down to India this week amid numerous flashpoints on trade matters that have soured relationships between the two countries.
Major differences on data localisation, retaliatory tariff by India and H-1B visas by US have arisen between the two countries, and these thorny issues are set to take the centre stage during Pompeo's visit on June 25 and June 26.
Indian officials have insisted on the nation's rights to frame regulations keeping the interests of its consumers and businesses in mind.
The US-India Business Council (USIBC), which is part of the US Chamber of Commerce, has said tariffs, forced localisation of data and other barriers to trade limit economic opportunities.
Pompeo's visit is expected to prepare the groundwork for a meeting between Prime Minister Narendra Modi and President Donald Trump on the sidelines of the G20 meeting on June 28-29 at Osaka, Japan.
Pompeo, who will be here on his way to the G20 summit, is slated to have discussions with his Indian counterpart S. Jaishankar. Delegation level talks with the commerce minister are also expected where trade issues between the two countries will be discussed.
"This would be an opportunity for both the countries to clear the air on different issues and figure out how they can proceed from here," a senior commerce ministry official said.
However, "domestic legislation done in consultation with different stakeholders is the sole purview of the government to help the consumers in the country and businesses to flourish", said the official, indicating that India would not buckle under US pressure tactics.
His visit comes shortly after India announced a hike in customs duties on as many as 28 US products, including almond, pulses and walnut, in response to higher tariffs imposed by Washington on Indian products such as steel and aluminium. The move came after the US withdrew the generalised system of preferences (GSP) for Indian goods.
Data concern
Concerns have been raised by global technology firms such as Facebook, Mastercard and Visa on the data storage rules, and the issue has also irked the US government. The provisions of the draft e-commerce policy have also not gone down well with US companies such as Amazon and Walmart.
Though there has not been any official move to scale down on H-1B visas, there are concerns that Washington could lower the number of such visas issued to Indians, as a bargaining chip.
However, the US has said it has no plans to impose caps on H-1B work visas for nations that force foreign companies to store data locally, according to a state department official.
The official said the Trump administration's review of worker visa programmes is "completely separate" from the ongoing discussions with India over the free flow of data between the countries.
There were reports that the US had told India it was considering capping the H-1B visas at 10-15 per cent for countries that had a data localisation policy.
Drug price
The two countries also have different views on medical devices and dairy products. India has made it clear that it was willing to find a reasonable solution but not at the expense of public health.
The Indian government has already fixed the maximum retail prices for another 57 anti-cancer drugs and recently fixed trade margins of about 30 per cent for another 42 such drugs. The American firms have objected to the price controls.
Dairy assurance
On the dairy sector, "given our religious and cultural concerns, we have a requirement that there should be a certificate that the source of the dairy product should have never been fed animal-derived feed. So, that again is a non-negotiable for us", the official said, adding that India could have simplified procedures for importing these two products "without compromising the basic requirements". 
SPOTLIGHT ON TRADE DURING POMPEO VISIT

Talks seen to prepare groundwork for Modi-Trump meet on the sidelines of G20 meeting at Osaka in June-end
Issues at stake
Two countries caught in a bitter trade standoff after India announced a hike in customs duties on 28 US products in response to higher tariffs imposed by Washington on Indian steel and aluminium
Provisions of India's draft e-commerce policy have been opposed by US companies
India's plans to store data have irked global technology firms such as Facebook, Mastercard
US has raised objections to Indian control over drug prices and medical devices but India doesn't want public health to be compromised
India wants US to certify that the source of dairy products is not fed animal-derived feed