Narendra Modi government takes U-turn, bans wheat exports
Move comes after the govt said it was targeting record shipments this year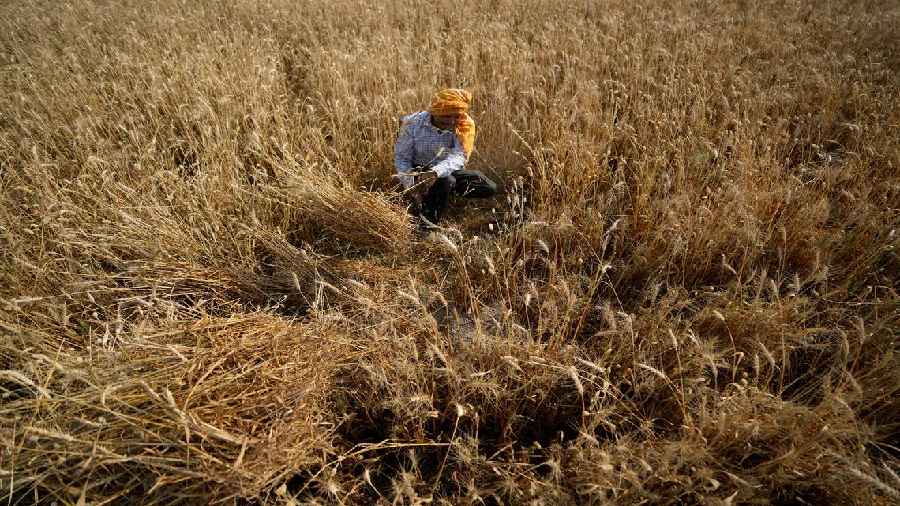 The move to ban overseas shipments was not in perpetuity and could be revised, senior government officials told a press conference on Saturday.
Representational picture
---
New Delhi
|
Published 15.05.22, 01:42 AM
|
---
In a complete U-turn from its stand on food security, the Modi government banned wheat exports on Saturday days after saying it was targeting record shipments this year, as a scorching heat wave curtailed output and domestic prices hit a record high.
The government said it would still allow exports backed by already issued letters of credit and to countries that request supplies "to meet their food security needs".
The move to ban overseas shipments was not in perpetuity and could be revised, senior government officials told a press conference on Saturday.
"There is a sudden spike in the global prices of wheat arising out of many factors as a result of which the food security of India, neighbouring and other vulnerable countries is at risk," an official notification banning exports said.
Prime Minister Narendra Modi on April 11 had said: "The world is facing a new problem now; the food stock of the world is getting empty, I was talking to the US President (Joe Biden) and he also raised this issue. I suggested that if WTO gives permission, India is ready to supply food stocks to the world from tomorrow."
Commerce secretary B.V.R. Subrahmanyam said:  "The decision to ban open
export of wheat was also taken to curb hoarding due to the rise in prices. There is no dramatic fall in wheat production; there are ample food stocks with the government and in the private sector, but wheat prices have gone up by almost 40 per cent in some parts.
"Food is a sensitive item for all. The government is committed to ensuring food security of neighbours and vulnerable countries."
The change in stance comes a day after retail inflation spiked to a near eight-year-high of 7.79 per cent in April and retail food inflation surging even higher to 8.38 per cent.
The wheat procurement has declined sharply by 44 per cent to 16.2 million tonnes as of May 1 in the current Rabi marketing season due to heavy lifting by private traders and low arrivals in Punjab and Haryana. The government had procured 28.8 million tonnes of wheat in the year-ago period. The rabi marketing season runs from April to March.
Private players have bought wheat at a price higher than the minimum support price amid increased demand for the grain for exports. The Russia-Ukraine war has led to a spike in the international wheat prices, which are up by over 80 per cent compared with a year ago.
Reports suggest that wheat is being exported at the rate of Rs 24,000 to 25,000 per tonne (2,400 to 2,500 per quintal), which is 19 per cent higher than the government's set minimum support price (MSP) of Rs 2,015 per quintal. 
The Union government has set a target to procure a record 44.4 million tonnes of wheat in the 2022-23 marketing year against an all-time high of 43.34 million tonnes in the previous marketing year.
In February the government forecast production of 111.32 million tonnes, the sixth straight record crop, but it cut the forecast to 105 million tonnes in May.
"We are expecting a procurement shortfall of 9-10 million tonnes. And the reasons are many, including farmers expecting to save the crop for the next two-three harvest seasons to get a higher price later. Our PDS requirement for every year is about 25 to 26 million tonnes," said food and agriculture expert Devinder Sharma.
"Then there's also the Garib Kalyan scheme. Low procurement would put more pressure on that. If exports had continued at the level at which it's going on, it would be a very tightrope walk. I am more concerned about the mayhem next year because today we are exporting, and tomorrow the tables will turn and we could end up being the biggest importers. We have a year ahead of us. Any slight disruption in weather and the next crop gets impacted, we would be severely impacted," he added.
"We allowed private companies to buy directly from farmers. This resulted in private players buying a lot of products but there was much less stock left for PDS. Then India had to import 5.5 million tonnes of wheat at double the price they paid to farmers," Sharma said.
The grain stock has declined by 83 lakh tonnes within a year, primarily because wheat demand under the Pradhan Mantri Gareeb Kalyan Yojna in the last financial year of FY22 went up by 74 per cent to 187 lakh tonnes from 107 lakh tonnes recorded in FY21.
The Centre has extended the free distribution of 5 kg of food grain for poor individuals (around 80 crore) for six months from April to September 2022.
In the five years up to 2005, India had encouraged the export of wheat in huge quantities resulting in the wheat stock depleting to about 20 lakh tonnes by April 2006 when the then-buffer norm was 40 lakh tonnes. The government was forced to import wheat to the tune of 55 lakh tonnes in 2005-07 to take care of its PDS demand.
The total stock as on April 1 was two-and-half times more than that of what the government needs to keep in store to meet the requirements under the National Food Security Act and other central social welfare programmes.
According to FCI data, while the total buffer stock requirement of rice on April 1 is 136 lakh tonnes, the corporation had 232 lakh tonnes stock. Similarly, against the requirement of 74 lakh tonnes of wheat stock, the FCI had 190 lakh tonnes