India and Australia ink landmark free trade deal
This is the first trade agreement that the Asian country has signed with a developed economy after more than a decade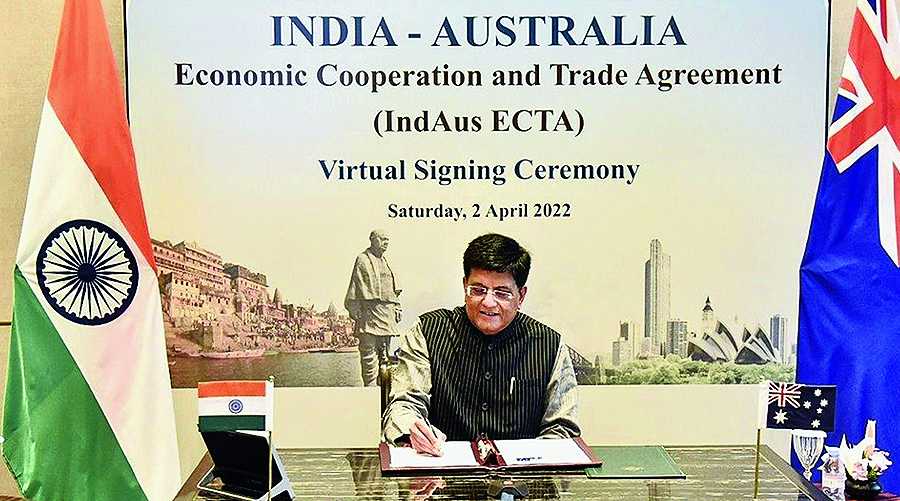 Commerce minister Piyush Goyal during the virtual signing ceremony of India-Australia Economic Cooperation and Trade Agreement.
PTI
---
New Delhi
|
Published 03.04.22, 02:45 AM
|
---
Bilateral trade is likely to double to $50 billion in the next five years following the free trade agreement between India and Australia signed on Saturday.
Under the economic cooperation and trade agreement, Canberra will provide duty-free access to its market for over 95 per cent tariff lines, including textiles, leather, furniture, jewellery, machinery and select medical devices. The deal will take around four months to be implemented.
This is the first trade agreement that India has signed with a developed economy after more than a decade.
The India-Australia Economic Cooperation and Trade Agreement was inked by commerce and industry minister Piyush Goyal and Australian minister for trade, tourism and investment Dan Tehan in a virtual ceremony, in the presence of Prime Minister Narendra Modi and his Australian counterpart Scott Morrison.
Australia is offering zero duty access to India for about 96.4 per cent of exports (by value) from day one. This covers many products which currently attract 4-5 per cent customs duty in Australia.
Labour intensive sectors which would gain immensely include textiles and apparel, a few agricultural and fish products, leather, footwear, furniture, sports goods, jewellery, machinery, electrical goods and railway wagons.
India's offer includes immediate tariff elimination on 40 per cent of its tariff lines comprising 85 per cent of Australia's exports in value terms to India and another 30.3 per cent of its tariff lines for elimination or reduction of tariffs in three, five, seven and 10 years time.
Major exports by India to Australia include petroleum products, textiles and apparel, engineering goods, leather, chemicals and gems and jewellery. India imports mainly include raw materials, coal, minerals and intermediate goods.
Many of India's sensitive agriculture and dairy items such as milk and other dairy products, chickpeas, walnut, pistachio nut, wheat, rice, bajra, apple, sunflowers seed oil, sugar, and oil cake have been excluded from the free trade pact.
There is, however, a provision that both countries will cooperate to promote agricultural trade as part of the agreement and will work toward concluding an enhanced agricultural Memorandum of Understanding (MoU). Other Indian items in the exclusion category include gold, silver, platinum, jewellery, iron ore, and most medical devices.
Australia will benefit from an immediate elimination of 30 per cent tariffs on sheepmeat and a 2.5 per cent tariff on wool, according to Australia's statement. Tariffs on wine with a minimum import price of $5 per bottle will be reduced from 150 per cent to 100 per cent on entry into force and subsequently to 50 per cent over 10 years.
Tariffs on wine bottles with a minimum import price of $15 will be reduced from 150 per cent to 75 per cent on entry into force and subsequently to 25 per cent over 10 years.
Tariffs up to 30 per cent on avocados, onions, broad, kidney and adzuki beans, cherries, shelled pistachios, macadamias, cashews in-shell, blueberries, raspberries, blackberries, currants will be eliminated over seven years.
"The resources sector will benefit from the elimination of tariffs on entry into force
for coal, alumina, metallic ores, including manganese, copper and nickel; and critical minerals including titanium and zirconium. LNG tariffs will be bound at zero per cent at entry into force," the release said.
To arrest a surge in imports and protect the domestic industry, both nations have already worked out a mechanism.
The safeguard mechanism will be available for about 14 years from the date of completion of elimination or reduction in tariff.
There will be a special review mechanism for compulsory review after 15 years for certain aspects of the agreement in a time-bound manner. The review, if requested, is compulsory and has to be completed in six months.
In the services sector, benefits for India include post study work visa of two-four years for Indian students on reciprocal basis; and work and holiday visa arrangement for young professionals.
"Post study work visas will provide extended options for working in Australia to eligible Indian graduates, post graduates and STEM (science, technology, engineering and mathematics) specialists," commerce and industry minister Piyush Goyal said.
He also said that Australia has agreed to resolve the double taxation issue being faced by domestic IT companies in that market. Australia has also agreed to amend its domestic tax law to stop the taxation of offshore income of Indian firms providing technical services in Australia.