Government to focus on import solutions involving 12 sectors
Production-linked incentives to fiscal sops and handholding through import duties form part of measures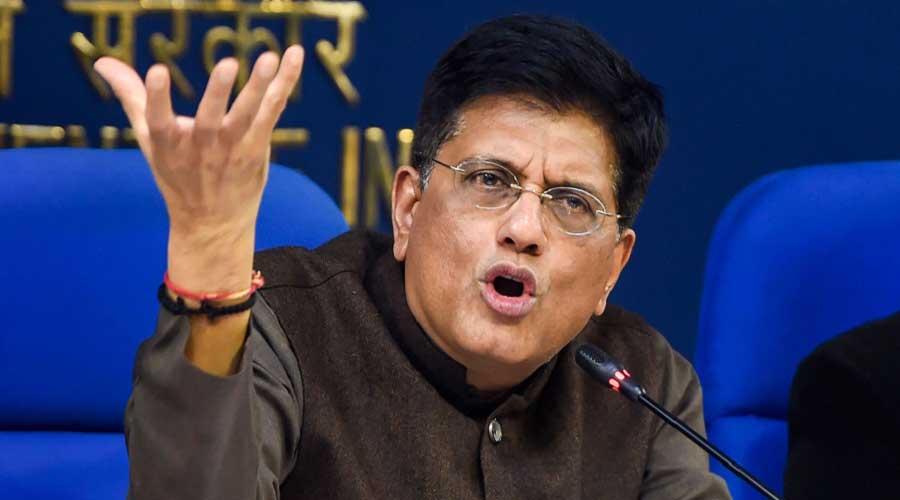 ---
|
Calcutta
|
Published 21.07.20, 01:16 AM
---
The government along with industry is working on evaluating import substitution measures across 12 sectors, ranging from electronics to leather, footwear and furniture.
A combination of measures, including production-linked incentives to fiscal sops and handholding through import duties, are being considered to cut down on imports and build domestic production.
"Around 12 sectors have been identified that includes, furniture, air-conditioners, leather and footwear. We are evaluating these sectors at present," commerce and industry minister Piyush Goyal said on Monday at a webinar organised by the Merchants' Chamber of Commerce and Industry as part of the efforts to push for self reliance under Atmanirbhar Bharat.
Citing the example of air-conditioners, Goyal explained that as prosperity levels rise, the demand for air-conditioners will also go up. But, at present, there are no domestic compressor manufacturers in the country. "Everything is imported. But this industry can happen in India," Goyal said.
He added that a wide gamut of measures necessary for hand holding the industry and develop indigenious manufacturing is under consideration of the central government that includes incentives for domestic manufacturers and tariff barriers on import. "The government is looking at both financial and preferably non financial measures," Goyal said.
The minister however said that steps to this extent will be gradual and cannot be taken overnight.