Icra revises outlook for Adani Ports, Special Economic Zone Limited to 'negative'
Icra says it sees an increased risk of regulatory/ legal scrutiny on group entities and its impact on credit quality of APSEZ will be monitored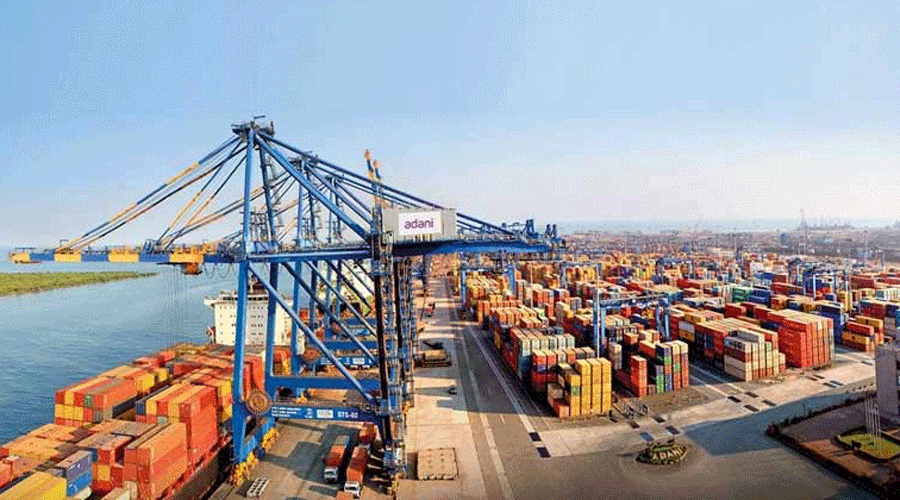 Present crisis has impacted Adani Ports' financial flexibility.
File picture
---
Mumbai
|
Published 04.03.23, 01:27 AM
|
---
Credit rating agency Icra has revised the outlook for Adani Ports and Special Economic Zone Limited (APSEZ) to negative from stable and said it will be monitoring the group's ability to raise funds from the domestic/global market as equity/debt at competitive rates.
The rating on the long-term loans of APSEZ remained unchanged at AA+.
The revision in outlook is on account of the deterioration in the group's financial flexibility, following a sharp decline in share prices and an increase in the yield of international bonds raised by group entities in the wake of a report published by a USbased short-seller, Icra said.
Hindenburg Research, which held short positions in unidentified shares of Adani Group firms through its US-traded debt and offshore derivatives, on January 24 publised a report accusing the conglomerate of "brazen stock manipulation and accounting fraud" and using a number of offshore shell companies to inflate stock prices.
The group has denied allegations, calling them "malicious", "baseless" and a "calculated attack on India".
Icra noted that the group's strong financial flexibility and APSEZ's track record of refinancing a large part of its debt with borrowings (mostly from overseas debt capital markets) of longer tenures at lower interest rates were the key credit strengths, which have been adversely impacted.
Further, Icra said it sees an increased risk of regulatory/ legal scrutiny on the group entities and its impact on the credit quality of APSEZ will be monitored.
However, Icra noted that APSEZ's liquidity profile remains robust and a large repayment of an international bond of $650 million is due only in FY25.
The rating reaffirmation continues to factor in the strong business profile of APSEZL, marked by its favourable operating characteristics, geographically spread-out footprint, diversified cargo mix and long-term customer tie-ups, Icra said.
The agency noted that the company has been acquiring key port assets as well as strategic assets across the logistics volume chain in the last few years.
More road shows
After a three-day road show in Singapore and Hong Kong, the Adani group will reportedly travel to London, Dubai and various cities in the US where they will meet fixed-income investors in a bid to win back their confidence, following the Hindenburg report.
A Reuters report on Friday said Adani would hold fixed-income roadshows this month in the West. Group chief financial officer Jugeshinder Singh, will attend the road shows which will run between March 7 and March 15.
The group held a threeday roadshow in the East: in Singapore on February 27, followed by a two-day event in Hong Kong.
They came at a time there was buzz that the group may repay loans backed by shares of up to $790 million in March.
Adani's attempt to reach out to bond investors did have a positive impact on the markets back home as the selling pressure on group stocks ebbed.
Observers said the conglomerate's move to reassure overseas investors indicates it may largely depend on foreign sources for any incremental funding.
An indication to this effect was available on Thursday when GQG Partners, the USbased equity investment firm, put in Rs 15,446 crore in four Adani companies.
The group has also held meetings with bond holders where it has rejected the allegations made by Hindenburg.
Meanwhile, shares of all Adani companies rallied on Friday, with Adani Enterprises jumping nearly 17 per cent after the GQG deal. In three sessions, the 10 Adani firms' market valuation has jumped more than Rs 1.42 lakh crore.
On alert
■ Present crisis has impacted Adani Ports' financial flexibility
■ Company's capacity to refinance debts have been hit adversely
■ Increased risk of regulatory scrutiny on group companies
■ Liquidity profile remains robust
■ Credit rating re-affirmed