Hint of lower net pay in PF rule tweak
Read more below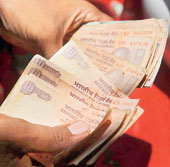 ---
---
Take-home truth
New Delhi, April 19 (PTI): Decks have been cleared to club allowances with the basic pay for provident fund (PF) deductions, a move that will increase savings but reduce the take-home pay of over 5 crore subscribers.
A review committee has supported the proposal to increase the social security benefit under the PF scheme run by the Employees' Provident Fund Organisation (EPFO).
"The committee's suggestion will be vetted by the labour ministry and will be put before the EPFO's apex decision making body — the Central Board of Trustees (CBT) — for taking a final call," B.N. Rai, a trustee and secretary of the Bharatiya Mazdoor Sangh, said.
"On the issue of clubbing of wages, even the employers' representatives supported the view that all such allowances which are regularly and uniformly paid to workers should form part of the basic pay for PF deductions," said Rai, who was a member of the review panel.
On November 30, the outgoing Central Provident Fund commissioner R.C. Mishra had brought out a notification to club all allowances, which are regular in nature, with the basic pay.
The notification had said: "All such allowances which are ordinarily, necessarily and uniformly paid to the employees are to be treated as basic wages."
The notification was an effort to check the practice of splitting the wages by employers to reduce their provident fund obligations. However, the notification was put in abeyance following reports that criticised the move of the retirement fund body. The government later set up a committee to look into the matter.
Pension norms
The Pension Fund Regulatory and Development Authority (PFRDA) has disallowed fresh investments in equity mutual funds and ETFs from the corpus of the private sector New Pension Scheme (NPS).
Besides, the pension regulator has asked the fund managers to restrict their single industry exposure to 15 per cent of NPS investments under all schemes.
The PFRDA has issued these clarifications in response to queries from fund managers seeking clarity on certain clauses of the investment management agreement for the private sector.
As on March 2013, NPS had a corpus of over Rs 28,400 crore of 44.93 lakh subscribers. Around 2 lakh subscribers are from the private sector, while 27 lakh are from central and state governments.