The government had last sold 10 per cent stake in CIL through an OFS in January 2015. It had then mopped up about Rs 23,000 crore.
Coal India posted a 61.07 per cent rise in consolidated net profit at Rs 3,786.44 crore for the June quarter of the 2018-19 financial year.
In the first quarter of the year, the government divested 0.225 per cent by way of placement of shares in "Bharat 22-ETF", after which, the government held 78.32 per cent equity. Coal India would be the first PSU offer-for-sale in the current fiscal.
The government has already raised over Rs 10,028 crore through stake sales, including follow-on-offer of Bharat-22 ETF and IPOs of 4 entities — RITES, Ircon, Mishra Dhatu Nigam Ltd and Garden Reach Shipbuilders.
After the disinvestment success in 2017-18, which exceeded Rs 1 lakh crore against the budget target of Rs 72,500 crore, the receipts in the first half of 2018-19 have been disappointing.
The government is likely to earn about Rs 5,000 crore by selling a 3-per-cent stake in Coal India through an offer-for-sale in the stock market for two days beginning Wednesday.
The shares will be sold at Rs 266 apiece, a discount of 3.97 per cent over Tuesday's closing price of Coal India on the NSE. Shares of Coal India closed at Rs 277 apiece, down 3.62 per cent on the NSE.
Considering the response of the investors, the government has the option to sell an additional 6 per cent in case of over-subscription. If the entire 9 per cent stake in Coal India (CIL) is sold, the government will earn about Rs 15,000 crore.
The two-day offer for sale (OFS) will open on Wednesday for institutional bidders. Retail investors, who can bid on Thursday, will get an additional 5 per cent discount. An offer-for-sale is similar to selling shares on the bourses through auction. Non-retail investors will be allowed to take part on October 31. On November 1, both retail and non-retail investors can participate.
The sale will be carried out between 9:15am and 3:30pm on both days on separate windows on the BSE and the NSE.
The government holds 78.32 per cent stake in Coal India. The LIC is the biggest public shareholder with an 8.97 per cent stake. The stake sale will allow Coal India to conform to the minimum public holding norm of 25 per cent.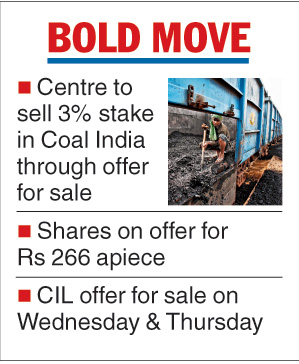 The Telegraph