Govt increases fertiliser subsidy by another Rs 28,655 crore
A cabinet committee on economic affairs release said this will enable the smooth availability of all P&K fertilisers to the farmers during Rabi Season 2021-22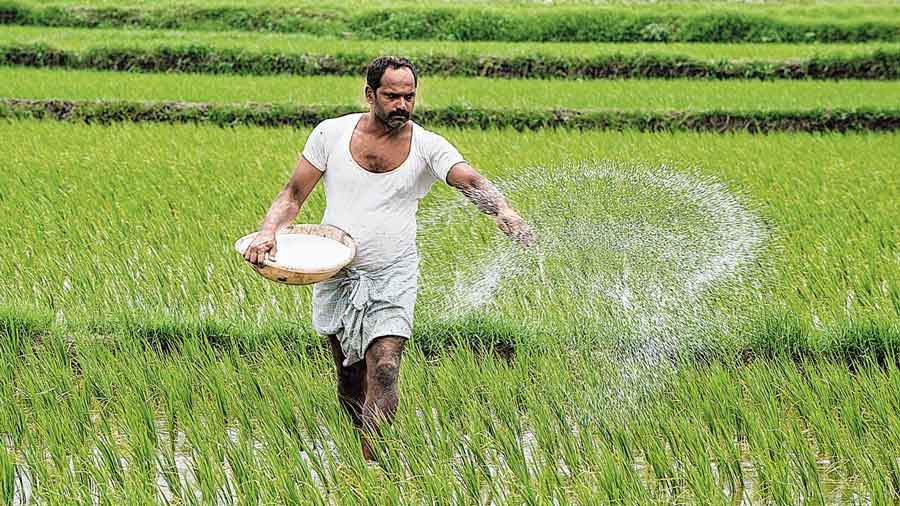 ---
New Delhi
|
Published 13.10.21, 01:50 AM
|
---
The government on Tuesday increased the fertiliser subsidy by another Rs 28,655 crore to insulate the farmers from the spike in global prices for the winter crop (rabi season) 2021-22.
"Cabinet approves Nutrient Based Subsidy (NBS) rates for Phosphatic & Potassic (P&K) Fertilisers for the year 2021-22 (from 1st October, 2021 to 31st March, 2022). Net subsidy of Rs 28,655 crore for Rabi 2021-22," an official release after the meeting of the cabinet committee on economic affairs (CCEA) said.
The release said this will enable the smooth availability of all P&K fertilisers to the farmers during Rabi Season 2021-22 at the subsidised  / affordable prices of fertilisers and support the agricultural sector by continuing the present subsidy levels and giving special packages of additional subsidy for DAP and three mostly consumed NPK grades.
The subsidy on of di-ammonium phosphate is being raised by Rs 438 per bag and Rs 100 per bag for nitrogen, phosphorus and potassium fertilisers so as to maintain prices of these fertilisers affordable to the farmers, the release said.
The increase in subsidy is an attempt to win over farmers agitating against the three farm laws that allow private businesses to procure agricultural produce directly. The support of the peasants are crucial for the ruling BJP to win the key polls in Uttar Pradesh and Punjab next year.
With this, fertilisers subsidy for the current fiscal has touched Rs 122,960 crore.
The government has increased the fertiliser subsidy outlay for the year by 14,775 crore in May to soften the impact of global prices.  In the budget fertiliser subsidy outlay for 2021-22 was Rs 79,530 crore.