FY22 growth forecast cut to 8.9%
The National Statistical Office (NSO) also said GDP growth in the third quarter (October-December) had slowed to 5.4 per cent from 8.5 per cent in the previous quarter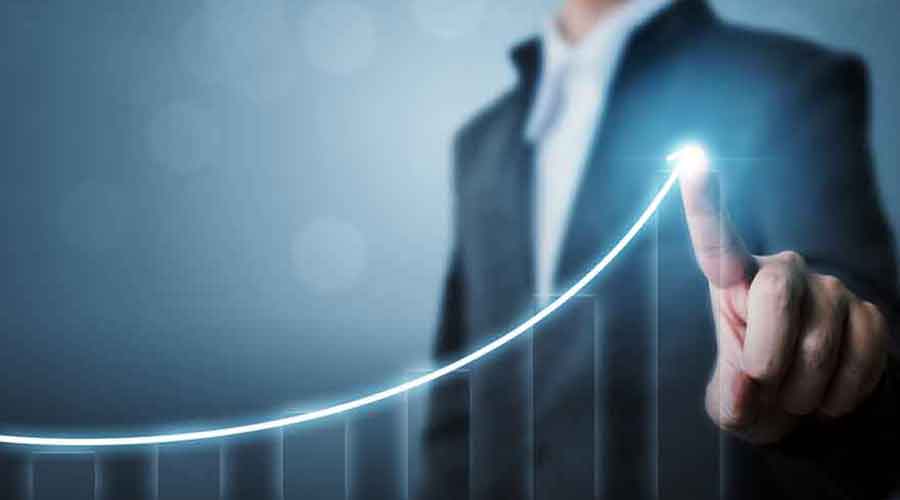 Representational image.
File photo
---
Published 01.03.22, 02:41 AM
|
---
The growth forecast for the Indian economy has been lowered to 8.9 per cent this year from 9.2 per cent earlier.
The National Statistical Office (NSO) also said GDP growth in the third quarter (October-December) had slowed to 5.4 per cent from 8.5 per cent in the previous quarter — far short of the 5.9 per cent estimate thrown up by a Bloomberg poll of 35 economists ahead of Monday's release of the second advance estimates of national income.
The final numbers could be even lower because of the third wave of the Covid-19 pandemic and soaring costs in the wake of Russia's invasion of Ukraine, analysts said.
The NSO also revised its estimates of GDP contraction for pandemic-hit 2020-21 to 6.6 per cent from 7.3 per cent previously.
"Q4 GDP has to grow 4.8 per cent for growth to hit 8.9 per cent for the fiscal. This looks challenging given the fact that the third wave of the pandemic had caused considerable restrictions. In addition, the ongoing geopolitical tensions, persistent supply bottlenecks, coal, power, and semiconductor shortages have been pronounced," M. Govinda Rao, chief economic adviser at Brickwork Ratings, said.
He said the effect of semiconductor shortages is already evident in the weak 0.2 per cent growth in the manufacturing sector in Q3.
"We expect the full fiscal growth may undergo revisions. The higher crude oil prices are also likely to adversely impact both growth and inflation."
Madan Sabnavis, chief economist, Bank of Baroda. said a 0.2 per cent growth in manufacturing inspite of a healthy growth in corporate profits means the unorganised sector has not recovered from the pandemic.
Real GDP — in 2011-12 prices — is estimated at Rs 147.72 trillion against the first revised estimate of GDP for the year 2020-21 of Rs 135.58 trillion, released on January 31, 2022.
"The initial estimates of the NSO for Q3 are sorely below our expectations (6.2 per cent for GDP), with a marginal rise in manufacturing and a contraction in construction that is surprising despite the heavy rainfall in the southern states," Aditi Nayar, chief economist at Icra, said.
According to NSO data, GVA growth in manufacturing remained almost flat at 0.2 per cent in the third quarter of 2021-22, compared with a growth 8.4 per cent a year ago.
Farm sector GVA growth was lower at 2.6 per cent in the third quarter compared with 4.1 per cent growth a year ago. Construction sector growth contracted 2.8 per cent  against a growth of 6.6 per cent a year ago. Mining sector grew 8.8 per cent against a contraction of 5.3 per cent a year ago.
Electricity, gas, water supply and other utility services segment posted a growth of 3.7 per cent in the third quarter of this fiscal against 1.5 per cent expansion a year ago. Similarly, trade, hotel, transport, communication and services related to broadcasting grew 6.1 per cent compared with 10.1 per cent contraction a year ago.
Financial, real estate and professional services growth stood at 4.6 per cent in Q3 FY22 compared to a growth of 10.3 per cent. Public administration, defence and other services grew at 16.8 per cent during the quarter under review compared to 2.9 per cent contraction a year earlier.
"The quarterly GDP growth numbers of FY22 is heavily influenced by the base effect, yet it indicates that the recovery in 3QFY22 cannot be yet called a robust recovery," Sunil Kumar Sinha, principal economist at India Ratings and Research, said.
Several indicators such as consumption of steel, sale of commercial/passenger vehicles, cargo handled at seaports are either showing negative or low growth despite the low base of FY21, he said.
"The situation is unlikely to be very different even in the fourth quarter of the current fiscal due to the 3rd wave of Covid," he noted.
Rumki Majumdar, economist, Deloitte India, said: "Supply constraints and subdued demand have weighed on the growth rebound in Q3. New uncertainties because of geopolitical conflicts could impact the growth outlook."
"The biggest worry would be inflation because of skyrocketing oil prices. This could undermine the stability of growth. Rising inflation and falling stock market indices may weigh on consumer sentiments and their purchasing power," Majumdar said, adding a possible policy rate hike by RBI could impact the credit growth cycle, which had been improving lately.