FM to meet state chief ministers in a move to boost capital expenditure
In the Budget 2021-22, Nirmala Sitharaman increased the capex to Rs 5.54 lakh crore – 26% more than the revised estimate of Rs 4.39 lakh crore for 2020-21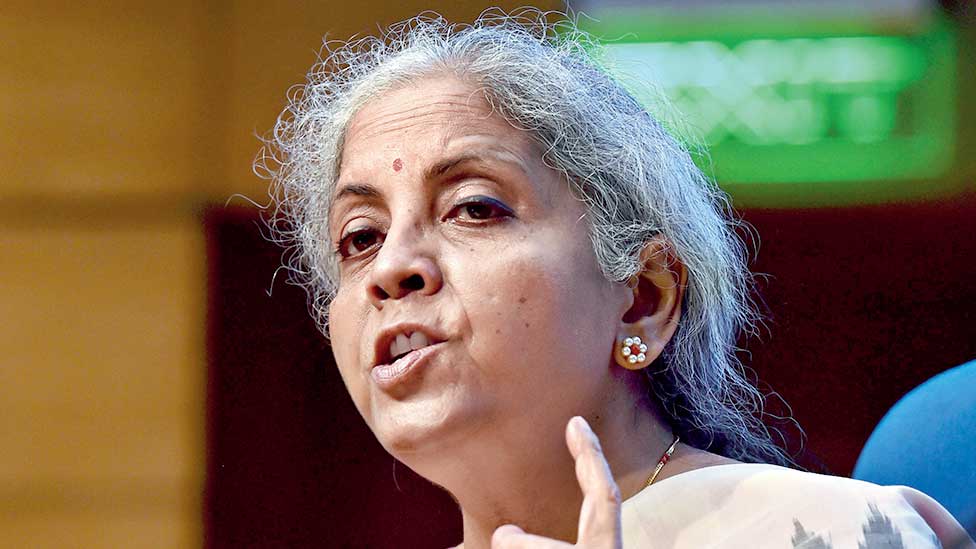 Nirmala Sitharaman.
File photo
---
New Delhi
|
Published 09.11.21, 02:26 AM
|
---
In a move to boost capital expenditure, finance minister Nirmala Sitharaman will meet the state chief ministers next week, officials said.
North Block officials said the review meeting on November 15 would "urge states to increase their capital spending in the second half of the year" as the economy moves ahead after the Covid-19 pandemic.
In the Budget 2021-22, the finance minister had increased the capital expenditure to Rs 5.54 lakh crore – 26 per cent more than the revised estimate of Rs 4.39 lakh crore for 2020-21.
Against the annual target of Rs 5.54 lakh crore, the government has achieved capital expenditure to the tune of Rs Rs 2.29 lakh crore, 41 per cent of the budget estimate in the first half (April-September) of the current financial year.
The data showed that out of the total expenditure incurred in the first half, almost Rs 1 lakh crore has been spent in the two months of August and September alone.
Officials said the capital expenditure will gather momentum in the second half of 2021022, and would have been higher in the first half itself had Covid 2.0 not led to localised lockdowns.
The meeting is part of a comprehensive review by the finance ministry to monitor release of funds and push key infrastructure departments to ensure timely completion of projects.
During these meetings, the minister has reviewed the progress on capital expenditure by departments, implementation of projects under the National Infrastructure Pipeline, and plans for asset monetisation.
The Centre has incentivised the States to emphasise on capital expenditure. Under the scheme entitled 'Special Assistance to States for Capital Expenditure for 2021-22' the Centre has approved capital projects worth Rs. 2,903.80 crore in 8 States, and has also released an amount of Rs. 1,393.83 crore to these States.
Additionally, for the current year 2021-22, out of the net borrowing ceiling of 4 per cent of GSDP for the States, 0.50 percent of GSDP was earmarked for incremental capital expenditure to be incurred by the States during 2021-22.
Due to these collaborative efforts by the Centre and the States, eleven States have achieved the capex target set by the Centre during Q1 of 2021-22. As a result, these States have been granted permission to borrow an additional amount of Rs. 15,721 crore which is 0.25 percent of their Gross State Domestic Product (GSDP).