Finance minister says not all state-owned banks will be privatised
Sitharaman's comments came on the second day of the two-day bank strike called by the United Forum of Bank Unions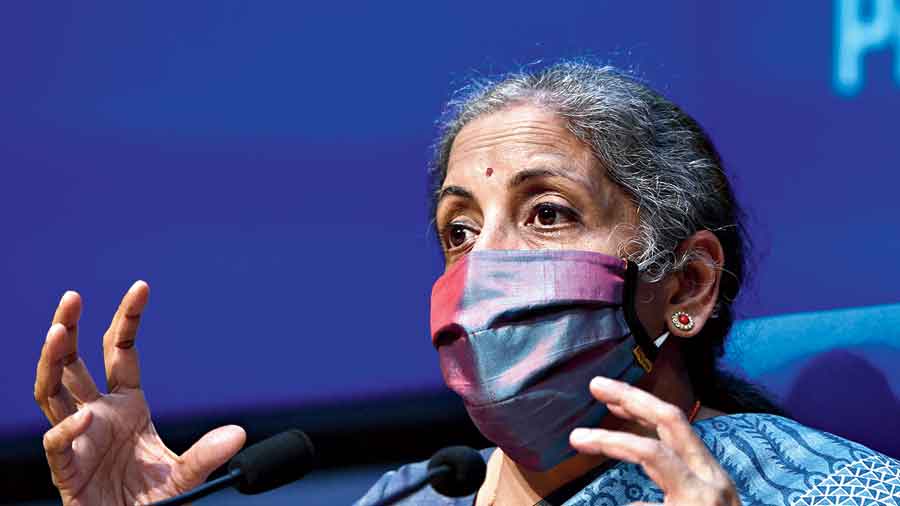 Nirmala Sitharaman.
File picture
---
New Delhi
|
Published 17.03.21, 02:11 AM
|
---
Finance minister Nirmala Sitharaman on Tuesday said "not all state owned banks" would be privatised and the interest of employees would be protected even after privatisation as the two-day bank strike came to an end.
"We have announced a Public Enterprise Policy, where we have identified 4 areas where public sector presence will be there, in this, financial sector too is there. Not all banks are going to be privatised," Sitharaman told reporters after the meeting of the Union.cabinet.
She said the banks that are privatised would continue to operate, while the interests of workers after privatisation would also be protected "Whether their salaries or scale or pension, all will be taken care of," the finance minister said.
The public sector enterprise policy "very clearly" states that the Centre will continue to operate public sector banks. "So, just to quickly say that all public banks will be sold off, is not right," she said.
Sitharaman's comments came on the second day of the two-day bank strike called by the United Forum of Bank Unions that is protesting against the proposed privatisation of two state-owned banks. Around 10 lakh bank employees reportedly participated in the strike, affecting banking services.
The minister said that the banks are being privatised because the government wants to make financial institutions better equipped and more sustainable. She gave the example of State Bank of India and added that the focus is on amalgamating banks that are big enough to meet the aspirations of the country.
The 51% rule
Bank unions are concerned about the Modi government's ability to introduce a legislation and directly make amendments to section 3 part 2B(C) of The Banking Companies (Acquisition and Transfer of Undertakings) Act, 1970.
This section says that public sector banks may after consultation with the RBI and with previous sanction of the central government raise equity provided the central government shall at all times hold not less than 51 per cent of the paid-up capital.
According to the unions, a money bill introduced in the Lok Sabha can bring in the requisite changes.
As an example, the Finance Bill 2021, brought about amendments to the Life Insurance Corporation Act,1956, the unions said.
With inputs from Calcutta Bureau