Fertiliser subsidy bill set to soar
Russia accounts for over 17 per cent of muriate of potash imports and approximately 60 per cent of NPK (nitrogen, phosphorus, potassium) imports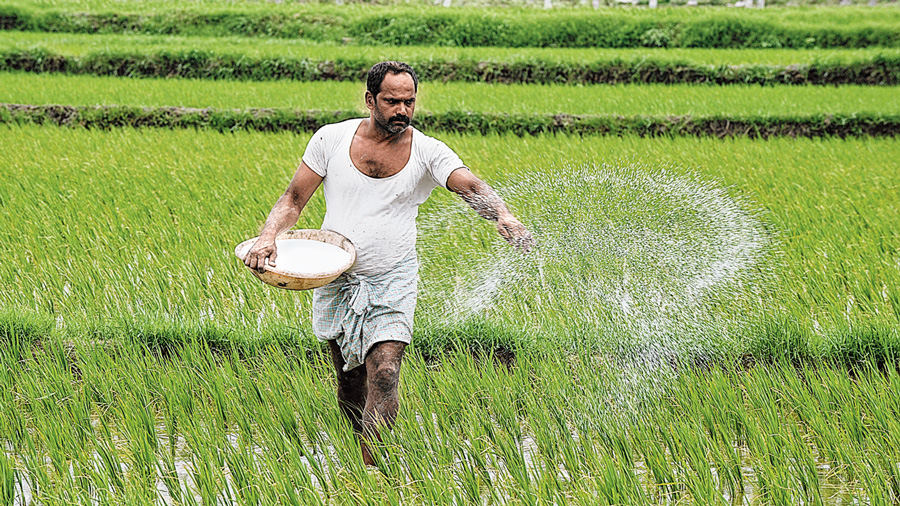 Representational Image
Twitter
---
New Delhi
|
Published 30.03.22, 03:57 AM
|
---
Ukraine war is likely to ratchet up the fertiliser subsidy bill to Rs 1.5 lakh crore in 2022-23 against the budget estimate of Rs 1.05 lakh crore. Both fertiliser prices — DAP and potash — as well as inputs such as sulphur have witnessed a spike, officials said.
Brokerage Nomura said India buys around 11.5 per cent of its fertiliser imports from Russia, Ukraine and Belarus. Russia accounts for over 17 per cent of muriate of potash imports and approximately 60 per cent of NPK (nitrogen, phosphorus, potassium) fertiliser imports.
About 10 per cent of urea imports come from Ukraine and 18 per cent of muriate of potash from Belarus.
D.K. Srivastava, chief policy advisor, EY India, said the allocation for the next fiscal at Rs 1.05 lakh crore is much lower than the allocation for 2021-22 at Rs 1.4 lakh crore in the revised estimate. "In FY23, the corresponding allocation being considerably lower, there is a strong likelihood of its upward revision." The fertiliser subsidy bill for this fiscal increased Rs 14,902 crore from the initial allocation.
Rating agency ICRA said "inadequate availability of fertilisers poses a concern, as systemic inventory is significantly below historic levels across all segments, chiefly on account of lower imports amid limited availability in the international market, and elevated prices".
Incremental imports of DAP and MOP will hinge on the announcement of the subsidy rates under the Nutrient Based Subsidy scheme as prices of both the varieties have witnessed a significant uptick in world markets.
While the Centre has an agreement to source 1mmt of urea annually from Oman, plans to source potash from Belarus and phosphatic  fertilisers from Russia have become uncertain, Icra said.
A parliamentary standing committee on chemical and fertiliser chaired by Kanimozhi Karunanidhi has stated that the gap between the projected requirement for 2022-23 and the budgetary allocation may eventually result in delayed payment and settlement of claims under urea and P&K subsidies.