EPFO to invest in private bonds
It will be on a case-to-case basis and on approval from the Finance Investment and Audit Committee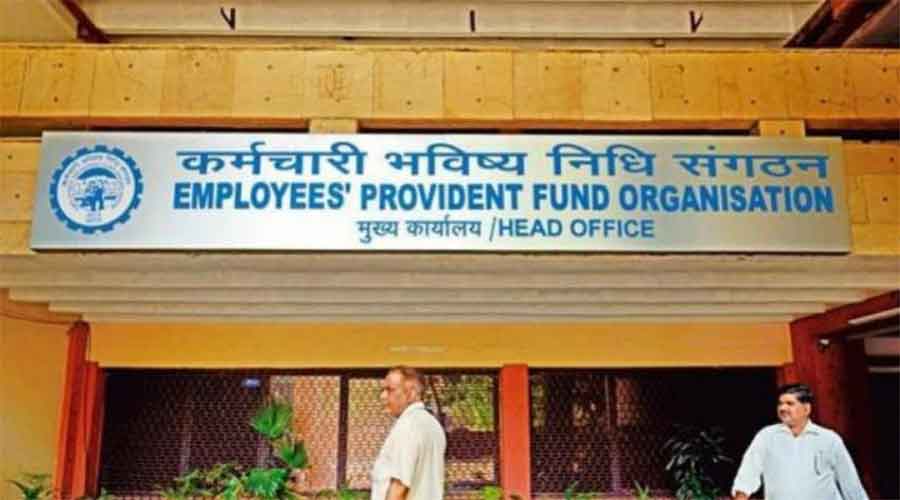 EPFO's monthly deposits range between Rs 15,000 crore and Rs 16,000 crore.
File picture
---
New Delhi
|
Published 21.11.21, 12:32 AM
|
---
The central board of trustees of the Employees' Provident Fund Organisation (EPFO) on Saturday approved the government's proposal to allow the retirement fund body to invest up to 5 per cent of its annual deposits in alternative investments funds, including the infrastructure investment trusts (InvITs).
However, this will be on a case-to-case basis and on approval from the Finance Investment and Audit Committee. The investments will initially be restricted to public sector funds only, labour and employment secretary Sunil Barthwal said after the 229th meeting of the central board of trustees (CBT).
The government said if the EPFO wants to give a high rate of return to its subscribers, it will have to follow the investment pattern notified by the finance ministry.
K.E. Raghunathan, an EPFO trustee, told The Telegraph that the CBT decided to "lift the restrictions on investing in private corporate bonds". He said the FIAC  would consider the various risk factors and mitigation of such risks to recommend an opportunity if there is adequate risk cover and good yield.
Under the existing notified investment pattern, the EPFO invests between 45-50 per cent of its incremental deposits in government securities, 35-45 per cent in debt instruments, between 5-15 per cent in equities and up to 5 per cent in short-term debt instruments.
EPFO's monthly deposits range between Rs 15,000 crore and Rs 16,000 crore. The annual figure is around Rs 1.8 lakh crore to Rs 1.9 lakh crore.
Ananth Narayan of SPJIMR said: "We need to channel more of our long-term savings into productive long-term infrastructure investments such as the government's ambitious National Infrastructure Pipeline. This would not only enhance the returns for savers, but also ensure that the country achieves sustainably higher growth."
"Currently, there are severe restrictions on where pension funds, provident funds and insurance companies — the main aggregators of very long term savings — can invest. Over time, rather than restrict the nature of investments via prescriptive regulations, more autonomy should be given to professionally run investment committees of these organisations to manage the risk and return, within the ambit of principle-based regulations," he added.
Recently, the government allowed up to 5 per cent investment in asset-backed, trust-structured and miscellaneous investments, including the alternative investment funds, real estate investment trusts and units of infrastructure investment trusts.
The CBT is a tripartite body involving government, workers and employers' representatives and its decision is binding on the EPFO. It is headed by the labour minister.
The meeting also decided to constitute four sub-committees, comprising members of the board from employees' and employers' side as well as representatives of the government.
Two committees on establishment related matters and futuristic implementation of Social Security Code will be headed by the Minister of State Labour and Employment. The remaining two committees on digital capacity building and pension related issues will be headed by the Union Labour and Employment Secretary.