Dhunseri Tea to buy four tea estates of Warren Tea
The gardens, located at the Tinsukia district of Assam, are capable of producing about 3.3 million kilograms of tea in a year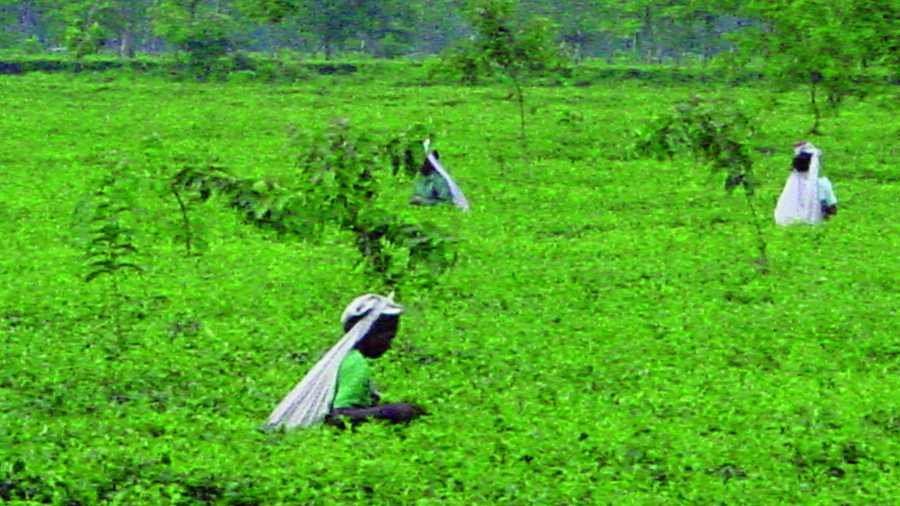 The Hatimara estate of Warren will be acquired by Madhuting Tea Pvt Ltd, an unlisted promoter group company, for Rs 14.2 crore.
Representational file image
---
Calcutta
|
Published 23.11.22, 01:38 AM
|
---
The Dhunseri group, promoted by Chandra Kumar Dhanuka, has snapped up four tea gardens in Assam from Warren Tea Ltd, joining a handful of Indian planters to have more than 10 million kilograms of own crop.
The gardens, located at the Tinsukia district of Assam, are capable of producing about 3.3 million kilograms of tea in a year. Three of the estates — Duamara, Tara and Deohall — are being bought by Dhunseri Tea & Industries Ltd, a listed entity, for Rs 90.8 crore.
The Hatimara estate of Warren will be acquired by Madhuting Tea Pvt Ltd, an unlisted promoter group company, for Rs 14.2 crore.
Following the closure of the transactions, the Dhunseri group will have over 10.5 million kilograms of tea of its own production, including 1 million kilograms of premium orthodox tea. The group also has tea plantations in Malawi, Africa, where 9 million kilograms is produced.
In India, the total made tea coming out of the Dhunseri stable would be around 14 million kilograms, including 3.5 million kilograms of bought leaf from small tea growers.
McLeod Russel, Amalgamated Plantation, M.K. Shah Exports, Luxmi Tea and Assam Co are some of the producers that have over 10 million kilograms of their own crop. "I am cautiously optimistic about the tea industry. There is financial stress on estates. For the long-term viability of the sector, there must be a floor price for tea," C.K. Dhanuka, chairman of Dhunseri Tea, said.
He is hopeful that the government will introduce a minimum price for tea, which will effectively blunt steep competition from the unorganised sector, the small tea growers.
The small growers work with a lower-cost structure compared with the estates that are liable to pay a government-mandated wage unlike their unorganised counterparts. Neither the government in Assam nor at the Centre has responded to the demand of the estates to have a floor price.
"I am betting on the floor price to come in the near future. Without it, the industry's future may be bleak," he said.
Dhanuka, however, is also making sure that his gardens fetch more than the average crop by focusing on quality. "We have produced better quality tea this year, which resulted in a reduction in our own crop by a million kilograms," he explained.
Dhunseri, however, plans to remain just a producer and not create its own brands which many of its peers are increasingly focusing on in the last five to seven years to beat the vagaries of the commodity market. In fact, the company sold some of the brands it had to focus on plantation.
"Branding requires large resources which many of the garden owners do not have," Dhanuka explained.
While Dhunseri adds to its crop, Warren said it would now focus on retail and consumer marketing in select districts of northern India and carry on the tea business as a merchant exporter.