Deep divide on GST payout
Government rules out vote on the compensation issue, arguing that the borrowing by states does not require the approval of the GST Council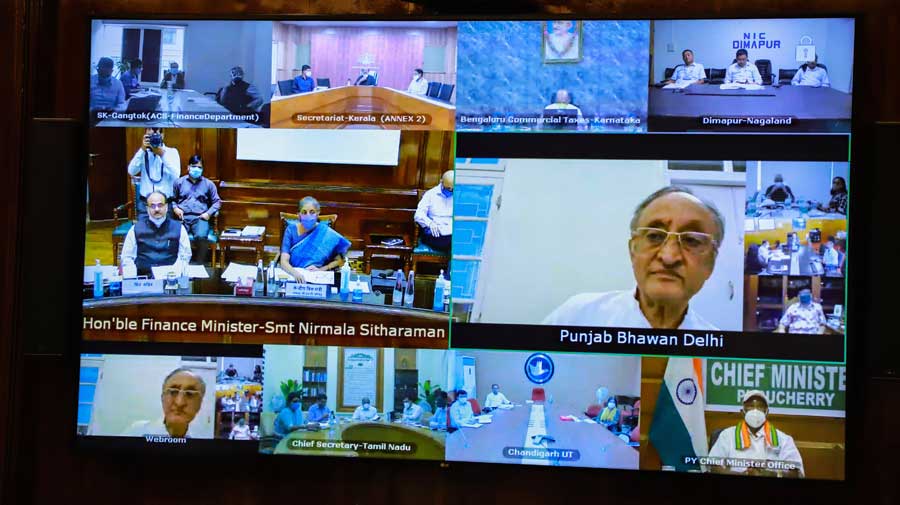 Screenshot of state finance ministers attending the 42nd GST Council meeting via video conferencing on Monday.
PTI
---
New Delhi
|
Published 07.10.20, 01:16 AM
|
---
The Narendra Modi government on Tuesday ruled out a vote on the compensation issue while arguing that that borrowing by states did not require the approval of the GST Council.
The government, which headed off a vote on the contentious issue at Monday's meet after failing to rustle up the numbers, appeared to have changed its tactics as it sought break Opposition unity on an issue that has divided the Council that is due to meet again on October 12.
States can borrow on the basis of future receipts of compensation, for which they do not need the GST Council's recommendation, finance ministry officials said. Borrowing is not under the council's jurisdiction; voting can only take place on issues that fall within its jurisdiction, they said.
The officials said the council can only decide on the extension of cess beyond five years, and that was done on Monday. "The issue of borrowing by states is not something that comes within the jurisdiction of the GST Council," officials said.
"It has the jurisdiction to extend the levy of cess to compensate for the shortfall in the compensation. It has done that.  Now the ball rests in the court of individual states, not the GST council."
The officials pointed to Article 293 of the Constitution which "empowers each individual state to borrow".
Kerala finance minister Thomas Isaac has now said the states will have no choice but to move the Supreme Court if the Centre tries to push for the implementation of the first borrowing option that entitles states to borrow a sum of Rs 1.10 lakh crore from a cheap loan window.
The Centre has refused to set up a dispute resolution mechanism — and therefore a petition before the apex court is the only way out. Article 279A (11) of the Constitution states that the GST Council can create a mechanism to resolve disputes between the central government and states or among two or more states.
Senior Congress leader and former finance minister P Chidambaram in a series of tweets complimented the states that rejected the two options given by the Centre to bridge the gap in the GST compensation cess and asked them to stand firm at the next meeting of the GST council on October 12. The former finance minister said the states should not borrow as the liability to provide GST compensation as well as the onus to find resources fall on the Centre.
"I compliment the 9-10 states that stood firm and rejected the two options given by the Centre to bridge the gap in the GST compensation cess. The liability to provide the GST compensation to the full extent falls on the Centre, as admitted by the FM. The onus of finding the resources also falls on it," he said in his tweets.