CPT drill to upgrade facilities at Haldia
The port authority is eyeing an investment of around Rs 330 crore for mechanisation of a berth in Haldia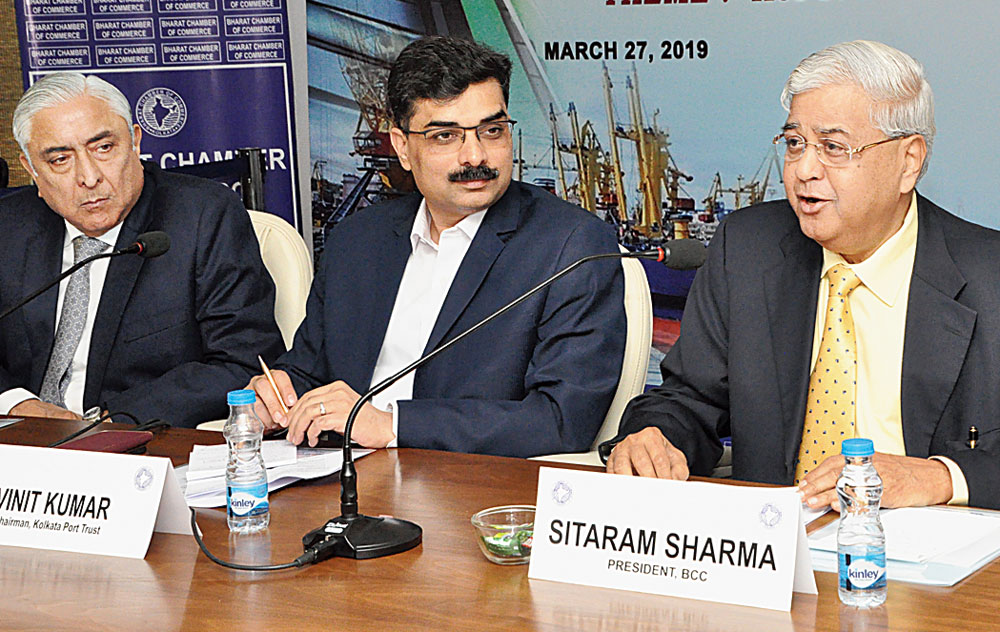 ---
Calcutta
|
Published 27.03.19, 07:21 PM
|
---
Calcutta Port Trust is focusing on expanding capacity and evacuation to maintain growth momentum. The port authority is eyeing an investment of around Rs 330 crore for mechanisation of a berth in Haldia and is improving the loading of railway rakes at the port.
It has also lined up a barge terminal project at Balagarh in Hooghly district to deconjest Calcutta port.
The estimated cost of the project is around Rs 300 crore and the port authority expects bidding by around September this year.
"The steel industry is reviving. The plants which were under NCLT are again being revived. SAIL in its 2030 vision plans to grow to 300 million tonnes. This will require inputs and most of it will come to this area. So, we have to prepare ourselves. We are mechanising one more berth in Haldia. We are coming up with rapid loading facility of trains. It takes around 7-8 hours as of now to load a rake. Once we install the system, we will be in a position to load the train in 2 hours," Calcutta Port Trust chairman Vinit Kumar said at an event organised by the Bharat Chamber of Commerce on Wednesday.
Kumar said there was growth opportunities for the port in LPG and LNG.
"We are coming up with two more terminals — one close to Haldia and one in Salukhali. Hopefully, one terminal, for which we have the environmental clearance, will be ready in 18 months. For the other terminal, we hope to get the environmental clearance by July or August," Kumar said.
A detailed project report for a barge terminal upriver is also underway.
"We have around 300 acres in Balagarh, which is around 85km upstream in the Ganges. We plan to have a barge terminal there. Whatever traffic is going upwards, we will load it onto the barges in Calcutta, take it to Balagarh and then disperse it from there so that the congestion in Calcutta is avoided," Kumar said.
The port authority is also augmenting railway evacuation infrastructure in Calcutta for container cargo and plans to further improve the road condition in the port area for easier traffic movement.