Chanda Kochhar quits ICICI Bank
COO Sandeep Bakhshi is new MD & CEO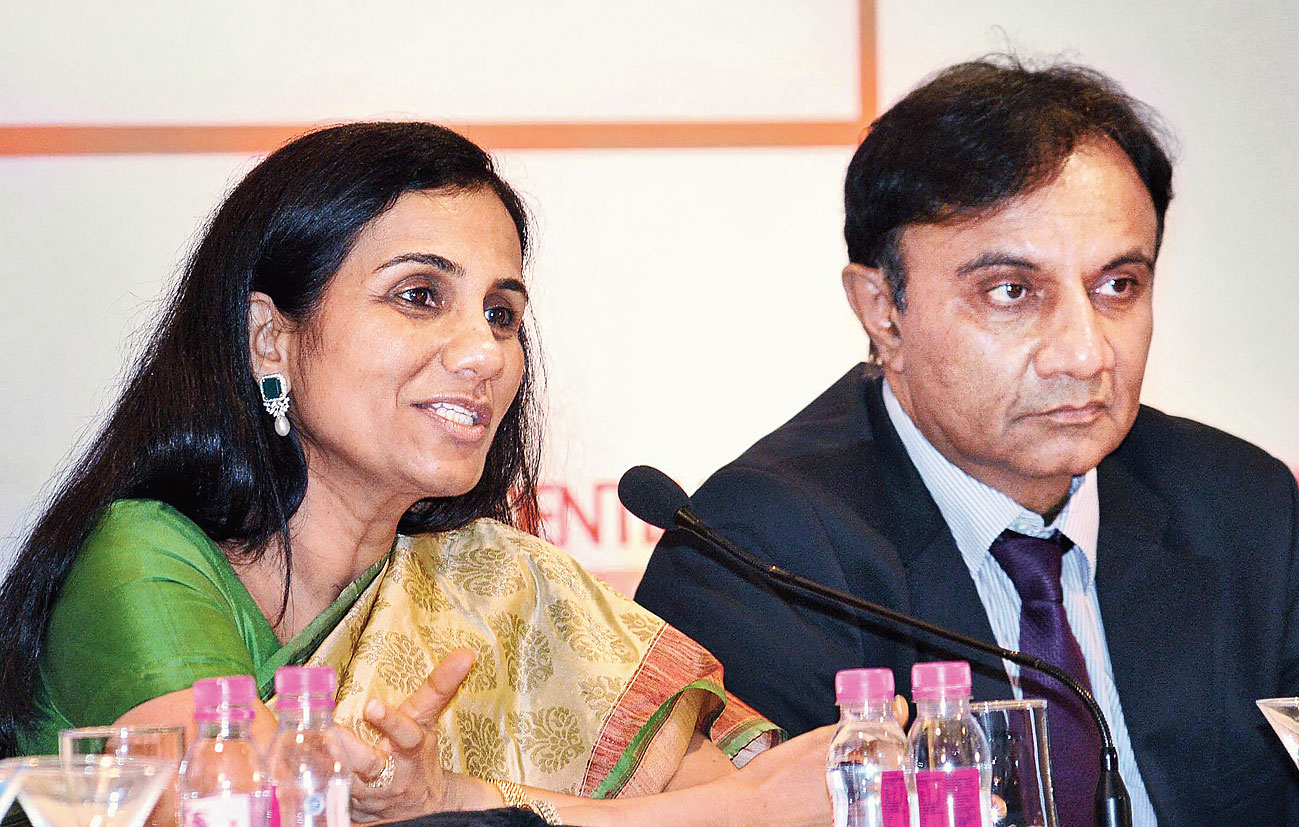 Kochhar with Sandeep Bakhshi.
(File picture)
---
Mumbai
|
Published 04.10.18, 07:49 PM
|
---
ICICI Bank managing director and CEO Chanda Kochhar has quit the bank, six months before her current tenure was to end.
Following her exit, the board of the country's third largest lender by assets on Thursday elevated chief operating officer (COO) Sandeep Bakhshi as the new managing director and CEO for five years until October 3, 2023.
Kochhar, who is facing enquiry over charges of nepotism and conflict of interest, has also resigned from all the subsidiaries of the bank, including ICICI Securities where she had sought reappointment as the chairperson.
Kochhar's current five-year tenure as CEO of the bank was to end on March 31, 2019.
Stock markets welcomed the development with the ICICI Bank scrip gaining 3.94 per cent to close at Rs 315.55 on a day the Sensex, the BSE benchmark, tanked more than 2 per cent.
"The exit of Chanda Kochhar will be key to reinstating the credibility of ICICI Bank. The move will restore investor confidence in one of India's largest private sector banks,'' Mahesh Singhi, founder & MD of Singhi Advisors, said.
Bakhshi, the former head of the bank's life insurance arm, took the helm on an interim basis in June, after Kochhar went on leave during an enquiry into an alleged conflict of interest that triggered months of controversy.
"The external enquiry instituted by the board against Kochhar in May will remain unaffected by this and the benefits to her would be subject to the outcome of the probe," the bank said in a statement after the board meeting on Thursday.
Following the board's decision to institute an enquiry by retired Supreme Court Justice B.N. Srikrishna, Kochhar went on leave in May.
There are allegations of involvement of Kochhar and her family members in a loan provided to the Videocon group on a quid pro quo basis.
It was alleged that Videocon Group pumped money into NuPower Renewables, a firm owned by Deepak Kochhar, husband of Chanda Kochhar.
There are also allegations that NuPower got investments of Rs 325 crore from Mauritius-based Firstland Holdings, a company owned by Nishant Kanodia, son-in-law of Essar Group co-founder Ravi Ruia.
The investments from Ruia's son-in-law's firm into NuPower started in December 2010. Incidentally, the same month ICICI Bank was the lead banker in a consortium of local banks that extended a $530 million loan to Essar Steel Minnesota LLC on December 29, 2010. This loan was later classified as a non performing asset.
"The board of directors of ICICI Bank accepted the request of Chanda Kochhar to seek early retirement from the bank at the earliest," the bank said.
Bakhshi will lead ICICI for five years, subject to regulatory approval, while other conditions of his appointment remain unchanged, the statement added.
Meanwhile, independent director M.D. Mallya, too, resigned from the board for health reasons.