Centre, Reserve Bank of India consider crypto challenge
Discussions with RBI regarding digital currency had started even prior to the budget announcement, says Nirmala Sitharaman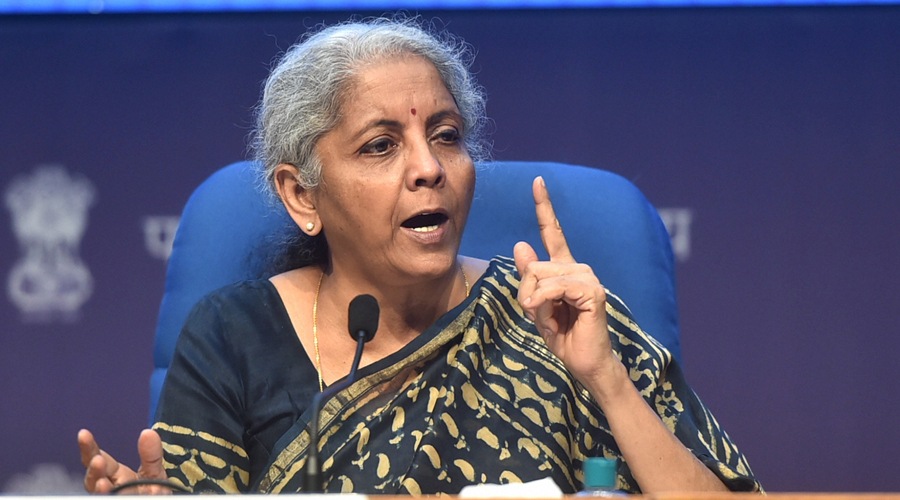 Nirmala Sitharaman.
File Photo
---
New Delhi
|
Published 15.02.22, 03:13 AM
|
---
The Centre and the Reserve Bank of India (RBI) are in discussions on the crypto currency issue and will finalise their views soon as the apex bank is expected to come out with its digital currency next fiscal.
After a meeting with the RBI's board, finance minister Nirmala Sitharaman said the central bank and the government are on board regarding digital currencies. She said the discussions with the RBI regarding CBDC (central bank digital currency) had started even prior to the budget announcement.
"Whatever the government does, we consult and have discussions with the RBI. So if I were to tax 30 percent and then discuss Goods and Services Tax (GST) and everything else, I would be tying the RBI's hands if I had not even talked to them," Sitharaman said.
During her budget speech,  the finance minister had announced the digital rupee or the central bank digital currency would be issued by the RBI in the next fiscal. She had also announced the government will levy 30 per cent tax on gains made from any other private digital assets from April 1.
RBI governor Shaktikanta Das said like several other issues, this particular issue is internally under discussion between the RBI and the government. "Whatever points we have we discuss with the government," he added.
Meanwhile RBI deputy governor T Rabi Sankar on Monday said crypto currencies are even worse than Ponzi schemes and threaten the financial sovereignty of a country.  Observing that crypto-technology is underpinned by a philosophy to evade government controls, he said they have been specifically developed to bypass the regulated financial system.
More substantially, he added, crypto currencies can wreck the currency system, monetary authority, banking system, and in general the government's ability to control the economy. 
"We have also seen that crypto currencies are not amenable to definition as a currency, asset or commodity; they have no underlying cash flows, they have no intrinsic value; that they are akin to Ponzi schemes, and may even be worse. These should be reason enough to keep them away from the formal financial system," Sankar said at an event of the Indian Banks' Association on Monday.