Centre has no plan to ask RBI to print money to finance deficit
Nobel laureate Abhijit Banerjee, and P. Chidambaram had suggested that printing money was an appropriate way to support rising expenditure during the pandemic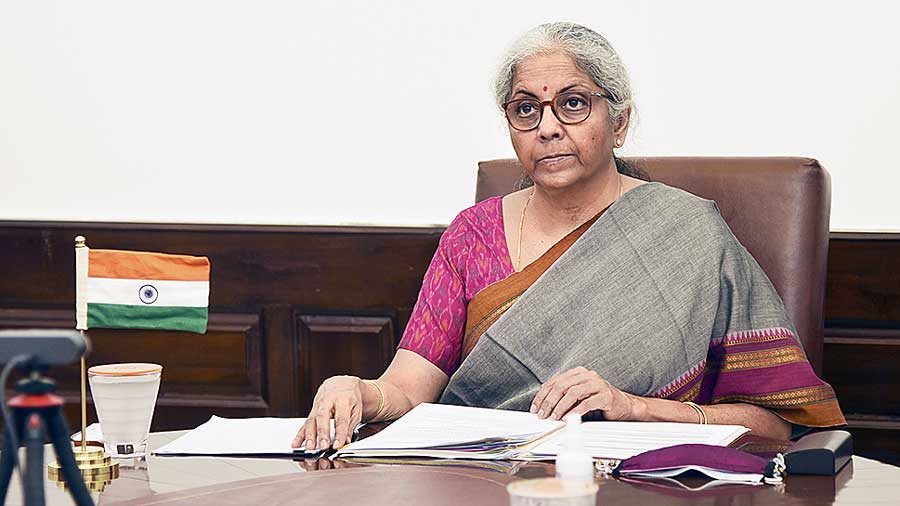 Nirmala Sitharaman.
File photo
---
New Delhi
|
Published 27.07.21, 12:59 AM
|
---
The Centre has no plan to ask the Reserve Bank of India to print money to finance its deficit for the current fiscal even as the interest rates on government paper show little signs of softening with those on the benchmark 10-year paper at 6.16 per cent at close on Monday.
"The fundamentals of the economy remain strong as the gradual scaling back of lockdowns, along with the astute support of the Atmanirbhar Bharat Mission (stimulus package) has placed the economy firmly on the path of recovery from the second half of 2020-21," finance minister Nirmala Sitharaman said in the Lok Sabha on Monday. She was replying to a question by Lok Sabha member Mala Roy of the Trinamul Congress on the state of the economy during the coronavirus pandemic.
When asked "whether there is any plan to print currency to tide over the crisis", the finance minister, in her written statement, replied "no".
Nobel laureate Abhijit Banerjee and former finance minister P. Chidambaram had suggested that printing money was an appropriate way to support rising expenditure during the pandemic.
While Banerjee said the government should print money to support direct cash transfers to the poor, Chidambaram wanted the Centre to "act boldly and spend" by borrowing or printing more money.
"This is not the time to worry about the fiscal deficit. So what if the deficit widens to 6.5 per cent. We can't lose another year like we lost the last year. My advice to the government is to act boldly and spend. Borrow or print money and spend," Chidambaram said.
A section of the economists was opposed to the idea as this would lead to higher inflation and a decline in the value of the rupee.
Sitharaman introduced the insolvency amendment bill in the Lok Sabha which is meant to provide a pre-packaged insolvency resolution to micro, small and medium enterprises (MSMEs). The bill — Insolvency and Bankruptcy Code (amendment) Bill 2021 — will replace an ordinance promulgated in April this year.
Tax collection
The net direct tax collection in the first quarter of 2021-22 is Rs 2.46 lakh crore against Rs 1.17 lakh crore a year ago, the minister of state for finance Pankaj Chaudhary informed Lok Sabha in a written reply.