Calcutta-based wealth management firm Wealthapp plans family office
The company is going to offer bespoke investment advisory, tax and estate planning, inheritance and succession planning and philanthropy to its client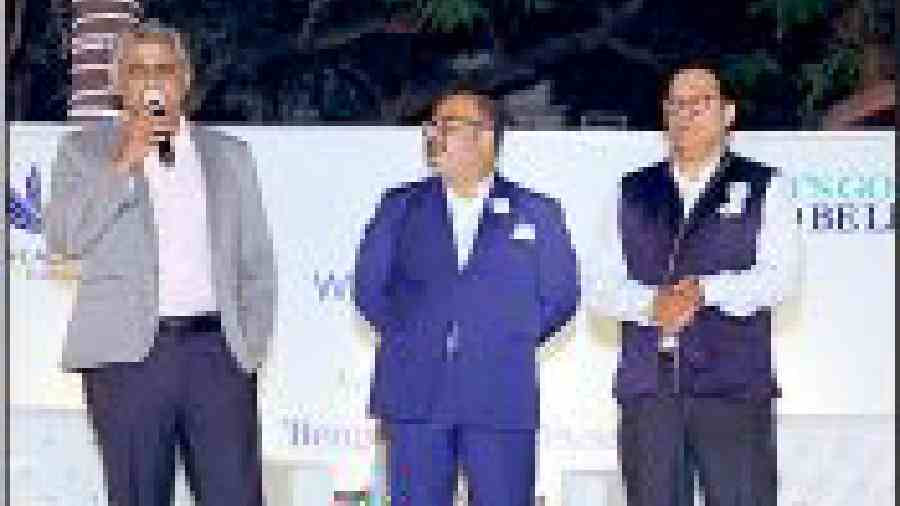 Anindya Paulchaudhuri unveils the Wealthapp Family Office Logo at the Calcutta Literary Meet
---
Calcutta
|
Published 30.01.23, 02:20 AM
|
---
A city-based wealth management firm is foraying into the heady realm of family office services at a time preservation and accumulation of legacy wealth appears to be a key concern among wellheeled families.
Led by a group of professionals with years of experience under the belt in the field of high finance, Wealthapp Distributors Pvt Ltd plans to offer the service of a family office to clients who do not wish to take up the hassle of setting up their own exclusive office just as yet.
Wealthapp, which has Rs 550-crore assets under management via a wealth management service, is going to offer bespoke investment advisory, tax and estate planning, inheritance and succession planning and philanthropy to its clients.
A new outfit has been set up by the company to engage in the business where earning the trust of the client and maintaining it over th years is the name of the game. "We would like to be the personal munimji — the very trusted lieutenant who has nothing but babu's interest in mind. We will offer a comprehensive suite of services that will take care of every aspect of the family's financial requirement," said Anindya Paulchaudhuri, managing director and CEO of Wealthapp Family Office.
The new business was launched last week during Calcutta Literary Meet where a seminar on Bengal and Business took place. To begin with, the company will look at a minimum corpus of Rs 10 crore to manage under the family office business.
The concept of family office traces its roots back to the days of the industrial revolution when many successful entrepreneurial families created informal structures to manage and support investments into new business ventures. Over the centuries, the structure evolved and became complex, and nuanced as it increasingly responded to the dynamics of tax and regulatory compliances across multiple jurisdictions.
Many top-notch Indian billionaires have set up family offices already and a large section of them are located outside India, notably in Singapore and West Asia.
Explaining the idea, Paulchaudhuri said that it is a private wealth management service offered to top-echelon networth investors to centralise, focus and have better control over family finances.
It is an outsourced solution to manage the financial and investment affairs of large families. It works to provide the best solution for building, preserving and transferring family wealth, he added.
  "At Wealthapp we have a professional management team to help large families to set up their family office. A family may wish to create a formal distinction between family wealth and the assets of the business. This will mean financial risk diversification, improve transparency and corporate governance of the family business," he explained.
There are a few Mumbai-based financial services companies that offer family office services. Wealthapp is hopeful that their deep contact with city-based business families could get them a head start.
"We are already serving them as wealth managers. But family office service will be going a step further and expanding the horizon," Paulchaudhuri explained.
Wealthapp was set up in 2014 by a team of professionals led by Soumyajit Ghosh. The chairman of the family business venture is Rahul Johri and Ghosh is the CIO and chief strategist. Paulchoudhuri is the MD and CEO while Arnab Mukherjee is a director.