Budget will boost public spending: Nirmala Sitharaman
FM had earlier unveiled massive public spending programme to support economy that was emerging out of Covid-19 pandemic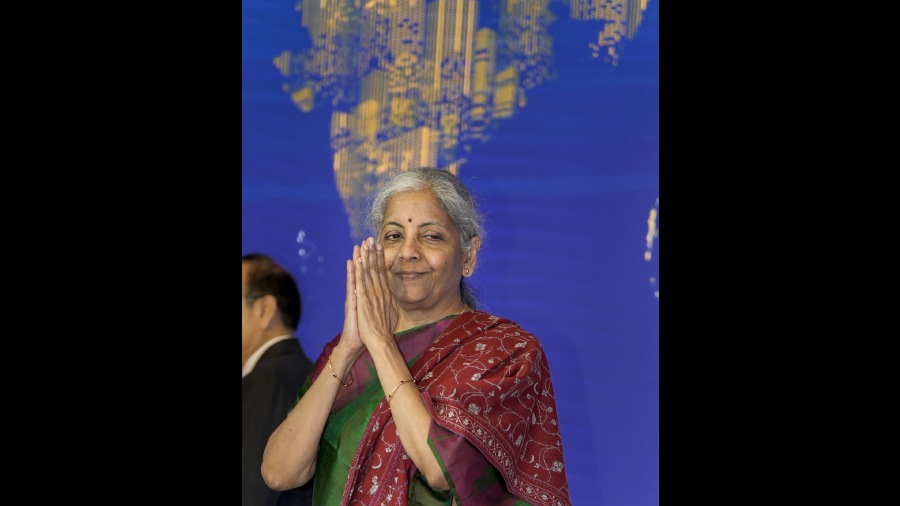 Nirmala Sitharaman at the Ficci annual convention in New Delhi on Friday
PTI
---
New Delhi
|
Published 17.12.22, 01:29 AM
|
---
Finance minister Nirmala Sitharaman on Friday indicated that her forthcoming Budget will continue to push growth on the back of public spending as she said it will "follow the spirit" of earlier budgets.
Sitharaman, scheduled to present her fifth straight budget on February 1 for the fiscal starting April, had earlier unveiled a massive public spending programme to support the economy that was emerging out of the Covid-19 pandemic.
The finance minister had raised capital expenditure by 35.4 per cent for 2022-23 to Rs 7.5 lakh crore in her last budget to boost demand, while the capex for 2021-22 stood at Rs 5.5 lakh crore.
"It is very inspiring and motivating for me, especially at a time when we are readying the next budget for the country, a budget which will follow the spirit of the earlier budgets.
"We are going to set the template, which was set earlier but we will follow it and take it further for India's next 25 years," she said at Ficci's annual general meeting.
Sitharaman felt a recession in western nations could be an opportunity for India to attract investment as a production or sourcing hub and asked industry to work out strategies towards this end.
"As much you are preparing yourself for a long-drawn recession in the western world, in the developed world, I think it is also the best time for you to work out strategies for drawing those manufacturers from there to India. Even as they are based there, it might be useful for them to think of sourcing many things from here and producing from here at least for markets in this part of the globe," Sitharaman said.
Sitharaman also cautioned industry to brace for a climate action tax on the country's exports such as steel as countries adjust their policies.
Sitharaman asked India Inc to tell the government how climate change is affecting them and suggest ways to reduce the burden of cost falling on them. The industry should prepare itself for tariff walls, especially on steel products, by some countries in the name of climate change, the minister added.
"Many nations want to fund their green transition and are imposing tariff walls on products from other nations. If we export steel to such places, it is likely to face this tariff wall or tax for the green transition. Indian industry needs to reset itself accordingly," she said.
Sitharaman offered policy-level support to industries to help them scale their sectors to be greener. "We are doing everything we can in our country to adapt to renewable energy, but it will come at additional costs... The industry should seize on these costs," she said.