Budget hope for telecom
Industry body COAI said the budget number do not indicate any relief from the AGR dues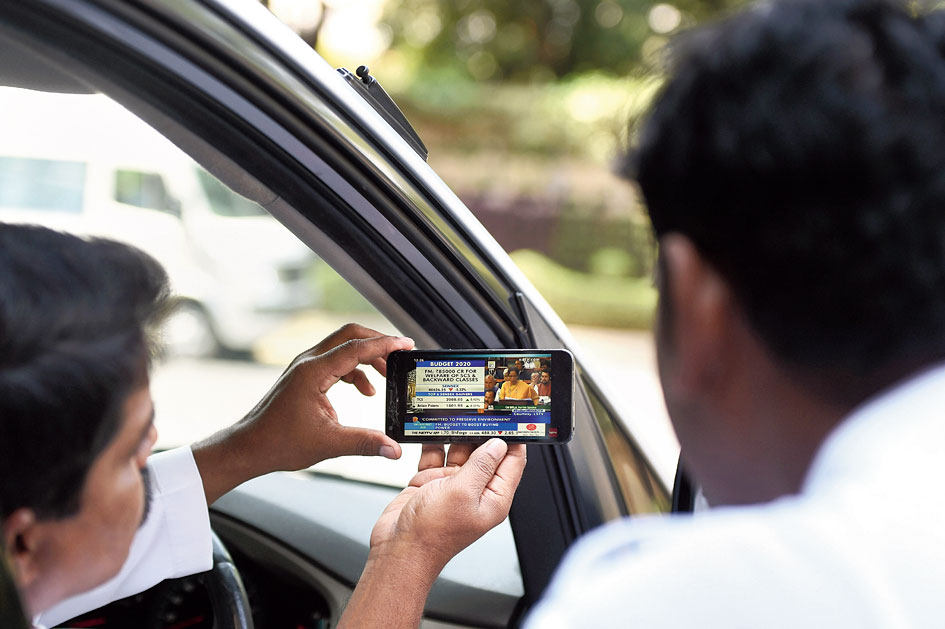 People watch the budget on phone in Chennai.
PTI
---
New Delhi
|
Published 02.02.20, 06:51 PM
|
---
Telecom operators would be looking for some kind of relief from the Supreme Court in their modification plea on adjusted gross revenue (AGR), which would come up for hearing on Monday — with analysts, from their perusal of budget documents, expecting the government to collect less than the total dues of Rs 1.47 lakh crore at least in the next fiscal.
The government expects to collect Rs 1.33 lakh crore from the telecom sector in the next fiscal, which is more than double the collections from 2019-20. According to the government estimates, in the current financial year (2019-20), revenues from "other communication services" will be Rs 58,989.64 crore against a budgeted amount of Rs 50,519.81crore.
"The budgeted revenue receipt from the sector is higher by 126 per cent. However, AGR payments will be crucial for the realisation of this, given the financial stress in the sector," Crisil said.
"We believe around Rs 40,000 crore (considering that players get a relief in the form of extended payment timeline on AGR dues) may be received in 2021, given the financial stress of these players. Another Rs 20,000 crore can be received under license fees and spectrum usage charges," Crisil said.
Receipts under "Other Communication Services" mainly relate to the licence fees from operators and receipts on account of spectrum usage charges, with the government collecting the recurring licence fees.
The government had earlier announced a moratorium on spectrum auction charges for 2020-21 and 2021-22.
The additional Rs 74,038 crore that the government hopes to earn is expected to come from AGR dues as the budget documents do not mention accounting for any proceeds from the spectrum auction. .
Ankit Jain, assistant vice-president, corporate ratings, Icra Ltd, said, "The higher BE (Budget Estimate) for 2021 can be attributable to some participation in 5G spectrum auctions and expectation of payments of AGR-related dues."
Industry body COAI said the budget number do not indicate any relief from the AGR dues.
"From the aggregate amount given, it is difficult to determine the component amounts and the increases expected in each category. But looking at the headline numbers, it seems like the relief on AGR dues on licence fee and spectrum usage charges sought by the industry has not materialised. Rather it appears to have gone in the opposite direction,' Rajan Mathews, director-general of the Cellular Operators Association of India said.