Budget 2022: Centre mulls plan to offer incentives to shipping lines
Government plans to reduce import duty on certain products and inputs in the budget on February 1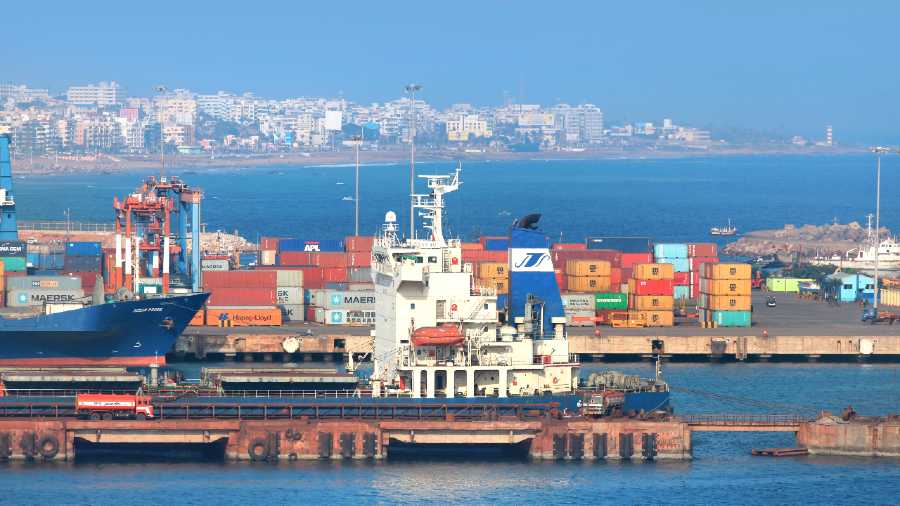 Centre is expected to come up with steps to encourage the setting up of global shipping lines and boost container manufacturing in the country.
Shutterstock
---
New Delhi
|
Published 10.01.22, 02:10 AM
|
---
The Centre plans to offer incentives to shipping lines and take steps to remove container shortages in the budget as it looks to more than double exports to $1 trillion in five years.
Besides, the government plans to reduce import duty on certain products and inputs in the budget on February 1.
Senior government officials said the government could introduce measures to boost domestic manufacturing and enable the country to become a part of the global value chain.
As container shortages have hit exporters and increased logistics cost, the government is expected to come up with steps to encourage the setting up of global shipping lines and boost container manufacturing in the country.
Analysts said China had invested hugely in container manufacturing and is now reaping the benefits.
"The order booking position of exporters across sectors is extremely encouraging. However, the logistics challenges are of grave concern to them. Shortage of containers, abnormal increase in freight and space constraints on ships are impacting our exports. Therefore, the budget should draw a road map to address these issues," Ajay Sahai, director-general and CEO of the Federation of Indian Export Organisations (FIEO), said.
He said container manufacturing should be encouraged "more so as we are also pushing coastal shipping in our country. A PLI kind of scheme for container manufacturing can come handy", Sahai said.
He said since international trade is emerging as an important component of the economy, steps should be taken to develop an Indian shipping line of global repute.
"We may be remitting over $75 billion or more as freight charges this year. An Indian shipping line which gets 25 per cent of this business can save $17-20 billion on a recurring basis annually.  Some tax concessions may be required so that such ships are registered in India."
The CII said duty slabs should be changed to more competitive levels over the next three years to boost domestic manufacturing. The changes in import duty should be accompanied by policy actions such as production-linked incentives and phased manufacturing programmes.
India Cellular & Electronics Association (ICEA) and IKDHVAJ Advisers LLP said in a report that high import tariffs were making India less competitive in global markets as well as neutralising the effect of supportive policies such as the performance-linked incentives (PLI).
"A $300 billion manufacturing target by 2026 requires stability and prior consultation before finalising tariffs. Tariffs go to the core of competitiveness and scale. For Union Budget 2022-23, we request the government to review all tariffs on inputs for PLI schemes and reduce tariffs in areas where there is no local capacity," Pankaj Mohindroo, chairman, ICEA, said.
The study added that for India to integrate into global supply chains, its tariffs on inputs should at least match or be less than its competitors.
Consideration of tariff increases should only be in cases with large domestic capacity or a clear road map with specific, well-identified vendors who can produce components for manufacturers at globally competitive costs, quality, and scale, not otherwise, the report said.
"The RoDTEP (remissions of duties and taxes on exported products) rates should be reviewed and enhanced commensurate with the actual embedded taxes and duties. All the export products should be covered under the RoDTEP scheme. Export incentive may be transferred directly to the bank account of the exporters like duty DBK, instead of routing through issuance and transfer of credit Scripts," the chamber said.
$1TRN GOAL
• Offer incentives to set up domestic shipping line
• Take steps to remove container shortages
• Reduce duty on certain products and inputs
• Introduce measures to boost manufacturing
• Make India part of global value chain