Braithwaite bags a miniratna status, scripts a turnaround
Achieves turnover from a loss of Rs 8.95 crore in 2016-17 to closing  2020-21 with net profit of Rs 24.72 crore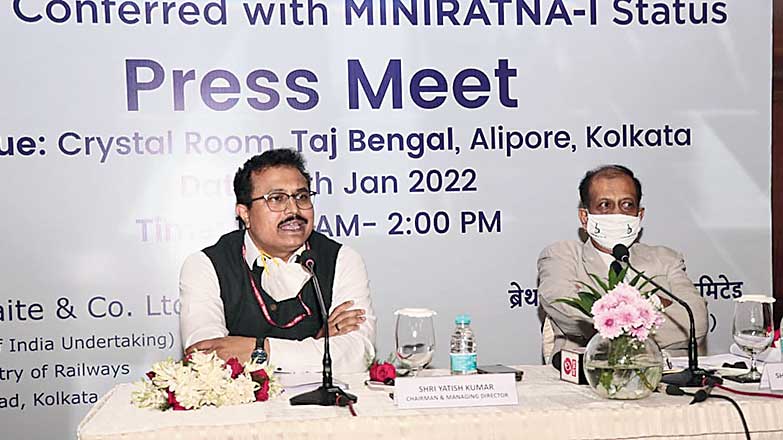 ---
Calcutta
|
Published 14.01.22, 01:53 AM
|
---
Braithwaite and Co. Ltd, a public sector undertaking under the Union ministry of railways, is optimistic of a public listing in 2025-26 and of achieving a turnover of Rs 2,500 crore.
Based in Calcutta, Braithwaite has bagged a miniratna status, having scripted a turnaround from a loss of Rs 8.95 crore in 2016-17 to closing  2020-21 with a net profit of Rs 24.72 crore.
The company's chairman and managing director Yatish Kumar said diversification from wagon manufacturing to allied services of repair and maintenance and expanding into container business, cranes and other areas of civil construction has helped in improving the operational and financial position of the company.
"Our overhead to sales ratio was very high (31.27 per cent in 2016-17) and we reduced it to around 8 per cent in 2020-21 and we also diversified beyond manufacturing into services.
"That has helped to boost our net sales from Rs 149.77 crore in 2016-17 to Rs 609.60 crore in 2020-21 and we are hoping to end this year with Rs 700 crore," Kumar said on Thursday.
"The plan is to reach Rs 2,500 crore by 2025-26 and become a listed company," he added.
The contribution of manufacturing to the company's turnover has come down from 90 per cent to 60 per cent with the remaining 40 per cent coming from services.
Kumar further said that the diversification has helped the company to tide over the volatility in raw material prices which could have constrained the financial position of the company further. "This year the steel prices have gone up by more than 80 per cent. Had we not diversified, our financial position would have been under stress,"
Braithwaite was established in 1913 as a fabrication shop in Calcutta for using imported girder sections to build bridges. The company was nationalised in 1976 and in 2010, the administrative control was transferred from the union ministry of heavy industries to ministry of railways. The company has manufacturing units in Calcutta and another at Bhadreshwar in Hooghly district of Bengal.
Brainthwaite said in a statement on Thursday that with the miniratna status, the company's board will be able to take decisions on capital investment and enter into technology joint ventures, and strategic alliances.
Only maharatna, navratna and miniratna public sector undertakings are permitted to invest in debt based schemes of Sebi regulated public sector mutual funds. This can now be exploited by the company for utilization of idle funds.