Boris announces commercial deals worth £1 billion during India visit
The UK Prime Minister aims to deepen the trade, defence and people-to-people ties between the two countries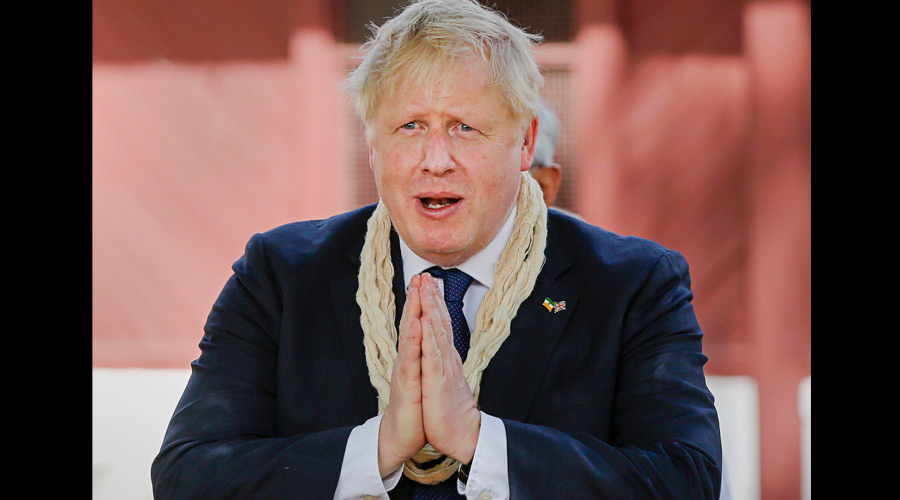 United Kingdom Prime Minister Boris Johnson during his visit to the Sabarmati Gandhi Ashram, in Ahmedabad, Thursday, April 21, 2022.
PTI Photo
---
New Delhi
|
Published 22.04.22, 01:56 AM
|
---
Commercial deals worth £1 billion were announced by British Prime Minister Boris Johnson as he expressed the hope of clinching the free trade deal by the end of this year and hinted at easing visa norms.
Johnson, who is on a two-day visit to the country, aims to deepen the trade, defence and people-to-people ties between the two countries.
The chief negotiators of the two countries are slated to meet next week for another round of talks which is likely to focus on "market access in areas such as goods, services, investments and government procurement", sources said.
The British Prime Minister said London was ready to offer more visas to India.
"I have always been in favour of talented people coming to this country. We are short to the tune of hundreds of thousands of people in our economy and we need to have a progressive approach and we will," Johnson said.
The new investments worth £1 billion will include the setting up of a  Switch Mobility electric bus R&D centre in the UK and the opening of their Asia Pacific headquarters in Chennai. 
The new initiatives also include Bharat Forge and electric truck maker Tevva Motors expanding to a new site in the south-east and creating 500 jobs and Indian software company Mastek investing £79 million pounds to create 1,600 jobs over the next three years all over the UK.
Business consultancy FirstSource will open offices in South Wales, the Midlands and cities in the North-East and North-West. Hertfordshire-based firm Smith & Nephew has  agreed to a major export deal to sell robotic surgical systems in India.India hopes to make gains in areas such as garments and textiles, leather products, rice.
 The UK is interested in lower tariffs on Scotch whiskey, automobiles and renewable energy. In services, India wants easier work visas for its professionals and other workers and the UK's focus is on legal and financial services.
The UK has projected that FTA with India could boost  trade by up to £28 billion annually by 2035 and increase wages across the UK by up to £3 billion.