Effort to talk up stock market falls flat
The concerted effort of RBI, Sebi and the finance ministry to lift investors' mood had little impact as the BSE fell by 536 points on Monday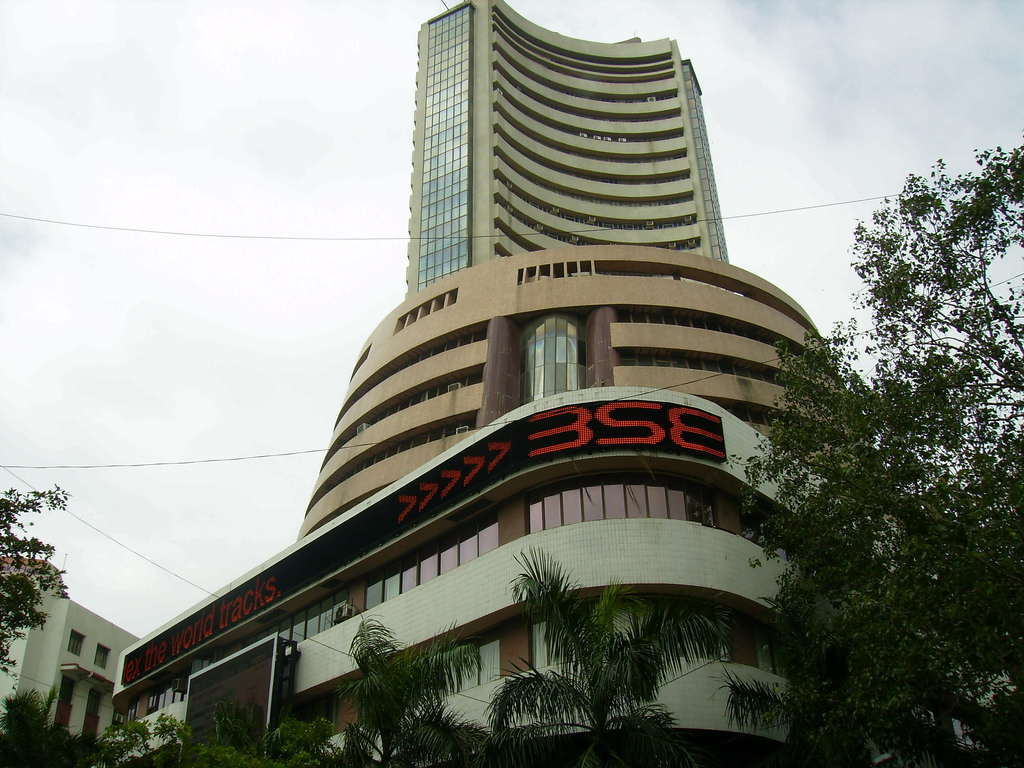 The Bombay Stock Exchange
Niyantha Shekar / Flickr
---
Mumbai
|
Published 24.09.18, 09:16 PM
|
---
The concerted effort of the custodians of the financial markets — the RBI, Sebi and finance ministry — to lift the mood of wary investors had little impact as lingering fears of a liquidity crisis in the non-banking financial sector saw the benchmark BSE Sensex suffering its worst single-day loss in seven months on Monday.
This is the fifth straight session of losses in which the benchmark index fell over 500 points. Over the past five trading sessions, investor wealth has eroded over Rs 8 lakh crore.
On Sunday, both the Reserve Bank of India (RBI) and the Securities and Exchange Board of India (Sebi) had in a statement said they were closely monitoring the recent developments in the financial markets and that they would take appropriate action if necessary.
On Monday, Union finance minister Arun Jaitley tried to reassure investors when he said the government would take all measures to provide liquidity to NBFCs and mutual funds. However, these assurances did not have much impact on the bourses.
Financials led the fall as investors continued to offload their positions on apprehensions that the ongoing liquidity crisis would affect the sector's growth.
Yields have climbed over the past couple of months, thus raising the borrowing cost for NBFCs and housing finance companies (HFCs) who mobilise funds from the debt market. To add to the sector's woes, the developments at IL&FS have pushed up their costs further.
Rupee struggles too
The rupee struggled to make headway after a two-day climb and backtracked to end sharply lower by 43 paise to 72.63 against the dollar after crude prices soared ahead of the impending US sanctions on Iran.
Overall, forex sentiment took a huge beating on a combination of factors — the price of Brent climbed past $80 a barrel once again amid looming US sanctions on Iranian exports.
Concerns about new US tariffs on China weighed on the mood after Beijing walked away from trade talks with the US, stoking fears of an escalating trade war.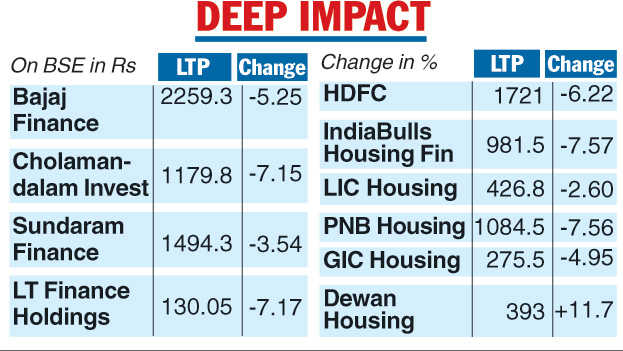 New low
In the stock market, the key indices opened in the green, but selling pressure soon set in and persisted through the day. The Sensex hit a day's low of 36216.95 — a drop of almost 625 points. It recovered some ground to close at a two-month low of 36305.02, a fall of 536.58 points or 1.46 per cent. This is its biggest single-day loss since February 6, when it had declined 561.22 points.
It is also the weakest closing for the index since July 11 when it had settled at 36265.93. The index has dropped a total 1785.62 points.
The NSE Nifty crashed below the 11000-mark, declining by 168.20 points, or 1.51 per cent, to end at 10974.90.
"With Monday's 1.5 per cent fall, the markets have already corrected 7 per cent from all-time highs seen in August. Bank Nifty has plunged more than 12 per cent in the same period," said V.K. Sharma, head of PCG & capital markets strategy, at HDFC Securities.
On Monday, financial stocks led by HDFC took a hit. HDFC dropped 6.22 per cent, IndusInd Bank fell 4.94 per cent. Other NBFC stocks also suffered (see table). However, shares of Dewan Housing Finance Corporation rebounded nearly 11.79 per cent after the company stated that it had not defaulted on any bonds or repayment of liability.