Battery localisation can stop fires in electric vehicles
Lithium ion cells are unstable in extreme states when fully charged or fully discharged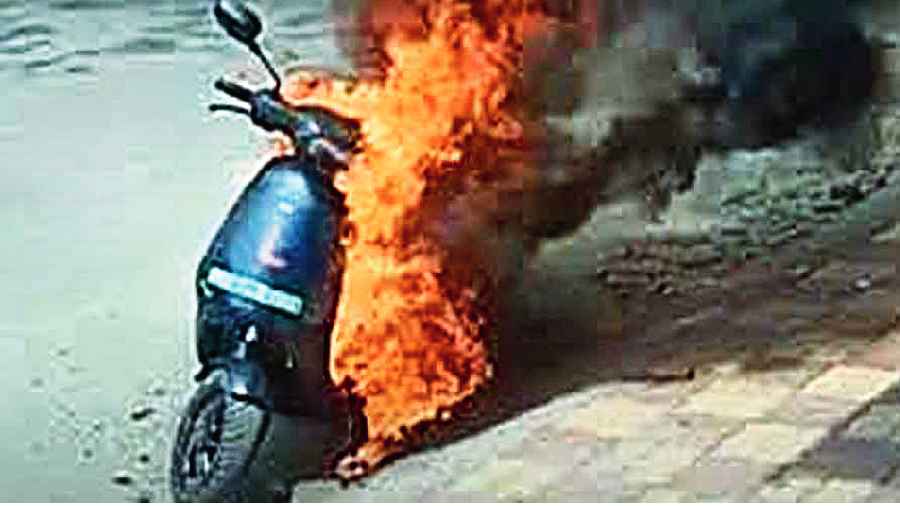 Importers are often lured to buy cheaper substandard cells though they might not be suitable at Indian temperature
File Picture
---
Calcutta
|
Published 13.06.22, 01:09 AM
|
---
Fires in electric vehicles are caused by the wrong choice of battery cells.
Battery cells manufactured outside India are more suited to the climatic conditions of the place of manufacture.
This was stated by a founder of an EV three wheeler start up — Altigreen — that has optimised the battery of its three-wheeler EVs to increase its range.
Battery cells come in different sizes and shapes: cylindrical, prismatic and pouch cells for different use cases depending on the specifications. Lithium ion cells are unstable in extreme states when fully charged or fully discharged.
"For most part, most cells operate at 25 degree centigrade. These are sold in geographies where temperature is not a constraint. Prices of these cells that are manufactured in large numbers are obviously cheaper than cells that are built to operate at 40 degree centigrade. Importers are often lured to buy cheaper substandard cells though they might not be suitable at our temperature," said Amitabh Saran, founder of Altigreen.
Saran believes the central government's production linked incentive (PLI) scheme for cell manufacturing, National Programme on Advanced Chemistry Cell (ACC) Battery Storage, will go a long way in bringing down the incidences of fire with EVs, making them cheaper as battery packs constitute 40 per cent of vehicle cost.
The scheme aims to achieve 50 GigaWatt Hour (GWh) of ACC with a budgetary outlay of Rs 18,000 crore.
The four successful bidders to the PLI scheme include Reliance New Energy Solar Limited; Ola Electric Mobility Private Limited; Hyundai Global Motors Company Limited and Rajesh Exports Limited.
These companies will receive incentives to boost local battery cell production. Among the waitlisted companies for the scheme are Mahindra, Exide, Amara Raja and L&T.
 The programme is designed in such a manner that  it is technology agnostic.
The beneficiary firm shall be free to choose suitable advanced technology and the corresponding plant and machinery, raw material and other intermediate goods for setting up cell manufacturing facilities to cater to any application, says a Press Information Bureau release.
 "We have already lost the lithium ion race. Now, it's a race for hydrogen, aluminium and sodium. Technology for hydrogen fuel cell EV and sodium EV are already proven," said Saran.
Altigreen, a 10-year-old Bangalore-based company, founded by Saran, has been investing in the research and development of EV technology.
"Range anxiety is one of the biggest concerns for electric vehicle owners and potential buyers. This is a bigger challenge for small format vehicles that deliver essential goods and perishables," Saran said.
"We designed the vehicle neEV around a larger Li-Ion battery pack  and used our technology to ensure highest regeneration of energy and thus, maximum mileage."