Bangla cargo via rail allowed
Central Board of Indirect Taxes and Customs (CBIC) has laid down the rules for imports in containers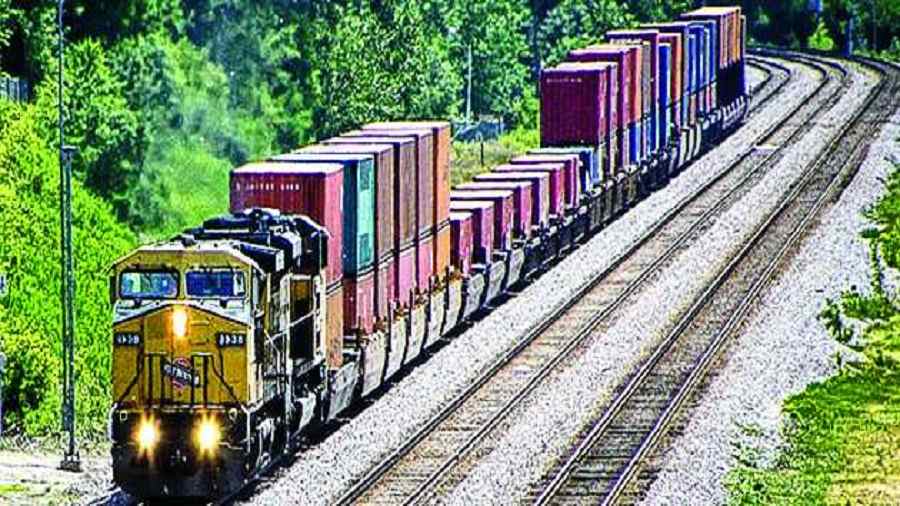 Analysts say this would boost trade relations between the two countries
Sourced by The Telegraph
---
New Delhi
|
Published 21.05.22, 02:24 AM
|
---
The government has eased rules allowing the import of goods from Dhaka in sealed rail containers. The Central Board of Indirect Taxes and Customs (CBIC) has laid down the rules for imports in containers.
The rail route is being opened up for imports following requests from Dhaka as well as from central ministries in the Indian government and merchants, according to an order from the tax authority.
Analysts said this would boost trade relations between the two countries and enable optimal utilisation of the resources and reduce logistics costs.
The CBIC said, quoting the Bangladesh High Commissioner to India, that containers going from India to Bangladesh by rail are returning empty after delivering India's export goods.
Bangladesh's companies have expressed interest to use such empty containers to export their products to India, said the order. Besides, using the same containers for imports will help in lowering India's export logistics cost.
The carriers will be trains of Indian Railways plying between India and Bangladesh carrying India's containerised export goods to Bangladesh (forward journey) and returning with Bangladesh export goods in the same containers to India (return journey).
In both forward and return journeys, the trains will cross the international border through one of the specified land customs stations: Petrapole-Benapole and Gede-Darshana.
Bangladesh is the sixth largest trade partner of India.
"The empty containers returning from Bangladesh on a train may be utilised to carry export goods of Bangladesh to India, " CBIC said.
 This shall apply to closed containers moved by Container Corporation of India (CONCOR) carried on trains operated by Indian Railways. While the train will enter into India through the LCS of Petra pole or Gede, the train will be allowed to transit to any ICD of India for customs clearance of goods. The movement shall be monitored through Electronic Cargo Tracking System (ECTS) from LCS of entry to ICD of destination," the tax authority said.
Bangladesh is the sixth largest trade partner of India. The bilateral trade between India and Bangladesh stood at $10.8 billion in 2020-21, as against $9.5 billion in 2019-20. Major exports from India to Bangladesh include cotton, cereals, fuel, vehicle parts and machinery and mechanical appliances. However, studies have shown that trade can be increased up to $25 billion with a free trade deal, which will help both countries in expanding exports.