Adani family tables ACC, Ambuja open offers
Public announcement jointly issued by ICICI Securities and Deutsche Equities India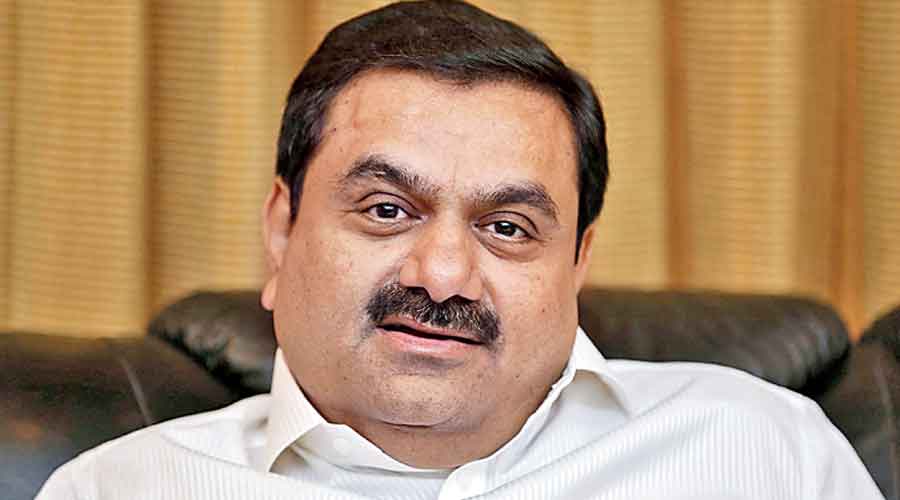 ---
Mumbai
|
Published 17.05.22, 01:35 AM
|
---
A day after announcing the acquisition of Holcim's India business, the Adani family has made an open offer to acquire a 26 per cent stake each in its two listed companies Ambuja Cements and ACC Ltd from public shareholders.
Gautam Adani's group on Monday through its Mauritius-based subsidiary Endeavour Trade and Investment has made an open offer at Rs 385 per share for Ambuja Cements Ltd and Rs 2,300 per share for ACC Ltd.
For Ambuja Cements, the Adani group has made an open offer to its public shareholders to acquire up to 51.63 crore equity shares, representing 26 per cent of the expanded share capital, aggregating to a total consideration of Rs 19,879.57 crore.
While for ACC Ltd, the Adani group has offered to acquire up to 4.89 crore shares held by public shareholders, representing 26 per cent of the expanded share capital, aggregating to a total consideration of Rs 11,259.97 crore.
This would be "subject to the receipt of the Required Statutory Approval", it said.
The Ambuja Cement share rose 2.6 per cent on the BSE to Rs 368.10, while the ACC scrip rose 3.75 per cent Rs 2,192.50 — both way off the open offer price.
The public announcement was jointly issued by ICICI Securities and Deutsche Equities India, the joint managers to the open offer at bourses. 
This open offer has been triggered following the execution of the share purchase agreement between the Adani group and Holcim to acquire a controlling stake in the latter's businesses in India "for an aggregate consideration of USD equivalent to Rs 50,181.04 crore". Endeavour Trade and Investment is promoted by Acropolis Trade and Investment Ltd. "The ultimate beneficial ownership of Acropolis Trade and Investment Ltd is held by certain members of the Adani family," the notice said.
Adani will pay Rs 385 per share for the Swiss parent's controlling stake Ambuja Cements and Rs 2,300 per share for its 4.48 per cent direct stake in ACC.
Valuation issue
The Holcim-Adani transaction has led to questions on whether the billionaire Indian entrepreneur walked away with a relatively cheaper deal than the other contender, the Jindals.
The Adani group had fixed the total size of the deal at $10.5 billion. However, this had assumed 100 per cent acceptance ratio for an open offer to the public shareholders of ACC and Ambuja Cements that it has to mandatorily make in line with market regulator Sebi's norms.
At the purchase price, the Adani group will actually pay around Rs 50,181 crore ($6.5 billion) for the share purchase from Holcim. The total consideration for the open offer to shareholders of the two companies comes to around Rs 31,140 crore assuming full acceptance. The $6.5 billion bid (excluding the open offer) is lower than the $7 billion reportedly offered by the Sajjan Jindal-led JSW group. This comprised $4.5 billion through its own equity and $2.5 billion from private equity investors. However, it is not clear if this amount proposed by the JSW group had included the open offer component as well.
Quint buy
AMG Media Networks, a subsidiary of Adani Enterprises, will pick a 49 per cent stake in Raghav Bahl-led Quintillion Business Media Pvt Ltd (QMBL) for an undisclosed sum.
QMBL is an indirect subsidiary of Quint Digital Media (QDML) which is listed on the bourses.
QBML is a business and financial news company and operates a leading business news digital platform BQPrime.
QMBL operates the Adani Enterprises disclosed in a regulatory filing that AMG Media has signed shareholders' agreement with Quintillion Media Ltd (QML) and QBML and a share purchase agreement with QML, QBML and QDML for this 49 per cent stake in QMBL.
The latest purchase would see Gautam Adani again competing with Mukesh D Ambani in a different business. Both have announced ambitious plans in the clean energy segment in recent months. In 2014, Bahl had paved the way for Reliance' major entry into the media segment when he sold controlling stake in Network18 for Rs 4,000 crore.