Adani Group denies rumours, says there's no change in follow-on public offer price
After disastrous opening, bankers predict a cut, all eyes on market opening on Monday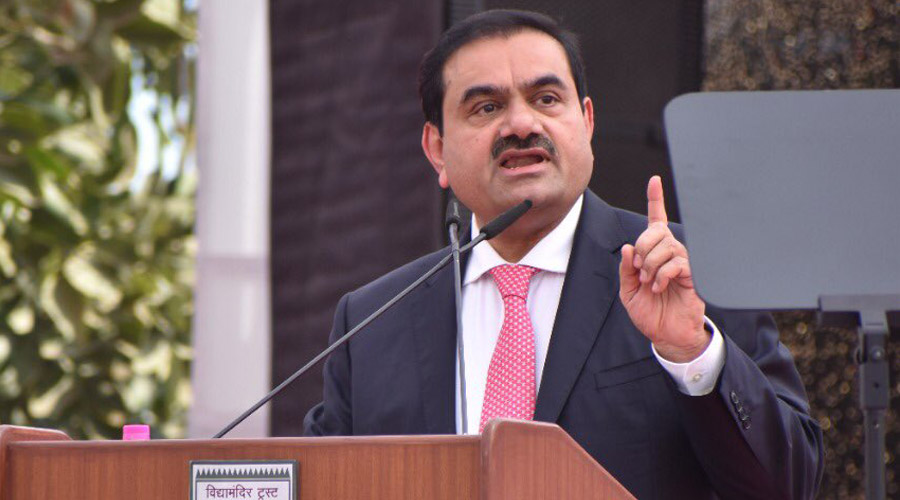 Gautam Adani
File picture
---
Published 28.01.23, 08:43 PM
|
---
The Adani Group on Saturday denied market rumours that it would slash the issue price of its Adani Enterprises follow-on public offer (FPO) which received a very poor response on its opening day. Said the group: "There is no change in either the schedule or the issue price."
On Friday, almost every national newspaper carried full-page ads for the FPO but it only had bids worth Rs 150 crore – that's 1 per cent -- against the Rs 14,908 crore the company is looking to pick up. That's a disastrous opening by any yardstick, an abysmally low figure that could be the portent of things to come.
"All our stakeholders including bankers have full faith in the FPO (Follow-on Public Offer). We are extremely confident about the success of the FPO," the Adani Group said.
Nevertheless, bankers are predicting that the group will be forced to either slash the issue price or pull it totally. The Adani Enterprises share is currently at Rs 2,768 which is 11 per cent lower than the lower end of the FPO price band which was fixed at Rs 3,112.
Everything depends on what happens when the stock market opens on Monday. The market value of the group's listed companies has fallen by a gigantic $50 billion in just two trading sessions and Gautam Adani's personal wealth has slipped by $26 billion. That's easily a record on the Indian stock exchange and may well be a global one too – for sheer speed it may even have outstripped Elon Musk, whose wealth has fallen dramatically in recent months.
Investors will also be watching anxiously on Monday morning to see which way the market moves. Could Adani bring the entire market crashing downwards? After all, LIC shares too fell by 3.25 per cent – not surprising since the insurance giant lost more than Rs 16,000 crore of its heavy investments in Adani Group companies. LIC has also put about $37 million into the Adani Enterprises FPO. LIC already has investments of Rs 74,000 crore in Adani Group companies. Besides LIC over 30 institutional investors are investing in the Adani Enterprises FPO.
Bank stocks were also heavily hit with State Bank of India, which has also been a big lender to the Adani Group – falling by 5.06 per cent on the NSE. Bank of Baroda was also heavily hit, losing 7.36 per cent and PNB fell by 5.40 per cent. Brokerage firm Jefferies said: "While we watch for developments here, we don't see material risk arising to the Indian banking sector." Adds brokerage house CLSA: "PSU banks do have material exposure (30% of group debt), but this debt has not increased in the past three years."
Private sector banks also fell on Friday though they have been extremely cautious about lending to Adani Group companies. Says CLSA: "Private banks' exposure is below 10% of total group debt, and most banks (including ICICI, Axis) have indicated that they have largely financed assets with strong cash flows, such as airports/ports."
The CLSA report points out that a great deal of funding for the Adani's Group's new businesses has come from abroad. Says CLSA: "Most of the incremental funding to the group for new businesses and acquisitions has come via overseas sources." The group raised $4.5 billion from a consortium of 14 international banks including Barclays, Deutsche Bank and Standard Chartered to buy ACC and Ambuja Cements, the Indian cement companies that were part of the international Holcim Group. The total deal is likely to be worth slightly over $10 billion. Holcim received $6.5 billion for its Indian assets.
A handful of analysts are saying the fall in the share price of Adani Group companies could be a buying opportunity for investors. Says Deven Choksey, managing director, K. R. Choksey Shares and Securities reckons the fall in the group company shares, "presents a good opportunity for investors… from a medium-to-long term perspective." However, other brokers were more doubtful and feel the offer is overpriced. They pointed out that Adani Enterprises share are still over 100 per cent higher than they were one year ago.
The Congress Party has also fired a broadside aimed at both the government and the Adani Group and their reputed closeness. In a statement, Congress media chief Jairam Ramesh said: "Normally a political party should not be reacting to a research report on an individual company or business group prepared by a hedge fund. But the forensic analysis by Hindenburg Research of the Adani Group demands a response from the Congress party. This is because the Adani Group is no ordinary conglomerate: it is closely identified with Prime Minister Narendra Modi since the time he was Chief Minister."
It added: "For all its posturing about black money, has the Modi government chosen to turn a blind eye towards illicit activities by its favourite business group? Is there a quid pro quo? Will SEBI investigate these allegations to the fullest and not just in name?"
Ramesh's statement also said: "The allegations of financial malfeasance would be bad enough, but what is worse is that the Modi government may have exposed India's financial system to systemic risks through the liberal investments in the Adani Group made by strategic state entities like LIC, SBI and other public sector banks."