Adani clinches $10.5 bn deal to buy Ambuja Cements, ACC; sees huge headroom in cement
Beats out Ultratech, JSW to win takeover race and become India's second largest industry player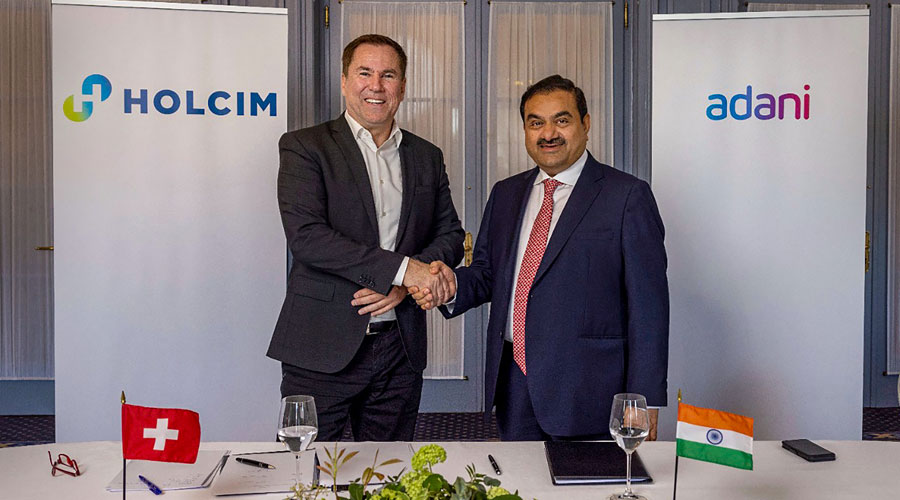 Adani Group Chairman Gautam Adani with Holcim CEO Jan Jenisch.
PTI Photo
---
New Delhi
|
Published 16.05.22, 11:11 AM
|
---
Billionaire Gautam Adani's industrial empire has grown even bigger with the self-made tycoon making his largest-ever acquisition. The Adani Group has snapped up both Ambuja Cements and ACC for $10.5 billion, saying that it aims to use its green energy and logistics to create the world's "greenest cement company."
The Rs 813.61-billion agreement with their parent, the Swiss cement heavyweight Holcim, overnight makes the Adani Group the second-largest player in the country's fragmented cement industry, and furthers the conglomerate's aim of being an overarching presence in Indian infrastructure. 
The Adani Group outmanoeuvred two other strong contenders, UltraTech, India's largest cement player with 120 million tonnes capacity, and the JSW Group, to clinch the deal. Ambuja and its subsidiary ACC together make around 70 million tonnes of cement. 
The definitive agreement to acquire the cement companies, two of the most best-known brands in the Indian cement business, is expected to close in the second half of 2022. The deal was made through an offshore special purpose vehicle.
Group chairman Gautam Adani said there was huge potential for his conglomerate in the cement industry. "Not only is India expected to remain one of the world's largest demand-driven economies for several decades, India also continues to be the world's second largest cement market and yet has less than half of the global average per capita cement consumption," he said.
To give an indication of the headroom for the cement business to grow, Adani noted that China's cement consumption is over seven times that of India's. 
The Adani Group with its existing businesses that include ports, logistics, energy and real estate has great synergies with Ambuja and ACC, Adani said. "We will be able to build a uniquely integrated and differentiated business model and set ourselves up for significant capacity expansion." he said. "Combining Holcim's cement assets in India with our green energy and logistics will make us the world's greenest cement company," added Adani who has rapidly scaled the wealth ladder to become Asia's richest person, according to Forbes, overtaking Mukesh Ambani, chairman of Reliance Industries.
"We recognise that Ambuja and ACC operations are energy intensive and therefore when combined with our renewable power generation capabilities we gain a big head start in the decarbonisation journey that is a must for Indian industry," Adani said in his statement.
In the big league
Holcim has a 63.19 per cent stake in Ambuja Cements and 54.53 per cent in ACC. Both are publicly listed companies and the Adani Group will be making open offers to shareholders of both companies. Adani Group's flagship firm, Adani Enterprises, already has two cement subsidiaries but the Ambuja and ACC acquisitions vault the Gujarat-based group into the big leagues. 
Ultratech, the country's largest cement industry player, is part of the Aditya Birla Group. Its bid was complicated by the fact that it would have had to sell several plants to avoid falling foul of competition rules and it had already commenced talks with potential buyers of its other plants. JSW is one of the strongest players in the steel industry and was looking to make an ambitious sideways move into cement. 
Media too
The Adani Group is also making a determined bid to enter the media business. On Sunday, it announced it was finalising a deal to buy a 49 per cent stake in Quintillion Business Media which owns digital business news platform BQ Prime, better known till last week as BloombergQuint. The group gave no value for the purchase.
The purchase of BQ Prime will give the group a foothold in digital business journalism. A few weeks earlier, the group announced it was buying Gujarat Samachar, one of the key players in the Gujarat media which was launched 90 years ago. The Gujarat Samachar group also owns a TV news station, GSTV.
The acquisitions follow an announcement by Adani Enterprises last month that it was setting up AMG Media Networks, a division that would be involved in "publishing, advertising, broadcasting, distribution of content over different types of media networks." Like Ambani who also diversified into the media, Adani reportedly wants to build up his media investments.
Cements: A massive move
The move into cement will be a massive one for the Adani Group. Ambuja and ACC, between them have 31 manufacturing sites and 78 ready mix concrete plants. 
In April, Holcim merged with another giant cement company, Lafarge, to create LafargeHolcim, the biggest player in the industry. Soon after that, it announced it wanted to focus on markets in which it was a strong player and said it would be putting its Indian operations up for sale. It sold its Brazilian unit for $1 billion late last year and is aiming to divest its business in Zimbabwe. 
Holcin is seeking to focus on North America and Europe. Its departure from India will mark the country's largest outflow of foreign direct investment. 
Holcim under scrutiny in India
Holcim is leaving India amid scrutiny of its India operations by the Competition Commission of India which, in late 2020, launched a second investigation into the company and other cement firms in India over alleged anti-competitive behaviour. Ambuja and ACC have insisted they have not broken any competition laws. The two companies along with other cement firms have appealed to the Supreme Court an earlier CCI penalty slapped on them over alleged cartelisation and price-fixing
The Adani Group has expanded hugely in recent years and is now the biggest player in both ports and airports and also solar power. Adani has been seeking to create a sector-straddling industrial giant like Ambai's RIL. Analysts believe cement-maker will be a good fit for the group. 
With India's cement consumption at just 242 kg per capita, as compared to the global average of 525 kg per capita, "there is significant potential for the growth of the cement sector in India," the company said in a statement.
"The tailwinds of rapid urbanisation, the growing middle class and affordable housing together with the post-pandemic recovery in construction and other infrastructure sectors are expected to continue driving the growth of the cement sector over the next several decades," the group said.