A 21-year Reliance riddle for Sebi
The market regulator on Wednesday imposed a penalty of Rs 25 crore on RIL chief Mukesh Ambani, his younger brother Anil Ambani and others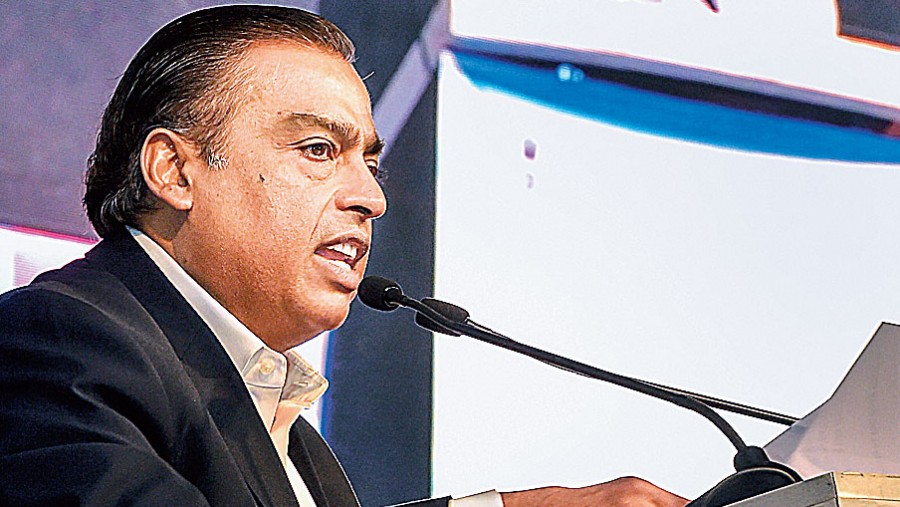 Mukesh Ambani.
File picture
---
Mumbai
|
Published 09.04.21, 02:05 AM
|
---
A Securities and Exchange Board of India (Sebi) order on a 21-year-old matter has put the spotlight on whether its probe or action should be timebound.
The market regulator on Wednesday imposed a penalty of Rs 25 crore on Reliance Industries Ltd (RIL) chief Mukesh Ambani, his younger brother Anil Ambani and others, including persons acting in concert (PAC), for non-compliance with the regulator's takeover rules.
However, the case dates back to 2000 when Dhirubhai Ambani was the chairman of undivided Reliance, which  split in 2005.
The capital markets regulator also penalised Mukesh's wife Nita Ambani, Anil's wife Tina Ambani, K.D. Ambani and some  family members.
According to Sebi, Reliance's promoters and PAC failed to disclose the acquisition of more than a 5 per cent stake in the company way back in 2000.
In a regulatory filing on Thursday, RIL said chairman Mukesh Ambani will appeal against the fine .
Reliance Industries (RIL) had issued debentures with convertible warrants in 1994 and allotted equity shares against the warrants in 2000.
"Sebi had issued a show-cause notice in February 2011 (more than 11 years after the acquisition of shares) to then promoter and promoter group (as in the year 2000) alleging violation'' of takeover regulations, the company said.
"The show-cause notice has now been adjudicated (21 years after the acquisition of shares) and a penalty of Rs 25 crore levied on the then promoter and promoter group."
"The promoter and the promoter group have informed RIL that there has been no violation of Regulation 11(1) of the Sebi Takeover Regulations and they have complied with applicable laws, and an appeal will be preferred to the Securities Appellate Tribunal and they remain confident of vindicating their position," the company said.
The development has led to questions on the huge time taken by the regulator on the case and whether any action or investigation should be subject to a certain time frame as a prolonged delay because of  even justifiable reasons may affect other stakeholders.
In its order, Sebi said the penalty of Rs 25 crore has to be paid jointly and severally, by the individuals and entities concerned.
The market regulator has also named 38 persons acting in concert (PAC), many of which do not exist any more as they have been merged with another entity.
However, SEBI in its order has said that around 17 such firms have been merged with Reliance Industries Holding Pvt Ltd. While the latter's name figures in the list, it also includes Kankhal Trading LLP (earlier known as  Kankhal lnvts & Trdg Co. Ltd) and Reliance Realty Ltd (earlier known as Terene Fibres India (P) Ltd).
As per the order, RIL's promoters acquired 6.83 per cent stake in the company during 2000 through conversion of 3 crore warrants issued to them back in 1994. Sebi noted that 6.83 per cent shares that were acquired by RIL promoters together with PACs consequent to exercise of option on warrants attached with non-convertible secured redeemable debentures were in excess of ceiling of 5 per cent prescribed under the takeover regulations.
Thus, the obligation to make a public announcement about acquiring the shares arose on January 7, 2000. This was the date on which the PACs were allotted RIL equity shares on exercise of warrants issued in January 1994, the order noted.
However, Sebi found that the promoters and PACs did not make any public announcement for acquiring the shares.
Since the promoters and PACs have not made any public announcement for acquiring shares, it is alleged that they have violated the provisions of the takeover regulations.