5G spectrum price tweak
The auction will be India's first for 5G airwaves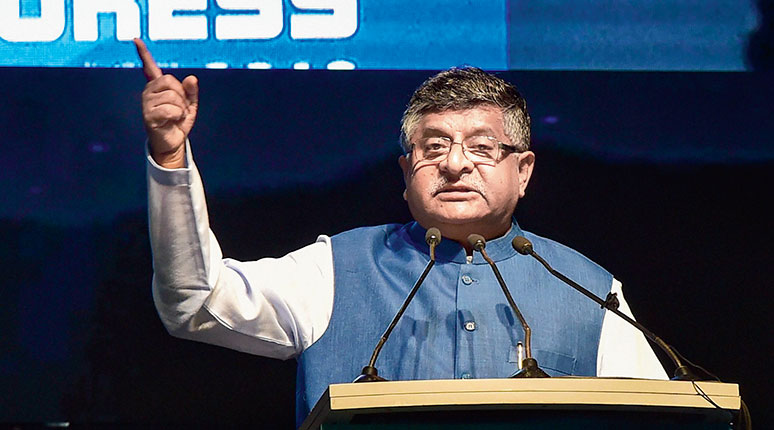 Ravi Shankar Prasad at the India Mobile Congress in New Delhi on Monday.
PTI
---
New Delhi
|
Published 14.10.19, 06:39 PM
|
---
The auction of 5G and other spectrum bands in the current financial year may generate some interest among operators now with telecom minister Ravi Shankar Prasad on Monday assuring a "reform" in its pricing.
The industry, reeling under mounting debt, had expressed concern over the exorbitant pricing of radiowaves, including 5G, and Prasad's statement could come as a big relief.
"Spectrum auctions will be done this financial year... We are undertaking some reforms in spectrum pricing," Prasad said at the India Mobile Congress 2019.
The auction will be India's first for 5G airwaves.
Jio board member Mahendra Nahata, who was present at the event, asked the government to critically look at 5G spectrum pricing.
"Prices for 5G spectrum need to be critically looked at. Higher floor prices will lead to 5G networks being unviable and, therefore, getting delayed. An equilibrium needs to be established between government revenue and overall growth," Nahata said.
Rajan Mathews, director general of the Cellular Operators' Association of India (COAI), said if there was adequate spectrum and the price was right, "operators will be interested to see if it makes sense to participate in the upcoming auctions".
The Telecom Regulatory Authority of India (Trai) had last year recommended auction of about 8,644MHz of frequencies, including those for 5G services, at an estimated total base price of Rs 4.9 lakh crore.
Industry had pointed out that the average price of 5G band auctioned in countries such as South Korea, Spain, the UK and Italy comes out to be Rs 84 crore per MHz, whereas Trai's recommended price for the same band is five times to six times higher at Rs 492 crore per MHz.
Bharti Enterprises vice-chairman Rakesh Bharti Mittal said 75 per cent of the cost of deploying optical fibre for high-speed broadband comprise fees charged by local authorities.
"When we look at the entire ecosystem that needs to be built, user cases for 5G technology needs to be built. This high price coupled with more capex deployment on sites and fibre is going to take a toll on the telecom sector," Mittal said.