Through foreign eyes, Sonepur fares better
Visitors say state's cattle mela mirrors real India more than Pushkar fair does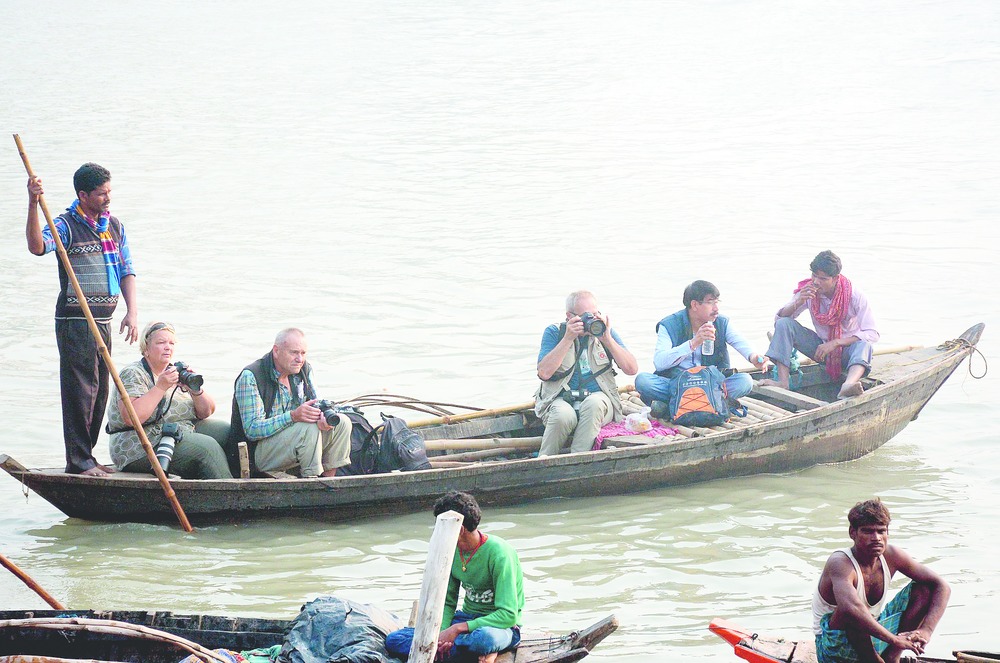 ---
---
The rustic touch of Sonepur Mela continues to mesmerise foreign visitors despite the dwindling number of tuskers and the recent commercialisation of the fair.
The famous Pushkar fair in Rajasthan attracts foreign tourists for the animals but they come to the Sonepur Mela to see what they call the "real India". It is the vibrant colours of the Sonepur cattle fair, which continues to amaze the foreign nationals.
From British civil servant, groups of photographers to academicians, a number of foreign tourists are exploring the natural beauty at Sonepur and most of them believe there is something for everyone at the fair.
David Saunders, a law-enforcement civil servant in England, summed up the Sonepur fair as: "One can see a broad sphere of things at Sonepur ranging from religion, commerce and amusement. In fact, there is something for everyone over here, from kids to youngsters to elderly people, all can have a nice time here," said Saunders, adding that the fair has been well-organised.
Foreign tourists have been coming to the Sonepur cattle fair for years and many of them consider it better than the Pushkar camel fair.
"There are more animals in Pushkar but Sonepur Mela is bigger and colourful. It is the people here, mostly rural folks, who give you a real feel of India," said John Shephard, a retired bank employee from Australia, who has come to Sonepur with his wife and sister-in-law.
Pushkar in Rajasthan comes alive during the five-day annual fair on the eve of Kartik Purnima, with almost 20,000 camels (decorated and bejewelled) participating. Pushkar fair is mostly centred on camels with a small population of horses and other cattle as well. A majority of foreign tourists, who visit Pushkar camel fair every year, includes Sonepur in their travel itinerary as well.
"Sonepur is simply incredible as it gives you an exposure of real India away from its cities. The fair is full of colours and so vibrant with people expressing and celebrating it as one," said Robin Wliiamson, a computer engineer from US.
The fair is a treat especially for shutterbugs from foreign shores with the motive of capturing various elements of the rural settlement.
"Sonepur fair is a fabulous photo tour for journalists. It is a country fair showcasing diverse aspects of rural India, including culture, religion, faith and entertainment," said Thomy Keat, a teacher of p hotography from France.
Nevada Wier, a photojournalist based in US, expressed similar views. "I am coming for the second time and it seems that the whole of India is here. The various aspects of the grand fair, which are full of life and variety, are a great opportunity for photographers," said Wier.
Apart from the photo opportunity, elephants continue to lure most foreign tourists to the Sonepur Mela.
"Elephants are believed to bring good luck and Sonepur is known for its elephants. It is a treat to the eyes to see the animals bathing in the Ganga at this fair," said Fiona Walkinshaw from Scotland.
Suzan Anne, a television actress from United Kingdom also expressed love for the tuskers.
"My personal favourite are elephants. Most tourists from UK, US and Europe come to the fair to see elephants," said Suzan.
Though the tuskers continue to remain the main attraction for most foreign tourists, ironically their numbers are drastically reducing at the fair. From 92 in 2001, it has fallen to a meagre 14 this year.
The state wildlife board in its meeting held on June 19 took a decision to prohibit issuance of permit for entry of elephants coming from other states.