The bitter-sweet ache of yesterday once more
Many Sikhs who lived in and fled from Patna return as pilgrims to a changed city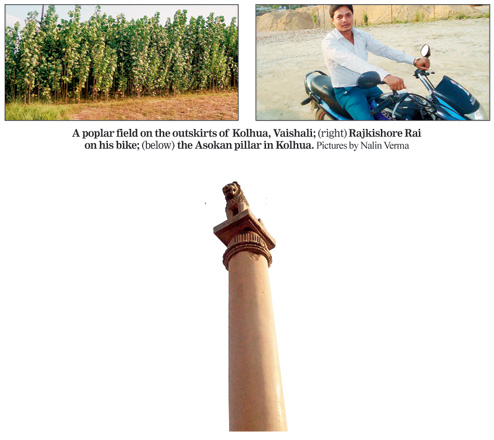 ---
Published 06.01.17, 12:00 AM
|
---
Jaspal Singh's eyes turned moist when asked if he ever misses Patna, his hometown which he left for Ludhiana in 1984.
"I remember Takht Sri Harmandir Sahib every day, dream of roaming around in the lanes and bylanes of Patna and savour puri sabzi, kachoris, chandrakalas and all the other delicacies with my childhood friends at the shops here," Jaspal told The Telegraph.
The large Sikh population of Patna - that used to live in places such as Patna City, Lalji Tola and Exhibition Road -started shifting out of Bihar after the 1984 anti-Sikh riots. The exodus continued in the 1990s, thanks to the worsening law and order situation and extortion demands.
For many such Sikhs who have returned to Patna to attend the Prakash Utsav, it was a walk down memory lane.
Jaspal, 58, president of the Ludhiana Stock Exchange and chairman of share-dealing firm LSC Securities, is here on a four-day visit with relatives to attend the 350th birth anniversary of Guru Gobind Singh. He studied at St Michael's High School, Patna Science College and Vanijya Mahavidyala, and wants to meet his old friends. "We will refresh memories of days gone by," he said.
Like most devotees, he was all praise for the festive arrangements: "Chief minister Nitish Kumar has made such fantastic arrangements that even the Punjab government could not have done so. It will increase the respect and prestige of Sikhs who still live in Patna."
Jaspal owned Ajit Cycles and Janata Cycles, the biggest bicycle shops in the state capital in the 1980s, and a couple of hotels. The businesses were wound up and sold at throwaway prices after the 1984 anti-Sikh riots.
"We were hiding in our hotels and shops continuously for seven days as rioters ran amok," he recaled. "It was Congress's rule in Bihar and the police were in cahoots with the criminals. Two Sikhs were killed at Gai Ghat. The then Patna district magistrate saved us by posting guards at our places."
Patna had over 25,000 Sikhs in 1984. Their number has declined to 4,000, as families shifted to Punjab and other states in search of security and livelihood.
Lucky Singh, 51, who has a plywood manufacturing unit and a restaurant in Ludhiana, is here with his family. They had left Patna in 1991 to escape lawlessness.
"Living in Patna that time had become very difficult. We were insecure and were targeted by criminals with ransom calls, murders, threats. So we left," Lucky said. "The difference between Patna then and now is like the difference between the earth and sky. We are getting so much love and respect that we are astonished."
Similarly, Joginder Singh and his wife Satpreet Kaur used to live in Patna City but shifted to Chandigarh after closing down their grocery shop here in 1994.
"Our family had lived in Patna continuously for 125 years," Joginder said. "We were uprooted and had to virtually flee to save our lives. It was a pain no less than what our brethren suffered during Partition. We were wary of coming for Prakash Utsav, but came after seeing advertisements and the request of Nitish Kumar. We are fully satisfied and it feels like we have come back to our roots again."