Tejashwi fires AK-47 salvo at Nitish
A former mayor and his driver were shot dead with an AK-47 in Muzaffarpur on Sunday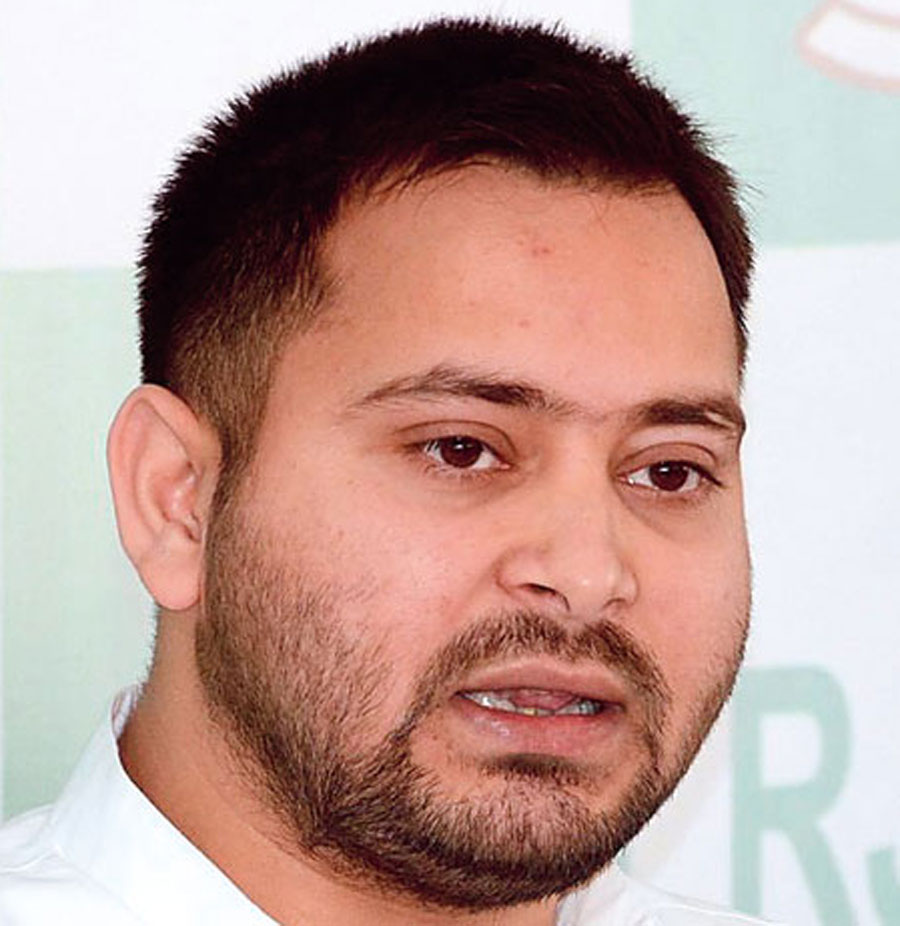 ---
|
Patna
|
Published 24.09.18, 06:29 PM
---
The Opposition on Monday slammed the Nitish Kumar government on law and order after a former mayor and his driver were shot dead with an AK-47 on Sunday evening in Muzaffarpur.
Leader of Opposition Tejashwi Prasad Yadav said Nitish will now issue an oft-repeated statement, 'Hum na kisi ko phasate hai, na bachate hai (we neither implicate nor protect anyone)' and 'kanoon apna kaam karegi (law will take its own course)'.
Tejashwi alleged that criminals now possess sophisticated arms than the police and the AK-47 has become a common weapon for criminals in Bihar.
"The AK-47 has become a common weapon for criminals because of the inefficiency of chief minister Nitish Kumar. A former mayor shot dead in Muzaffarpur, businessman shot dead in Samastipur, traders shot dead in Patna, student killed in Motihari. Crime has increased 300 times in the regime of the double-engine government in Bihar," Tejashwi said. He added that the state is at an all-time low because of Nitish's two pet phrases. He accused Nitish that whenever he implicates anyone and protects anyone, he repeats the old phrase.
It is a fact that not only Nitish but other JDU leaders also use the two phrases whenever there's a crime in the state. Tejashwi said Nitish has been using the same phrase to an extent that people of Bihar find it monotonous now.
He took digs at deputy chief minister Sushil Kumar Modi on his statement during the inauguration of Pitripaksha Mela in Gaya on Sunday. Modi had appealed to criminals to shun crime and assist pilgrims visiting Gaya during the 15-day Pitripaksha Mela or leave the holy town. "The day is not far when the CM and his deputy will hold the feet of criminals because more than the police, criminals carry AK-47s now," Tejashwi said.
RJD national vice-president Raghuvansh Prasad Singh echoed Tejashwi and said police in Bihar were unable to control incidents of rape, murder, dacoity and loot. Singh alleged that the government is busy in image building and the police are busy with liquor and sand trade. "The Nitish Kumar government has become insensitive and is acting like mute spectators. But once the people of Bihar march on the road, Nitish has to run away leaving his chair behind," Singh said.
The situation turned embarrassing after NDA ally RLSP's national president Upendra Kushwaha posted a tweet: "Hey god, what's going on."
JDU chief spokesperson Sanjay Singh, on the other hand, slammed Tejashwi for his comment, saying that during the RJD rule a district magistrate was shot dead in Muzaffarpur and people have witnessed jungle raj in Bihar. "Had Tejashwi been on Twitter during the RJD rule, he would have probably got tired updating the crime incidents in Bihar and would have perhaps deactivated his Twitter account," Sanjay said.