Tej Pratap divorce plea before Patna court
The Patna civil court will take up Tej Pratap's petition for divorce from his wife Aishwarya Rai on Thursday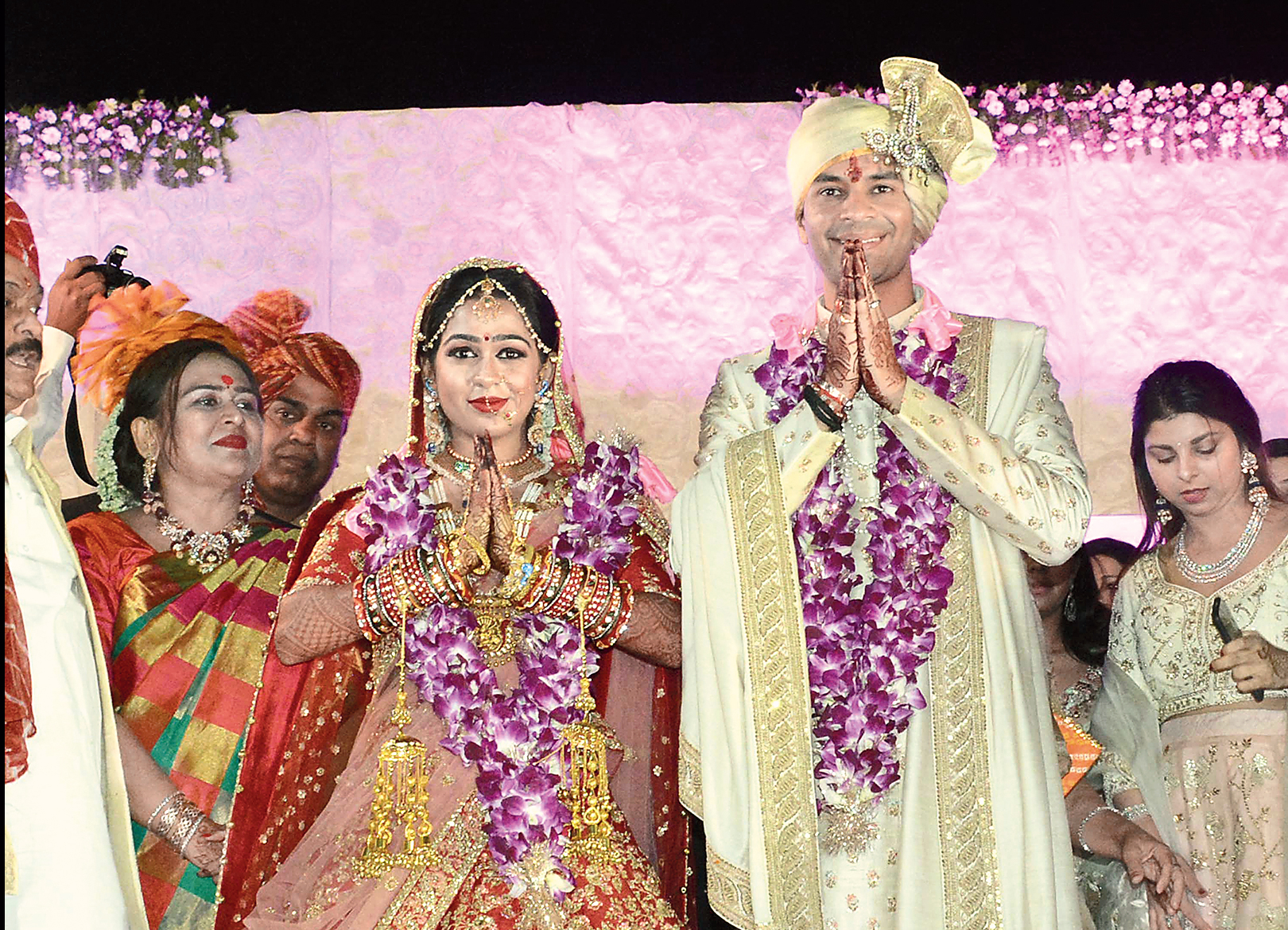 Tej Pratap and Aishwarya Rai at their wedding earlier this year
Telegraph file picture
---
Patna
|
Published 28.11.18, 06:38 PM
|
---
When his mother Rabri Devi and brother Tejashwi Prasad Yadav are battling the government in the legislature, Tej Pratap Yadav is at an undisclosed location counting down to divorce proceedings.

The winter session of legislature commenced on November 26 and for the past two days, the elder son of the RJD first family has not been attending the Assembly proceedings.
All eyes are on the civil court, which will take up on Thursday Tej Pratap's petition for divorce with his wife of six months, Aishwarya Rai.
On Wednesday, many RJD lawmakers were found discussing the divorce in private conversations on the legislature premises.
One of the RJD MLAs said that Tej Pratap will surely come for the hearing on Thursday, but another lawmaker countered him saying that it was not necessary for Tej Pratap to be physically present as the matter would be raised by his lawyers.
Another lawmaker quickly butted in to tell the duo not to discuss Tej Pratap and Aishwarya's divorce as the boss (read Tejashwi) has issued strict instruction to avoid such talk.
The two the RJD MLAs immediately changed the topic from Tej Pratap's marital problems to the cabinet decision of hiking lawmakers' salary and perks.
Tejashwi, who is virtually running the party in the absence of his father Lalu Prasad who is jailed in the fodder scam, on Tuesday said that there was no need to talk about the divorce as the matter has gone to court.
He has also stressed that both Tej Pratap and Aishwarya are adults, and wise enough to take their own decisions.
JDU MLC and spokesperson Neeraj Kumar added fuel to the embers by mocking Tej Pratap for skipping the Assembly proceedings, referring to Lalu's elder son as Krishna because Tej Pratap loves to dress up as the god and play the flute like Krishna did.
"It seems Krishna will not come today also. Forget the state, even people of his constituency are unable to find him. On other hand, his Arjun is giving sermons while keeping a personal assistant accused of immoral trafficking. He is, however, telling people to keep quiet on Rukmini who is mallika (queen) of aishwarya (fame)," Neeraj tweeted in Hindi on Wednesday.
Tej Pratap calls Tejashwi Arjun, and the personal assistant Neeraj was referring to is Mani Yadav.
Despite pressure from family members including parents Lalu and Rabri Devi, Tej Pratap has declared that he will not withdraw the divorce petition filed in the civil court.
He has even criticised his own family members in public, saying that they do not listen him.