Students' day in Modi ki Pathshala
Interaction with Prime Minister a hit on Teachers' Day eve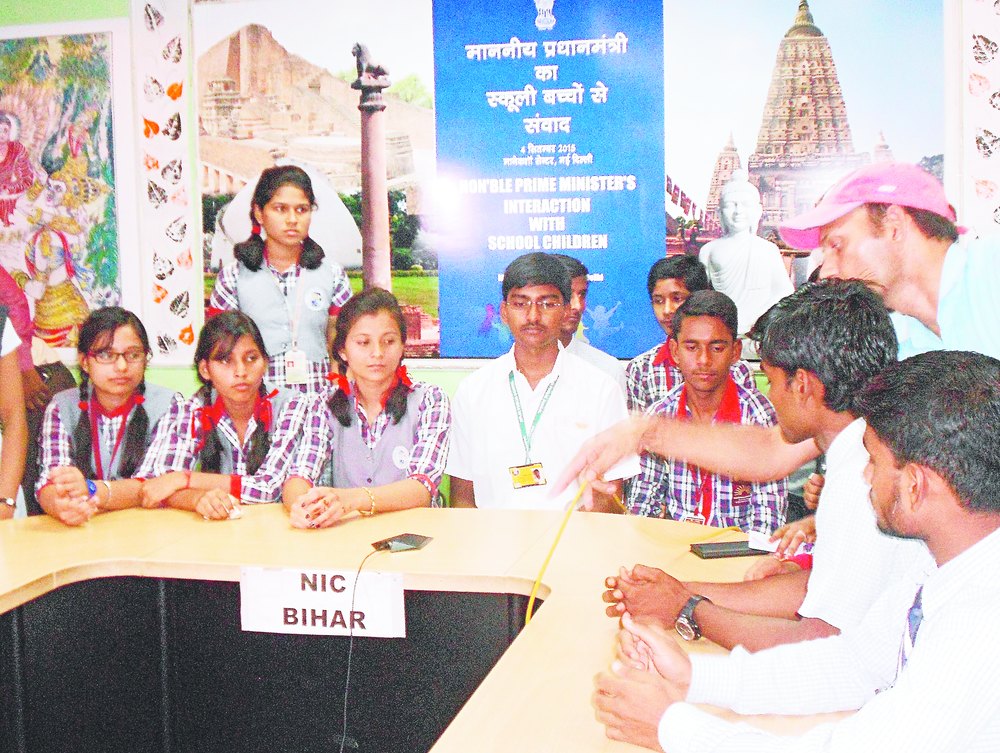 ---
---
Twenty school students from Patna had a memorable Teachers' Day eve when they took part in PM Modi Ki Pathshala, a video-conferencing programme with the Prime Minister, on Friday.
It was even more special for Anmol Kabra, a Class XII Delhi Public School student who was among nine selected from across the country to pose a question at Narendra Modi. When his turn came to do so, Anmol asked Modi: "For students aspiring to become engineers or doctors, excelling in a three-hour competitive examination becomes the sole purpose of education, sacrificing school life, childhood and curiosity. What is your message to them and what steps would you take to change this?" Modi replied saying: "I am working to bring a change in some rituals that schools follow. Character certificates should be replaced with aptitude certificate. In aptitude certificate, teachers, classmates and parents would give feedback and grading on the basis of the individual student's skills. Parents should not pressurise students to become doctors or engineers. Students must decide on their own."
A satisfied Anmol said: "I want to pursue computer science and engineering for a career in research and development." He also wants to change the teaching system in schools. "Nowadays, teachers are teaching subjects not students," he said.
A Kendriya Vidyalaya Sangatan (KVS) girl student was motivated by the Prime Minister's ideas. She said "Modi sir" understood the pressure students have to go through during exams, especially competitive ones.
Ruchika Singh of Class XI regretted not getting a chance to pose a question at the Prime Minister. But she said: "If I ever get a chance to interact with Modi sir, I will ask him what steps he would take to implement uniform education across the country, without categorising schools as public, private or government."
There were many others who, like Ruchika, wanted to interact with Modi, but were happy hearing him through the video-conferencing.
Teachers, too, got to learn something. "It is not a rule that only experts can be teachers. Even the most ordinary and poor can inspire students. Children spend more time with teachers than at home. Sometimes I feel teachers should write about some students who made a mark on them. It will show their involvement," Modi said in the session.
He launched a new website www.ncert.nic.in/kalautsav to identify students' talent. It is the human resource development ministry's initiative to promote arts in education by nurturing and showcasing the artistic talent of school students. KVS Class XI student Vinita Raj was excited to know about the launch of the website. She said: "There are not many national-level platforms to showcase our talent. This would provide us an opportunity and favourable environment to nurture our talent and also help make learning more concrete, creative and joyful."
Prime Minister Modi also released a commemorative coin of Rs 125 denomination to honour former President S Radhakrishnan - whose birth anniversary is observed as Teachers' Day - on his 125th birth anniversary.