Stubble becomes burning issue in Patna
Practice blamed for Delhi's dirty air reaches Patna district, CM Nitish Kumar rings alarm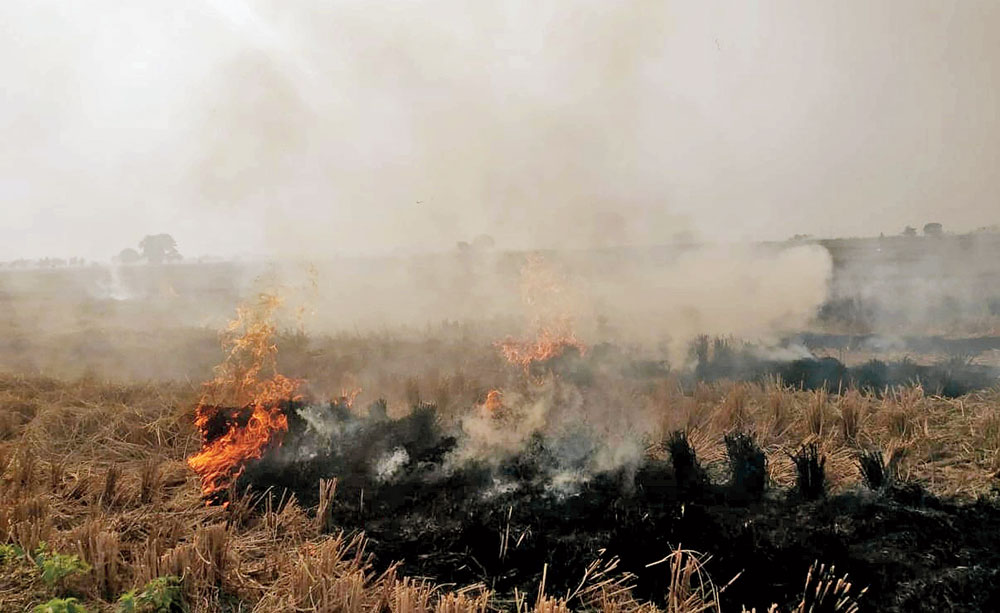 ---
|
Patna
|
Published 09.12.18, 06:56 PM
---
Burning of crop stubble, which is cited as a major reason for New Delhi's polluted air, is catching up in Bihar and farmers have started adopting the practice in Patna district as well.
Alarmed over its potential to aggravate the pollution levels in the state capital and other cities, chief minister Nitish Kumar has directed officials to curb the practice before it becomes a major threat.
Nitish has pointed that burning crop stubble to clear agriculture fields for sowing of the next crop used to be mostly seen in some parts of Rohtas and adjoining districts, but the practice has picked up pace and has spread to other districts such as Patna.
"Nowadays, torching of agriculture fields to clear crop stubble is happening near Patna also," the chief minister told The Telegraph recently. "We don't know who has publicised this practice among the farmers here, but it could have an adverse affect on the pollution levels in the state capital. I have asked district magistrates to curb the practice."
A World Health Organisation (WHO) list published earlier this year ranked Patna as the sixth-most polluted city in the world. In recent days, the air quality index (AQI) on the state capital has been faring in the "very poor" band (301-400) with PM2.5 — particulate matter of less than 2.5 microns thickness in size, considered the most potent pollutant threat to human beings — being the major pollutant.
On Sunday, the AQI for Patna worsened to 419 and jumped to the "severe" band, which signals that pollution levels could affect healthy people and seriously impact those with existing diseases.
The AQI for New Delhi on Sunday was in fact better than Patna at 374.
Patna district magistrate (DM) Kumar Ravi acknowledged that incidents of burning crop stubble have been noticed and said he has directed agriculture officers in the district to stop it to curb for safety reasons.
"The tendency to burn fields has been witnessed at some places in Patna district. It was not popular in these parts previously and seems to have been picked up from the Punjab-Haryana region. People here also seem to be adopting it to save labour cost for clearing the field of stubble," Ravi said.
The basic difference between crop cutting in Bihar and Punjab-Haryana-western Uttar Pradesh has been that people in Bihar use the sickle to cut crop, leaving just around four inches of stubble, which gets mixed in the soil when farmers plough their fields or are easily weeded out.
Most farmers in north India, on the other hand, use harvesters to cut crops and the machines leave stubble that is around a foot high or at times more, forcing the tillers to torch them. Rohtas DM Pankaj Dixit said the district has a tradition of burning paddy stubble, which seems to have been brought by agricultural labourers returning home from Punjab and Haryana.
"We have conducted publicity campaigns to curb the practice and have also warned that legal action will be taken against people indulging in it," Pankaj said.
He added that it was difficult to pinpoint who has torched which field first, because by the time government officials reach the spot the fire usually spreads to several plots and none of the local people name the person who lit his field first.