Stage set for tribal all-woman battalion
Read more below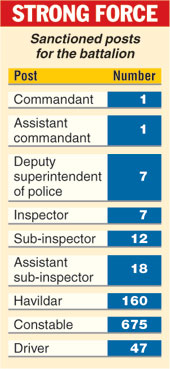 ---
---
Bihar is set to have an all-woman battalion that would have only tribals as members.
The cabinet recently took a decision to this effect.
The armed force of tribal women — probably a first in the country — is christened Bihar Swabhiman Police Battalion (BSPB). It would be headquartered in West Champaran or East Champaran district.
The Tharus, a tribal group of nearly seven lakh people residing in West Champaran, are likely to be the biggest beneficiaries. They constitute a majority of the over a million tribals in Bihar.
"The state government's move is commendable and would instil confidence among the Tharus and other tribals. Given that only tribal women would be recruited, the move would boost the morale of tribal women," said Deep Narayan Prasad, West Champaran resident and adviser, Bharatiya Tharu Kalyan Mahasangh.
Chanmati Devi and Gangotri Devi, Tharu women associated with the Tharuhat Vikas Sansthan, echoed Prasad. They were grateful to the state government for giving due representation to tribals in general and Tharus in particular in government services, a long-pending demand of theirs.
Bihar Military Police's deputy inspector-general (north zone) Awadesh Kumar Sharma said efforts were on to acquire land to set up the headquarters of the proposed battalion. "Letters have been shot off to both West Champaran and East Champaran district magistrates to provide the required land," he said.
Around 100 acres are required. "For the time being, we need at least 60 acres. Once land is acquired, the process of appointment of personnel can start," Sharma said, adding that the battalion would have an effective strength of 992 personnel.
Though the Bihar Military Police has a separate women's battalion at Sasaram in Rohtas district, the new battalion would have only tribal women, especially from Tharu tribe. "These women are known to be hardworking and can survive even in adverse circumstances," Sharma said. At present, the state has 18 battalions of the elite force, raised to deal with organised crime and contain Maoist activities.